Making the Most of PowerPoint Presentations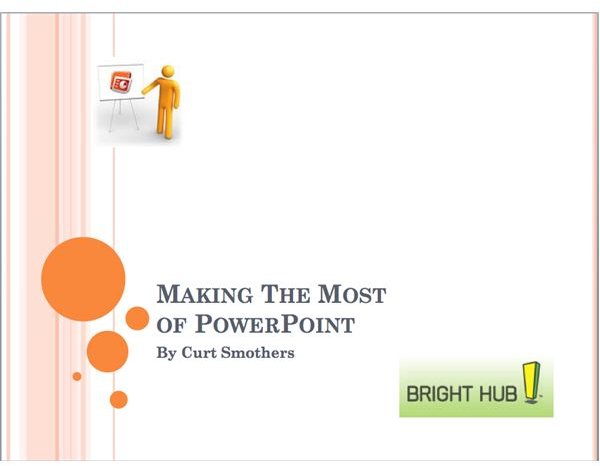 Article Overview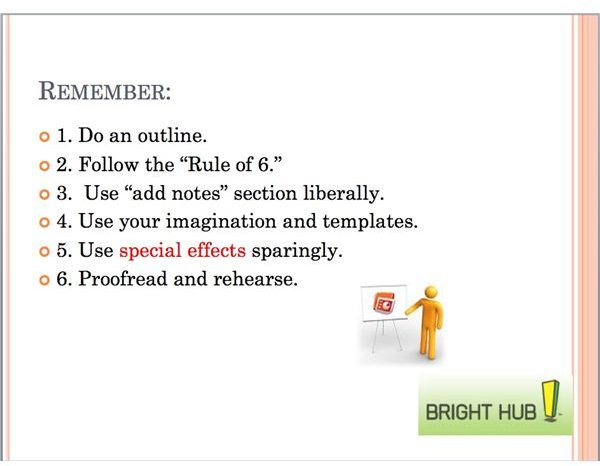 What Makes PowerPoint So Useful
PowerPoint is a slick, intuitive application. It is particularly useful to anyone who has to present or communicate ideas, projects, reports, etc., in a group setting. Here are some of PowerPoint's best features:
It works well with other Microsoft applications (Word, Excel, Paint). Users can embed or link to other documents, charts, graphics, etc., to have a fully integrated, almost seamless presentation.
The "average" (or "artistically impaired") user can easily add some elegant touches (transitioning text, animated graphics, etc.) to pace or enhance the presentation.
Users can print handouts and notes directly from PowerPoint. The handouts can be replicas of the actual slides along with outlines, and even extensive notes.
How to Get the Most Out of PowerPoint
First Things First
A good presentation is like any well-written report or research paper. Whatever process works best, depends on the person. Some writers can go directly to the outline stage, while others need to brainstorm first. Some "brainstormers" can skip the outline and go directly to the writing.
In PowerPoint, though, the outline is the writing and is a step that cannot be skipped. Consider this: A presentation is merely an outline "gussied up." Some experienced PowerPoint users prefer to go directly to the outline stage and use PowerPoint's handy outlining feature to construct their presentation "on the fly." So the method the user employs to get the presentation going is a matter of skill, experience and personal preference. Beginners should probably consider doing their outline on (gasp!) paper.
The "Rule of 6"
Once the outline is done, the presenter should consider the audience's ability to absorb what is being presented. Lengthy (wordy) outlines presented on a slide are difficult to follow. There is a rule of thumb, then, that states the following:
There should be no more than 6 bullet items to a slide.
Each bullet item should consist of not more than 6 words.
Follow this rule and you'll keep your audience engaged. Also, you – the presenter – will be able to focus better. The place for detail (or even your complete script) is in your slides notes, which can be either concise "reminders" to make sure you cover all your points, or a complete dialog.
Last but not least…
Booting up the PowerPoint application, deciding on slide layout and tweaking the presentation with special effects are the last steps in the process. Like writing a research paper or a report, doing a presentation requires research, brainstorming, and outlining. The planning process and resulting outline is really the "bones" of your project. The "meat" is added as the outline develops.
While we are basking in metaphors here, let's consider PowerPoint as really more of an "X-ray" (or perhaps an "aerial photograph") of all the work that went into the presentation. In other words (and to use another tortured simile), marrying up a poorly planned presentation with PowerPoint is akin to putting lipstick on a pig.
The Final Elegant Touches
Now that you are ready to put the final touches on your hard work, it is time to decide on how your want your presentation to look and behave. Consider the following:
Templates - Browse through the built-in templates in MS PowerPoint. You can change the look of your slide presentation "on the fly," so experiment. Take into account such factors as room lighting, company logo coloring, design, etc.

Special effects - Don't overdo special effects. Go for slide and bullet point transitions that allow you to pace your presentation. Having your bullet points fade or fly in adds interest and variety to your presentation.

Embedding or linking objects (graphs, etc.) - Consider the following:
Embed (make the object a permanent part of your presentation) an object if it is a permanent graphic and is unlikely to change.
Link (make a bookmark pointer) to an object if it is likely to change later; for example, if the object is a Microsoft Excel chart based on a spreadsheet.
Proofread and Rehearse
It is always a good idea to have someone else to review and proofread your presentation. It is almost a one-hundred percent certainty that you will overlook something important or at least have missed small errors. Run your presentation through a friendly, but constructively critical, work group if possible. This will go a long way towards removing stage fright and "presentation jitters."
For More Help See:
Microsoft Office Help for PowerPoint 2007
PowerPoint Presentation Advice, by Mike Splane
Using Handouts, PowerPoint Slides and the Lecture
Collection of PowerPoint Tips, User Guides, and Tutorials