Beginner's Guide to Microsoft Publisher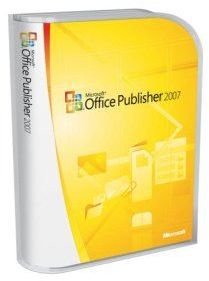 What is Microsoft Publisher?
Microsoft Publisher is a desktop publishing program that can be purchased as a stand-alone product or as part of professional and business versions of Microsoft Office. Publisher can be used to create several types of publications including brochures, newsletters, business cards, and even basic web pages. While it's not quite as powerful as some of the bigger names in desktop publishing, it has a much smaller price tag and it's fairly easy to use.
What's New in the 2007 Version?
The 2007 version of Microsoft Publisher was redesigned with the beginner in mind. Changes were made so that it is now easier to switch from one template to another and save designs from one type of publication to be used in another. Several new templates were also added to this latest release in addition to the new templates that are available from Microsoft Office Online.
Another big step forward with the 2007 version of Publisher is the ability to save your creations as high-quality PDF files. This feature allows for commercial printing of your files which is extremely important if you want to create and distribute a professional publication. This addition alone makes it worth upgrading if you have an older version of the software.
Microsoft Publisher as a Web Design Tool
With Microsoft Publisher, you do have the ability to create basic web pages. However, all design must be done through the Publisher interface, and there is no option to directly edit the behind-the-scenes HTML. This can be pretty frustrating to those who are used to working with other web design tools such as FrontPage and Expression Web.
While I wouldn't recommend Publisher as your sole web design tool, it can be quite helpful when you are trying to design a layout and pick color schemes. In the past, I have used Publisher to develop a general idea of what I wanted my web page to look like. Afterwards, I imported the resulting file into Expression Web and made modifications there.
Desktop Publishing Capabilities of Microsoft Publisher
As mentioned earlier, Microsoft Publisher's targeted audience is beginners in the desktop publishing arena. It can take some time to explore all of the capabilities of the software, but the first-time user can sit down and create a basic flyer or newsletter using one of the pre-fabricated templates without much training at all.
In addition to the large number of templates that come with Publisher 2007, you can also choose to start with a blank page and create your publication from scratch. If you like what you've created, you have the option of saving your design as a new template so that you can reuse it again for different content at a later date.
Microsoft Publisher 2007 Images