FlyCast Desktop - Better than Satellite Radio?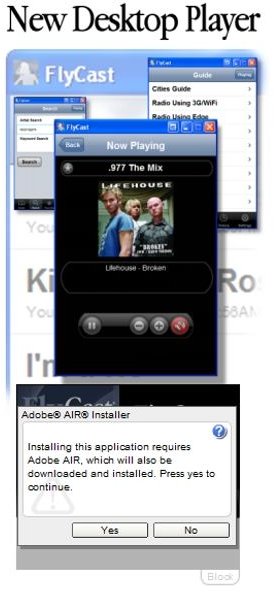 FlyCast is an application that runs on iPhones, the iPod Touch, some Blackberries, and the T-Mobile G1. Recently, an Adobe Air version that runs on Windows desktops has become available.
FlyCast is a free, ad-supported service. On their download page, they make this statement: "FlyCast is a free service that gives you what you really want – portable music and talk radio that's better than Satellite radio, easy to use, and works on the device already in your pocket . . ."
"Better than satellite radio" caught my attention, as I was listening to XM radio through my PC at the time. Interested, I decided to download the application and try it out.
Let's state the conclusion first, just to get it out of the way: FlyCast is mostly just radio stations streamed over the Internet. It's over a thousand stations, though, and weather information for many cities. The major use for FlyCast on the desktop will be to listen to distant commercial stations that you can't tune in locally on a . . . radio.
Installing FlyCast
FlyCast was downloaded from their website. It is actually an Adobe Air application, so it starts a Flash program in the web browser to start the installation. It also installs Adobe Air, if needed. FlyCast is a tiny application, taking up only about 638 KB hard drive space.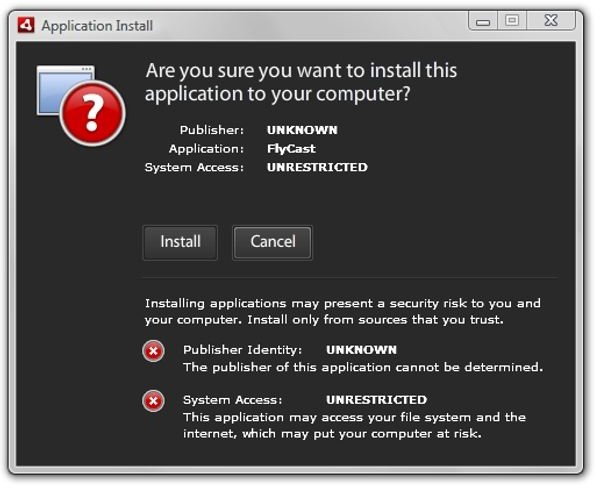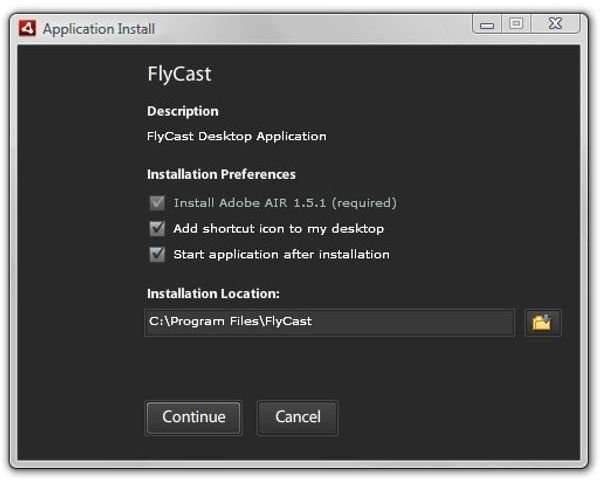 After agreeing to the terms of service, the installation commences.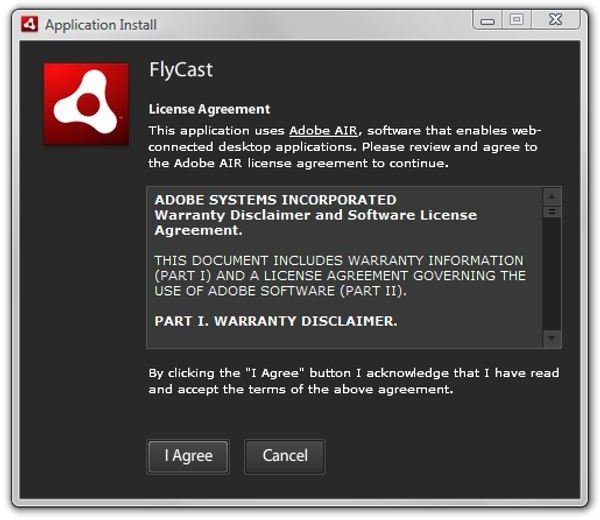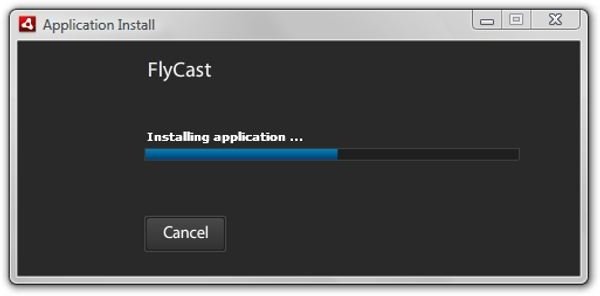 The next step is to sign up for the service. They will ask for your email address, country of residence, date of birth, and postal/zip code.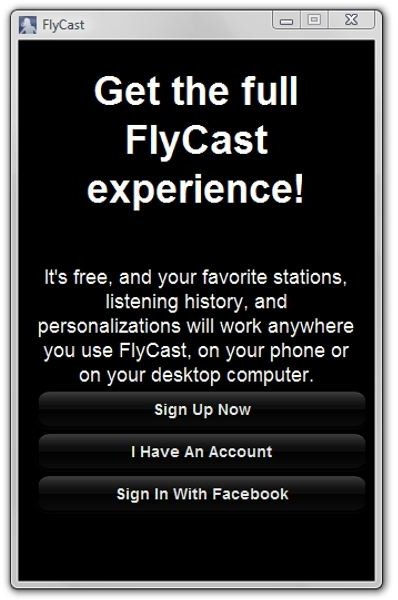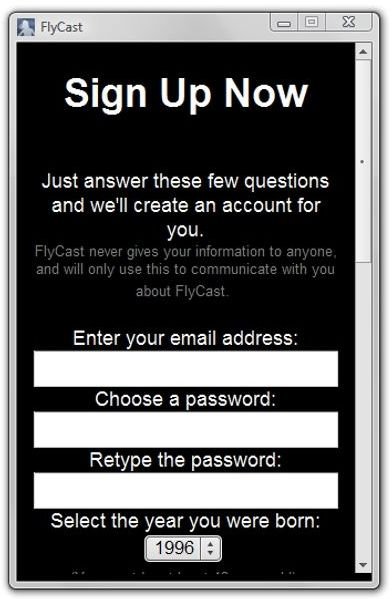 Trying It Out
The application starts with a guide screen that leads to a city directory. When a city is selected, the stations available there are shown. Clicking the station name starts it playing almost instantly.
As mentioned previously, FlyCast is ad-supported. The ads are presented at the beginning of play and during playback, interspersed with other information that may be carried on the stream, such as album covers. It's not obnoxious by any means, and playback does not stop when you minimize the application to the notification area (system tray).
"Tweet This Song" and "Comment on This Song" appear often, too.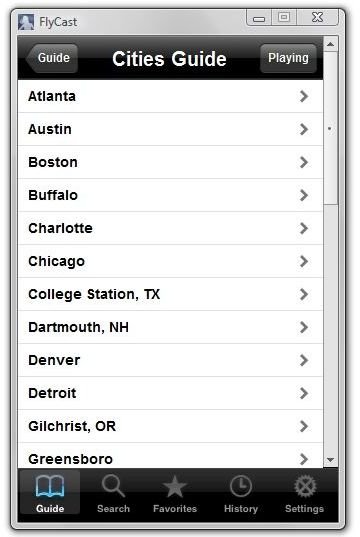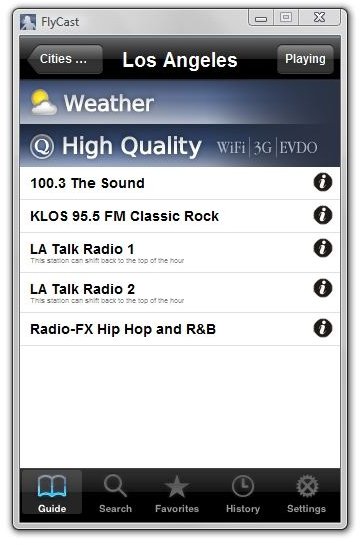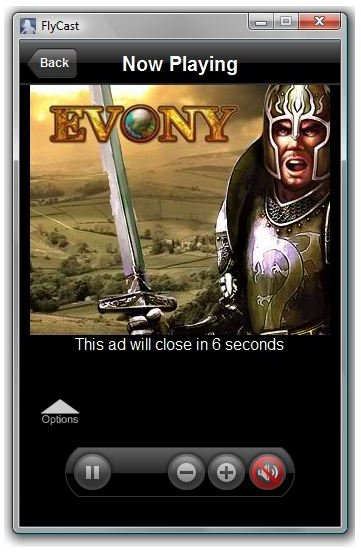 Below is an example of a weather screen.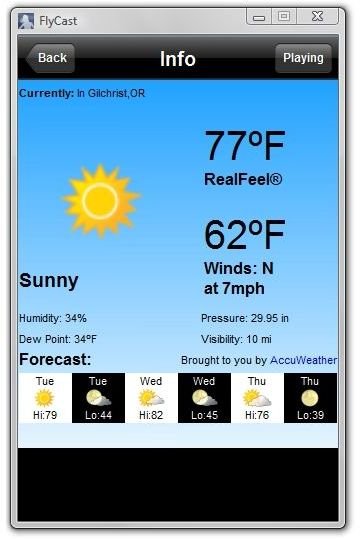 FlyCast has an impressively low download rate requirement, but that would be appropriate for an application designed to run on smart phones that are not always in 3G coverage areas.
FlyCast also offers access to Internet radio that does not have a terrestrial counterpart. In the sequence shown below, we selected "Genres" from the Guide screen, and drilled down to rock, classic rock, and the list of streams.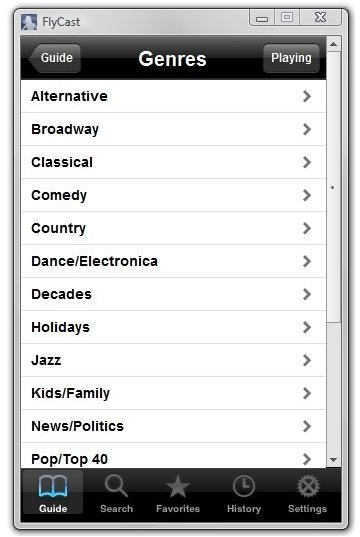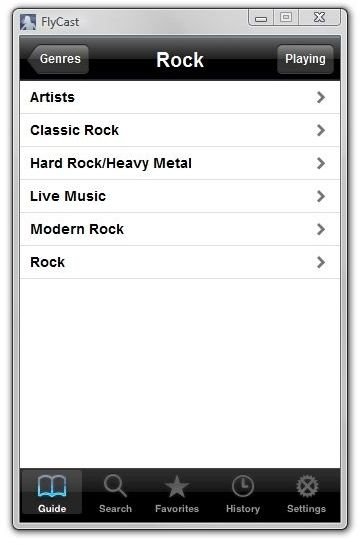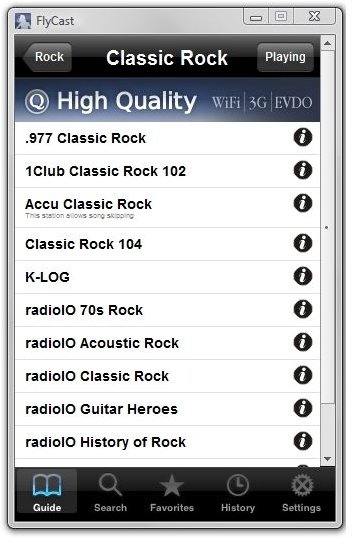 Wrapping Up
FlyCast does what it promises very well. It delivers music, talk radio, and weather from a wide range of radio stations in a compact stream that won't tax your Internet connection. I can see the obvious utility of the application. If you're traveling and want to hear the news from your home city, FlyCast is great. If you want to know what folks are listening to and talking about on the opposite coast, FlyCast is terrific. It also provides very easy access to Internet radio, which is a big convenience in its own right.
But is it better than satellite radio?
Hardly. Enduring ads is the bargain that we make with free content providers. I listen to XM radio because I don't like the ads on our local radio stations.
FlyCast lets me hear ads from distant radio stations and beams some more to their player, too.
My XM radio has both car and home adapters. Right now, it's plugged into the line-in jack on this PC and the antenna is sitting next to a window. There are, blissfully, no ads on the channels I listen to.