How to Disable the Windows Genuine Advantage Notifications Screen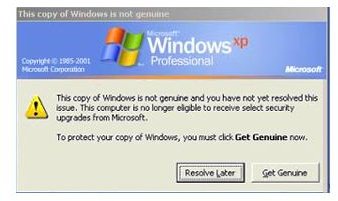 The "Windows Genuine Advantage Notifications" Screen
The "Windows Genuine Advantage Notifications" Screen (WGA) is the result of Microsoft's anti-piracy efforts. The company has implemented a validation system designed to ensure that your installation of Windows XP is "genuine". It uses a system process to check and verify whether or not the copy installed on your PC is a genuine version provided by Microsoft. If this process determines that you have yet to validate your copy of Windows XP, or if it happens to be an unlicensed, pirated or otherwise unauthorized installation, you will continually be presented with a notification message nagging you to validate your Windows XP license.
At random times, it will pop-up a notification error message that will typically read: "This copy of Windows is not genuine." In the bottom right-hand corner of your log-in screen, another message will read: "You may be a victim of software counterfeiting." It will also prevent you from installing Windows Media Player 11 and Internet Explorer 7, or any updates from Microsoft.
WGA notification baloon

In this event, you have three options: Validate your Windows license, purchase a genuine copy of Windows XP or resolve the problem later. If you choose to opt for the third option, read on to learn how to disable the "Windows Genuine Advantage Notifications" screen by editing your registry.
Disabling the "Windows Genuine Advantage Notifications" Screen
Step #1: Access your Windows Task Manager by pressing (Ctrl + Alt + Delete) on your keyboard. Click on the "Processes" tab at the top of the dialogue box. Click on the process "wgatray.exe" and then press on the "End Process" button.
Step #2: Restart your computer in Safe Mode. You can initiate Safe Mode by tapping the F5, F8, DEL or NUM Lock key, depending on the type of BIOS you have, and choosing "Safe Mode."
Step #3: Locate the file C:\Windows\System32. Delete the file wgatray.exe. Next, navigate to the file C:\Windows\dllcache. Delete the file wgatray.exe.
Step #4: Click on Start and then Run. Type regedit into the text field. This will open the Registry Editor. In the Registry Editor, navigate to this entry: HKEY_LOCAL_MACHINE_\SOFTWARE\Microsoft \Windows NT\ CurrentVersion\Winlogon\Notify. Click on this registry key and delete the folder named: WgaLogon.
Step #5: Close your Registry Editor and restart your computer. When prompted to install the Windows Genuine Advantage Notifications screen again, just unselect it. You are now rid of that nagging notification screen.
TIPS
*Disabling the WGA Notifications doesn't validate your copy of Windows XP. As such, you will still be unable to get any updates or install IE7 or the media player which require a validated copy of Windows. You should contact Microsoft if your Windows XP installation cannot be validated, or to purchase a genuine, legitimate copy of this operating system.
*You may be able to remove the WGA application with a simple System Restore. You would then refuse the option to accept the WGA when prompted.
Related Reading:
>» Comparison of Operating Systems – The Battle Has Just Begun
>» How To Use Windows Firewall
>» Which is the best Automatic Updates option for you?
>» How To Get XP On Your New Computer