Build Windows File Server Configuration - How to Set Up a Windows File Server?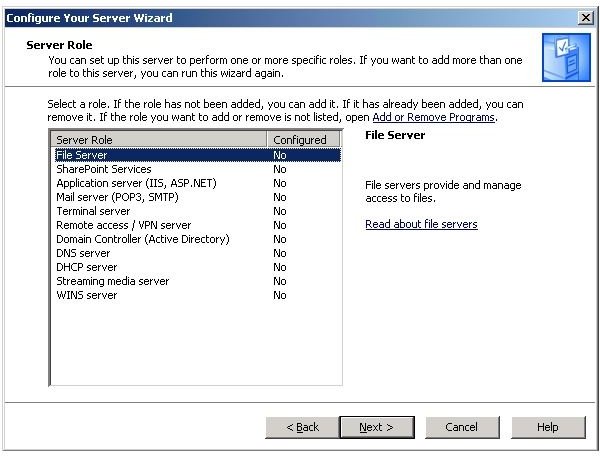 Overview
There are a few reasons why you might want to set up a file server including:
Centralized area to store files on a network
Centralized permissions to shared files
Centralized means for backing up data
For the purposes of this article, I'm assuming you've already got a Windows network set up including a server running Windows 2003 server. For more information on how to set up a network, see this article at Bright Hub: How to Setup a Network Using Windows 2003 Server.
Adding the File Server Role
Luckily, Microsoft Windows Server includes an easy to use Wizard to help you set up your server as a file server.
Go to Start, Control Panel, Administrative Tools, Manage Your Server.
Click the "Add or Remove a Role" link.
On the Preliminary Steps screen, click Next.
Under the Server Role heading, Click File Server and then click Next (Figure 1).
On the summary screen, review the information and then click Next.
The Add File Server Role Wizard will start. Click Next.
Click next when prompted to install additional options. The Wizard will start configuring your server.
After the configuration is complete, you will be prompted to reboot. Proceed and reboot the server to continue.
Configuring the Server
After the server restarts, you'll want to set up some file shares and set permissions.
Log back into Windows.
Go to Start, Control Panel, Administrative Tools, File Server Management (Figure 2).
Expand Share Folder Management, Shared Folders, Shares.
You should notice a few Shares already exist – these are on all default installations of Windows. Under the Action Menu, select New Share.
Once the Share a Folder Wizard starts, click Next.
Select a location for the folder share and click Next.
Enter the name for your share and a description if you'd like. Click Next.
On the Permissions page, select the option you'd like – by default, you may choose to leave all readers with Read access.
Click Finish and then Close.
You've now shared your first user folder. End users can access this share by going to \\\<sharename**>** where is the name of your computer and is the name you gave the share in step 7 above.
Images