What Formats can Windows Media Player 11 Play? Additional Formats Available as Add-ons in WMP11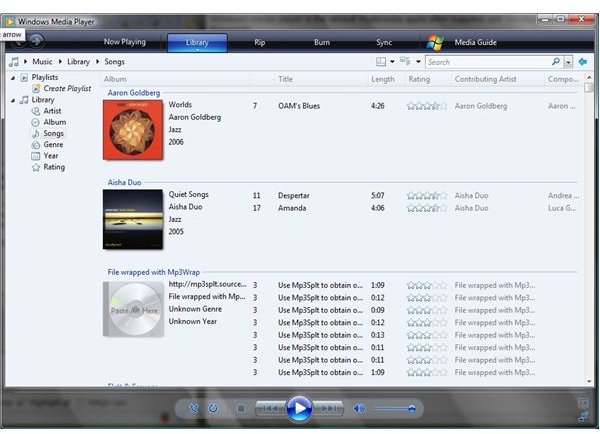 Windows Media Player
Windows Media Player (WMP) was first introduced in 1998 as part of an update to Windows 98. Version 11 was launched in 2006 to coincide with the launch of Windows Vista, but a version for XP was also launched in 2006.
The principal functions of WMP11 are providing a library of audio and video files, including a facility to generate playlists, facilities for ripping and burning tracks from and to CDs, and facilities to access online music collections for purchase and download. The accompanying Microsoft website www.windowsmedia.com provides access to content including Internet radio stations, which may also be accessed directly.
WMP11 is also available as an add-on for the Firefox Internet browser
Windows Media Player 11
Audio Formats Supported by Windows Media Player 11
Audio formats may be considered as uncompressed, lossless and compressed. For more information on this, see my article at https://www.brighthub.com/electronics/home-theater/articles/36347.aspx. The completely uncompressed audio formats supported by WMP11 are .cda, as used on audio CDs, .wav the native uncompressed format for Windows and .aiff which is the native uncompressed format for the Apple Macintosh platform.
Lossless compression offers the chance of smaller file sizes without information loss. Lossless formats include WMA Lossless supported by WMP11, Apple Lossless used by users of iTunes who require high quality audio, and FLAC, an open source alternative. Neither of the latter two formats is supported by WMP11 by default.
A wide range of compressed audio formats are supported by WMP11 in a range of resolutions and sampling rates. It is important that many of the audio file formats are file containers, and can be used with a variety of codecs (coder/decoders). Thus .wav files are container files and can support a range of compressed formats using different codecs, provided that your WMP installation has the appropriate codec installed.
WMP 11 supports a wide range of audio codecs including .mp3 and mp2. It can also play MIDI files widely used in digital music creation.
However, if your chosen format is not part of the default installation, in some cases, you can add an add-on to handle additional formats. I use Windows Media Player to successfully to access my FLAC-encoded audio files using an add-on at https://dfn.dl.sourceforge.net/sourceforge/flac/flac-1.2.1b.exe.
Video Formats Supported by Windows Media Player 11
WMP11 plays DVDs and a whole range of compressed video formats aimed at on-line video. With its large bandwidth, video is less well suited to uncompressed on-line transmission. Formats supported include .wmf, .avi, but significant omissions include MPEG4 (.mp4) and Quicktime (.qt, .mov). At the heart of this problem (and for the Apple Lossless audio format, see above) are licensing arrangements between Apple and Microsoft.
The Future
Windows 7, which is in beta at the time of writing (June 2009), includes Windows Media Player 12. In addition to significant changes to the WMP interface. This offers facilities to play those formats that are not handled by WMP11 including H.264 video, AAC audio and MPEG-4 video.