Media streaming : Watch PC Content on the Big Screen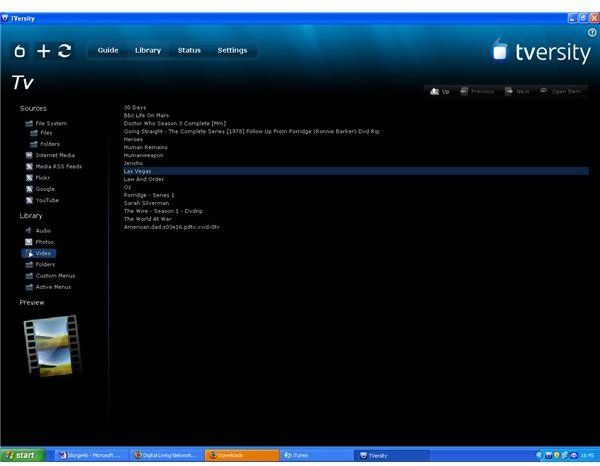 What is media streaming?
Media streaming involves connecting your computer to a TV set so that you can watch videos and listen to music without having to sit at your PC. Some systems use cabling, but most people use wireless connections. This is very convenient when your TV is in a different room than your computer. You'll need a suitable hardware device and some streaming software.
Hardware
There are many devices available which can stream content to a TV set. These include:
The latest game consoles such as the Xbox, Playstation 3 and Wii.
Standalone devices tied to a particular software (such as AppleTV or Netflix's set-top boxes).
Standalone devices which work with a variety of streaming software.
The software you use may list particular models which it is definitely compatible with. Generally, though, any device listed as 'UPnP AV compliant' will work. This refers to the audio-visual form of the Universal Plug And Play system, which is designed to make sure software and hardware can be compatible without the need to install extra drivers. You'll also see reference to the DNLA (Digital Living Network Alliance), a trade group which works to make these products work as seamlessly as possible.
It's worth looking for customer feedback and reviews of particular models. The actual features and functions of devices tend to be quite similar across the market. The main difference is that cheaper devices are often less user-friendly; for example, the remote control may not be as well designed, or the menu system may make it more difficult to choose the file you want. Models with overwhelmingly negative reviews aside, your main choice is likely to be the trade-off between price and ease of use.
Software
Windows Media Player 11 includes built-in streaming software. This will probably be your easiest solution, and is certainly worth trying. Your hardware device may have specific instructions, but the usual first step is to go into the Library menu and click on Media Sharing. This should allow you to set-up access for your device and choose which files you want to make accessible.
TVersity is the leading free independent streaming software. With content stored on your PC, it's pretty similar to WMP11; it has many more options for streaming videos and music directly from the internet to your TV, though the performance can vary depending on your device. Some users find it is more reliable and stable than WMP11, so it's certainly worth a try.
Google Desktop now includes an optional feature to stream content from your computer to your TV. Its most-promoted feature is the ability to stream videos from YouTube (which Google owns). You do have to install Google Desktop (which some users find intrusive) to use this service and it's still got some teething troubles, so it's probably one to simply keep an eye on for now.
Solving common problems
Is your firewall blocking the connection? WMP11 automatically configures Windows' built-in firewall to allow your streaming device to connect to your chosen audio and video files. However, if you are using a different streaming program, you may need to consult the instructions to find out how to set-up the Windows Firewall to give it access. If you have another firewall product, you'll probably need to configure it to allow streaming access.
Are there problems with your wireless connection? You should usually be able to get a decent connection between two rooms in the same house. It's possible you may get some interference from cordless telephones or even microwave ovens. More likely, the problem is from interference from a wireless connection in a nearby house. If this is the case, you should try configuring your wireless router to use a different channel setting; if your streaming device doesn't automatically scan all channels, you might have to manually enter the new channel on the device.
Are there file format problems? Some formats (such as Windows Media Video and Audio) won't play on particular devices. Your streaming software may be able to solve this by automatically converting (or 'transcoding') the file as it is playing. If not, then you'll have to either find the file in a suitable format or convert it before you can watch it.
Images