What is Sky Drive? Overview of it's Basic Features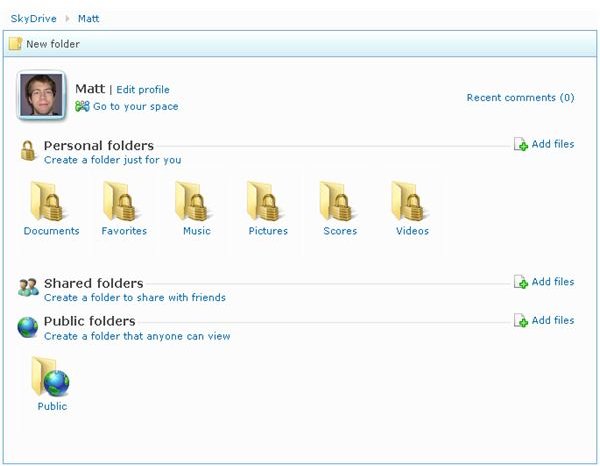 For New Users
To read more about Windows Sky Drive, check out Neil Henry's article in the Windows Channel.
Sky Drive allows for different customization options on the files you upload. You can keep files private, share them with certain people, or keep them open for everybody to access. For those who already have Hotmail, you'll notice that Sky Drive offers 5GB of space. The 5GB that Sky Drive offers is separate from Hotmail's 5GB. So essentially, you have 10GB of free online data storage.
You can upload any particular file at any given time. It's great for backing files up and you have complete control over what you upload. This basic guide will show you how to share documents with those on your contact list.
As you will notice by looking at the above screen, I have a large list of folders that only I can access at any time. Remember, these files are stored online, so you can access them from any computer with an internet connection. You'll also notice the "lock" icon on each of the folders. This means that these folders are only accessible by me. Say for example there are certain files that I want other people to access, but I don't want just anybody to view them. In that case, I'll want to make a folder under "Shared Folders" as opposed to "Public Folders".
What's the difference? A Public Folder is a folder that contains documents that anybody who visits your Sky Drive page can access. A Shared Folder has a more restricted access that can only be viewed by people you want to.
We'll continue by making a new Shared Folder.
A New Sharing Folder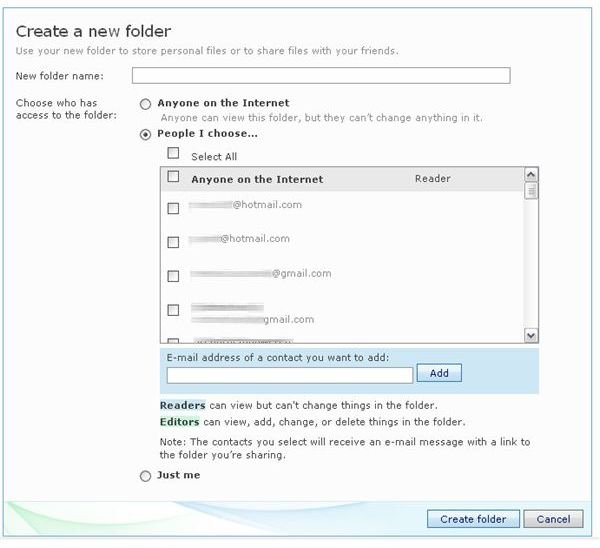 As you can see from this screen, you'll need to type in the name you want for the folder. You can monitor who on your contact list you want to give access to the files. Selecting the "Check All" option enables all friends on your contact list to see what you're uploading. You should know that once the folder is created, the people you select to share the folder with will get an e-mail with a link to the new folder.
If you decide to change your mind about who you want to view the folder, you can do so now before you continue. If you want to make it so anybody can see it, choose "Anyone on the internet". If you don't want anybody else to see your files, choose "Just me".
Uploading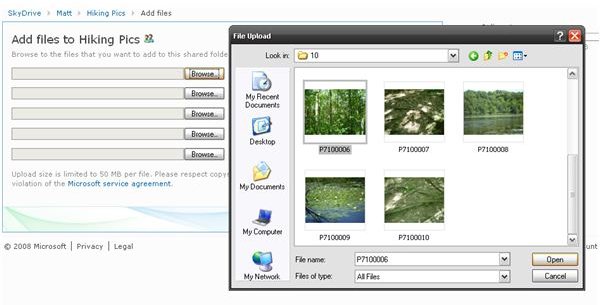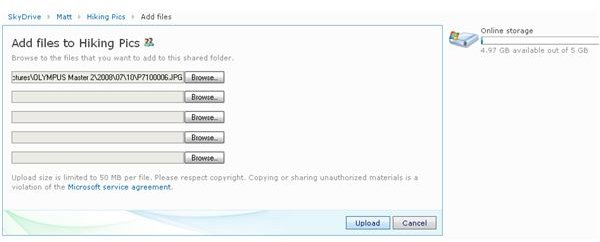 As can be seen from the two screens above, you can only upload 5 files at a time, with each file no bigger than 50MB each. So, unfortunately, you won't be able to share any mass forms of software, audio, video or anything else above 50MB in size. Nonetheless, you can still share a wide variety of photos, documents and even some forms of audio and video files. Afterwards, all you need to do is click "Upload".
The Waiting Game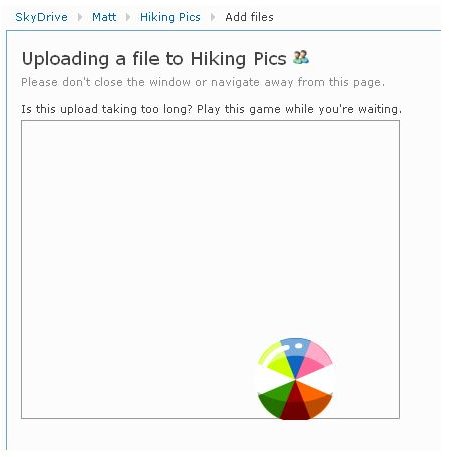 You'll automatically be taken to a different page, and have the option to play a game while your files upload, depending on which web browser you're using. If you're on Internet Explorer, it will show detailed information of how your upload is coming along. With others, I've seen this "waiting" game. Afterwards, you'll be taken to your new folder, showing a list of the files you've just uploaded. At any time, you can change the permissions of your folders, so if you want to make something public, private or restricted, you can do so.
Perfect for Storage
The best part about Sky Drive is that you don't need to be limited to certain types of media. It's even great for backing up important documents. Since you can access these files from another computer, you can store papers that you have to print off such as essays, spreadsheets, or hand-outs. The sharing aspect is great, because if you have something you want to show a friend, all that person has to do is access the file on your Sky Drive. No worrying about having to upload a file through e-mail or a messaging program. You always have full control over what you upload, too. If there's something you want to make public or private at any time, you can do so. As mentioned before, Sky Drive is free. If you have a Hotmail account, a Windows Live account, MSN, or Microsoft Passport, then you already have access to Sky Drive. If you don't, then all you have to do is sign up.