How to Convert Video Files: The SUPER Way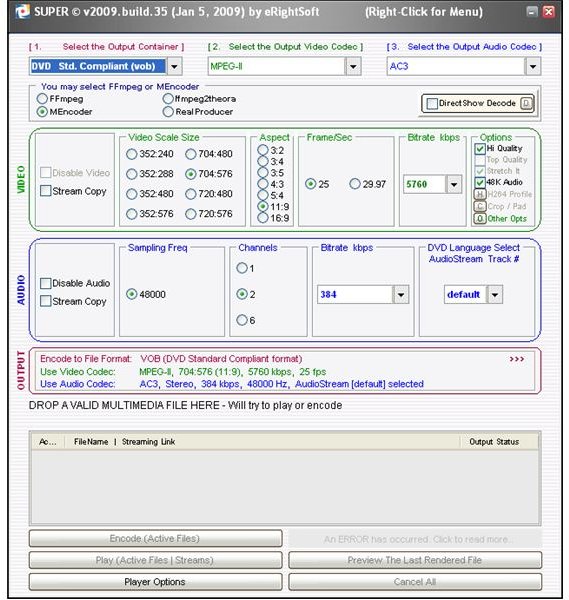 One Program to Rule Them All: SUPER
There are many commercial products in the market that can convert videos. There are also freeware products, but they are mainly concentrated on converting files to a specific format, such as converting to PSP and/or iPhone.
SUPER comes to the scene exactly at this point. The product's name is an abbreviation of "Simplified Universal Player Encoder & Renderer" and it delivers what it says in its name. Formats such as vob, flv, divx, xvid, mp4, 3gp, h.264, wmv, dpg, mpg, svcd, dat, avi, mkv, asf, ogm, swf are all supported.
Installation and Configuration (5 out of 5)
The installation is very simple. Upon executing the downloaded file, which is 30.2 Megabytes, the installation starts. You are asked to select your language first. You can follow the default installation options to finalize the installation. I suggest that you also may want to reboot your computer.
The program is very "self-contained." All the codecs (encoders and decoders) that you will need for video conversion come with the program. Finding, installing, and using codecs can sometimes be a real pain, so it's nice to see that the program contains everything.
Although the main screen is all about configuration, novice users do not need to go into the details. When you select the output file of your choice from the "[1. Select the output container]" dropdown box on the top-right, the default values will be selected. Users who are expert on the video conversion, on the other hand, will find the configuration options sufficient, but not overwhelming.
Features (5 out of 5)
The program's main interface may seem confusing at first, which is right. However the learning time is very short. When you figure out the basic working of the program, you will get going very easily.
Here, I recommend you to look at your video file first before starting the conversion. Go to the folder that contains your video file, right click on it, select "Properties" and switch to the "Summary" tab. Click on the "Advanced »" button and you will see your video file's properties in detail. Note the values for width, height, audio bit rate and channels.
When you make the fine-tuning, input these values when you are converting your movie. SUPER does not make any upscaling (or upconversion if you will), which is changing the resolution of a video file to a higher value. So, if your video file's scale is 352x240 (Width x Height), SUPER will not make it 704x480. Setting up higher values than the original will just make your conversion time longer without any significant effect.
When you are done with checking your video file, simply drag and drop your video file to the lower part of the interface, where it writes "drop a valid multimedia file here." SUPER will make a small check to see if the file is a corrupt/unrecognized file. Then you can start the conversion process by clicking on the "Encode (Active Files)" button. In the screenshot you see the simple configuration to have an output file to be written directly to the DVD to be watched in a home theater system.
Overall Evaluation (5 out of 5)
SUPER is an excellent program that should be in the basic toolkit of all Windows users. All of us use cell phones and/or mp3/mp4 players, PSPs, smartphones, etc. which are capable of playing video and many of which use different resolutions and settings. Instead of installing a video codec and converter for each product, use SUPER and you will do everything from it.