Windows 7 Release Candidate Language Packs and Windows 7 Ultimate 7100-0-090421-1700 Builds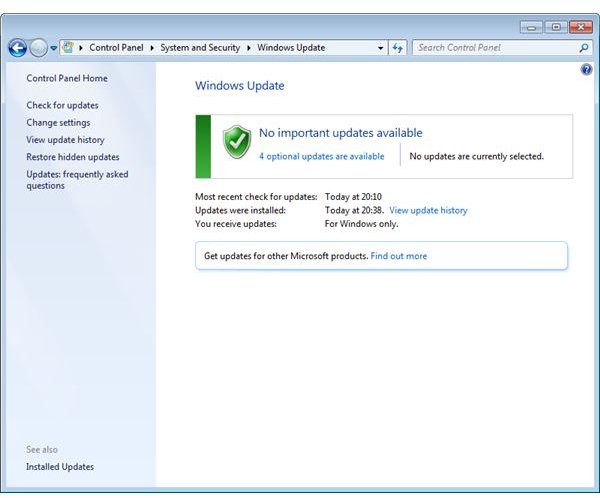 Important Note: Read this first
The information provided in this article only applies to Windows 7 Release Candidate (RC) Language Packs. Windows 7 RC Language Packs, for instance, don't work on Beta editions of Windows 7 or the RTM build which you find bundled with your new computer.
Windows 7 Language Packs for the official (public) Microsoft release (Release to Manufacturer, RTM) are covered in full details in these Bright Hub articles:
Introduction
Update: 20 Nov. 2009: As Windows 7 has now officially been released we do no longer update the detail information about Windows 7 RC. Yet, if you keep running the Windows 7 Release Candidate operating system this article can be very helpful to you nonetheless.
Microsoft has pre-released their next desktop operating systems by means of the Windows 7 Ultimate 7100-0-090421-1700 Release Candidate build. The Windows 7 operating system will be finally released in a staggered approach beginning with English, Japanese, German, and French and Spanish. The Windows 7 Release Candidate is also limited to these languages; yet this is good news for all the French and Spanish speaking people who were excluded from the Windows 7 Beta program and will now be in the position to test Windows 7 in their native language. With the end of the Windows 7 Beta testing, a new set of Windows 7 Language Packs was released, too: They can either be downloaded as combo pack or installed by means of Windows Update.
Windows 7 Release Candidate Language Packs
Windows 7 Release Candidate Language Packs differ from Windows 7 Beta Language Packs in that the available language packs have been combined into a single file so as to facilitate easy distribution to different computers. Alternatively, individual language packs can be downloaded and installed from Windows Update on computers running Windows 7 Ultimate Release Candidate. In any case, the Windows 7 Release Candidate Language Packs are limited to the languages for which there is also a RC build. It essentially means that there are currently no Multilingual User Interface (MUI) packs for Simplified Chinese, Traditional Chinese, Korean, Arabic, and Hindi for the RC of Windows 7, so that users looking for Windows 7 in these languages have to stick with the Windows Beta program. They must either obtain builds in their native language or install them on top of an English Windows 7 Beta. There won't be any Windows 7 RC Language Interface Packs for major languages either. If you are not familiar with LIPs, MUIs, etc. you may want to check Bright Hub's article Vista Language Packs.
Windows 7 RC Language Packs in Windows Update
If you want to download and install one or more language packs on one Window 7 Ultimate computer, use Windows Update. Go to Control Panel, System and Security, Windows Update and check out the optional updates. Make your selection and click OK.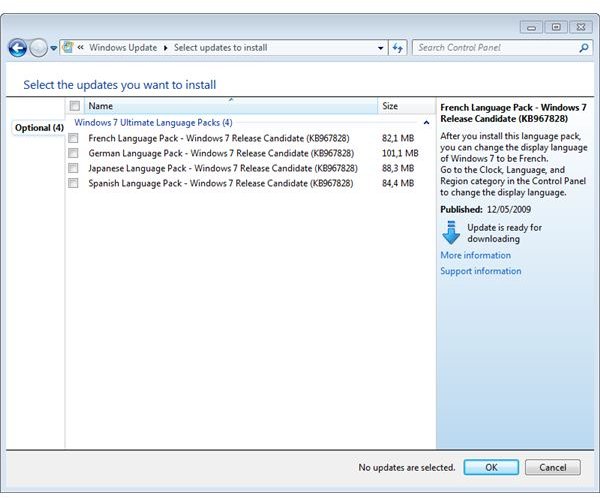 Windows 7 Release Candidate Combo Language Packs
If you want do distribute the language packs to different computers you may use this method:
Users of 32-bit computers should be looking for
en_fr_de_ja_es_windows_7_rc_language_pack_x86_dvd_348352.iso
The SHA1 hash value of the download is 271C2C9C408E9DC8CA9FCA17EDBB068D84C8A324,
and the CRC-32 (ISO 3309) output has to be 368E5278.
Users of 64-bit computers on the other hand should be looking for
en_fr_de_ja_es_windows_7_rc_language_pack_x64_dvd_347834.iso
which has a SHA1 value of 9B042B3DC50E079FA2B0BF34D9C29509C2CFE7B9;
the CRC-32 (ISO 3309) checksum is 0D4D506F.
Windows 7 Release Candidate combo Language Packs can be obtained from Microsoft through TechNet or others Internet resources including Torrent. It is recommended that you check the SHA1 hash value or the CRC-32 checksum though.
Windows 7 Release Candidate Builds
TechNet Subscribers find the English Windows 7 RC builds.
TechNet testers on x86-based computers should look for
en_windows_7_ultimate_rc_x86_dvd_349010.iso
which has a SHA1 hash value of 7D1F486CA569EFFFFB719CFB48355BB7BF499712
and a CRC32 (ISO 3309) value of E8A1C394.
TechNet testers of x64 -based computers in turn need to download the 64-bit installation DVD image
en_windows_7_ultimate_rc_x64_dvd_347803.iso
SHA1: FC867FE1AB2E0A9796F9E4D155B44EA6998F4874;
CRC32 (ISO 3309) value: 58FB2BE0.
Microsoft Partners and all those looking for French, German, Japanese as well as Spanish Windows 7 can follow either link to the Microsoft partner site or go directly to this TechNet site to select and download the Windows 7 RC. Off course, the English version is there, too.
Readers who are neither MS partners nor TechNet subscribers can still get the retail editions of 32-bit and 64-bit Windows Ultimate Release Candidate (Windows 7 Ultimate 7100-0-090421-1700 RC) in English, German and Japanese through Microsoft Connect by means of their Windows Live ID as explained in [this Bright Hub's article on Windows 7 Beta Language Packs](https://Windows 7 Beta Language Packs ). The following downloads are available on the Microsoft ecosystem (Microsoft Connect):
English (US) 32-bit: 7100.0.090421-1700_x86fre_client_en-us_Retail_Ultimate-GRC1CULFRER_EN_DVD.iso

German 32-bit: 7100.0.090421-1700_x86fre_client_de-de_Retail_Ultimate-GRC1CULFRER_DE_DVD.iso

Japanese 32-bit: 7100.0.090421-1700_x86fre_client_ja-jp_Retail_Ultimate-GRC1CULFRER_JA_DVD.iso

English (US) 64-bit: 7100.0.090421-1700_x64fre_client_en-us_Retail_Ultimate-GRC1CULXFRER_EN_DVD.iso

German 64-bit: 7100.0.090421-1700_x64fre_client_de-de_Retail_Ultimate-GRC1CULXFRER_DE_DVD.iso

Japanese 64-bit: 7100.0.090421-1700_x64fre_client_ja-jp_Retail_Ultimate-GRC1CULXFRER_JA_DVD.iso
As yet, there is no CRC checksum or hash value information obtainable for the Windows 7 install media on MS Connect. Moreover, in order to download the retail versions of Windows 7 Ultimate from Microsoft Connect you need to have Microsoft® File Transfer Manager (FTM) installed, which can cause problems for Vista users as explained on the FTM homepage. Therefore, it might be easier to enroll in the free Microsoft Partner program and obtain the Release Candidate of Windows Vista Ultimate by means of an ordinary download.
Conclusion
Spanish and French Windows 7 RC languages packs are now available, but so is the operating system build. Thus, Windows 7 RC languages packs are only useful if you want Windows 7 to have a display language different from that the parent language. Keep in mind that Windows 7 Release Candidate Language Packs are Multilingual User Interface (MUI) packs and will only install on Windows 7 Ultimate and Enterprise editions when the Windows 7 RC license expires. Last but not least don't forget to protect your Windows 7 RC with compatible anti-virus software. You may want to check out Bright Hub's Top Antivirus Software for Windows 7.
References
Screenshots by the writer
Author's opinion