Windows XP Security Tab Missing? Find Out How To Bring it Back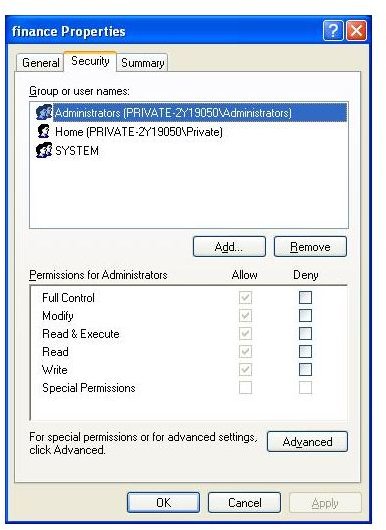 Enabling Security Tab To Access NTFS Permissions
Windows XP uses the NTFS file system, which offers many benefits over FAT32. One of the major and important benefits is NTFS permissions. These are the set of modifiable predefined rules, which we can use to protect our important data from being accessed by other people who use the same computer. With these permissions, it becomes possible to allow and restrict access to your files by other people and you can define to what extent you want to give users access to your files. For example, you may want someone only to be able to read your files and not modify them. With NTFS permissions you can even restrict users from opening your files. NTFS permissions also let you assign permissions to control the access that the other users can have to your individual files and subfolders.
Windows XP users enjoy these NTFS permissions and can easily modify the permission settings as they like and as they need. To make use of these settings, all we do is right-click on the file or folder, click on Properties to access the Security tab, where you can
modify all the security adjustments according to your requirements.
When Windows is installed, the NTFS permissions are also automatically installed, but these are not enabled by default. Windows provides a similar feature at the fresh install called Simple File Sharing. This is another feature of NTFS permissions, which lets you utilize a very basic set of permissions for your files, folders, and subfolders.
To enjoy the real benefits of NTFS permissions, these must be fully enabled. When Simple File Sharing is enabled, it is not possible to use all the NTFS permission features, and the Windows XP security tab disappears, therefore Simple File Sharing must be disabled in order to enable all features of the NTFS permissions. To disable Simple File Sharing, follow these simple steps:
1. Begin with going to the Control Panel.
In the Control Panel, double-click on Folder Options.
In the Folder Options window, open the View tab.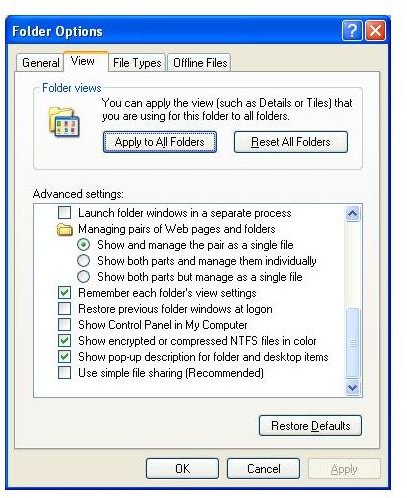 Scroll down the bar to the bottom until you see Use simple file sharing (Recommended)

Uncheck this option; click on Apply then on Ok to close the window.
You have just fixed the Windows XP security tab missing problem! Congratulations. By enabling NTFS permissions (through the Security tab), you now have more control over your files and folders. You can choose which file your friend can open, which one your brother can change, and which one nobody can open, etc.
As you have now enabled NTFS permissions, just right-click on your file or folder, select Properties and go straight to the Security tab where all the NTFS permissions will be available.