Skins for Outlook Express - Personalize Outlook Express

Skins for Outlook Express
Outlook Express does not come with options to customize the program's appearance, although you can express your creativity with stationary for the people you email. However, a few programs offer to give you skins for Outlook Express. Do NOT use the program Hotbar. It is adware at best, and will send out information on your browsing habits to another source, and possibly do worse.
Some available programs

2.5.2.4 is a freeware program to put skins on both the IE toolbar and Outlook Express, but I had mixed luck getting it to work. It allows you to use your own images for the skins, however it is necessary to make sure what you want is in the top left corner of the picture you are using, or you may end up with a solid black corner or some other odd image. I was able to create a skin, but I was not able to apply it to the IE toolbar, as they said.
It also appeared briefly on other applications, but I could not make sense of it or get it to work consistently.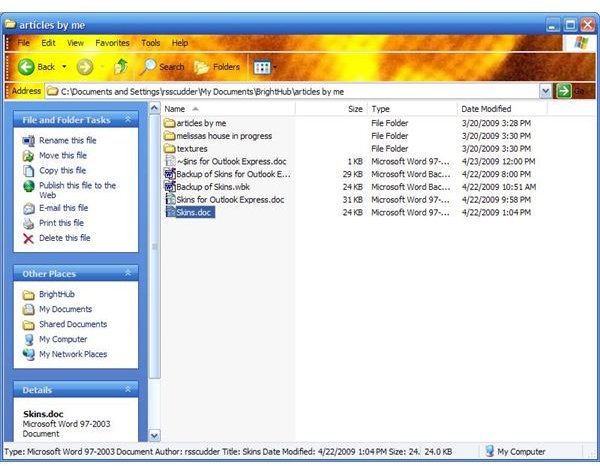 Nevertheless, it is a free application, and some of you may have more luck figuring it out than I did. If you do, please send in a comment to the Windows discussion forum and I will update this article. However, as you will see in the next section, the program was useful in a backhand way.
Another available program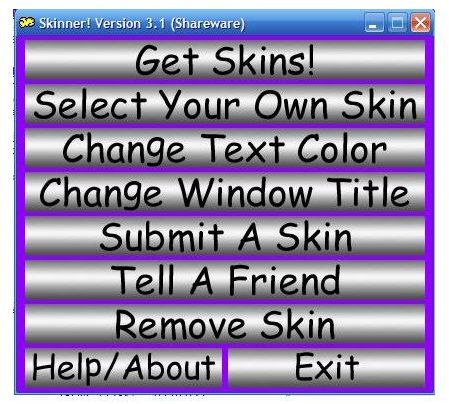 A shareware program called Skinner 3.1 also puts skins on Outlook Express, as well as several other Windows applications, including, to my surprise, the Control Panel.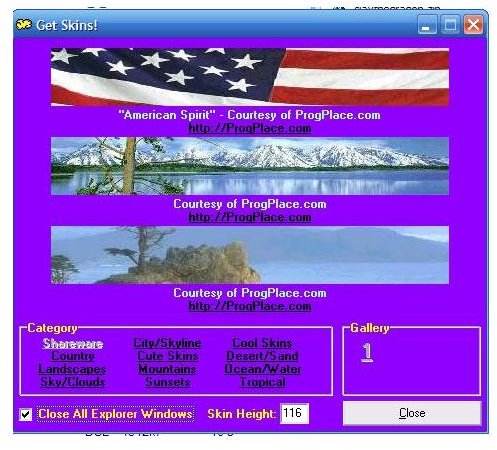 They let you try three skins free, but you must register and pay $9.95 to access the rest of their offerings.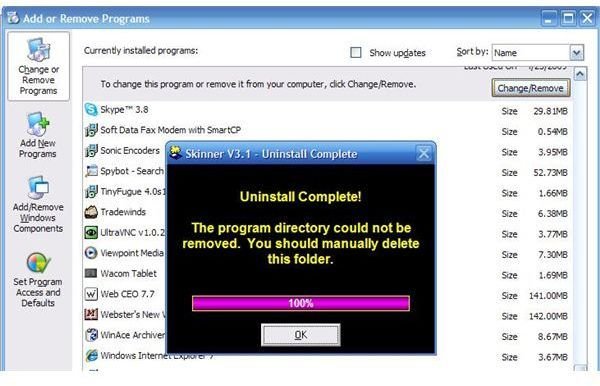 When I decided to remove the shareware program, I was able to uninstall it via Control panel, but I had to delete the program from C:\program files manually.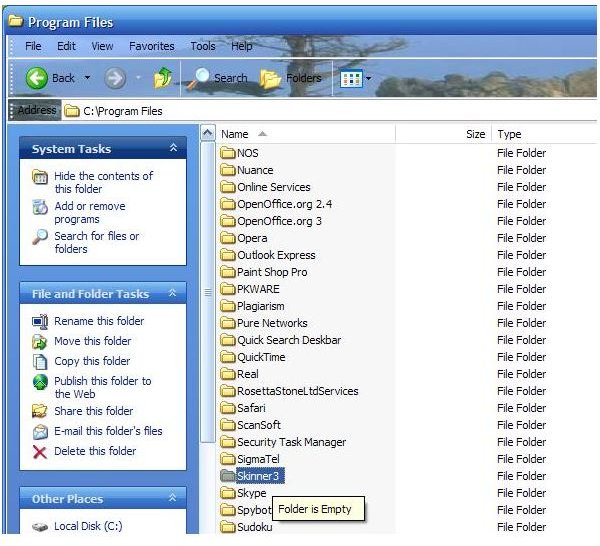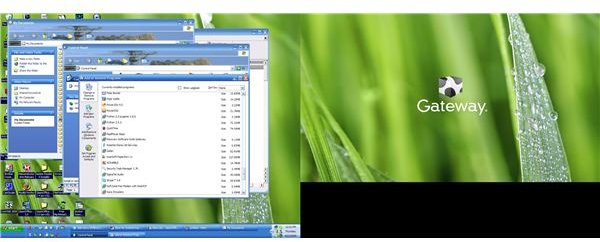 After that I still had the skin on several application windows.
I ran IEmage, selected a skin, applied it, and then deleted it immediately. That removed all the Skinner skins from my windows, and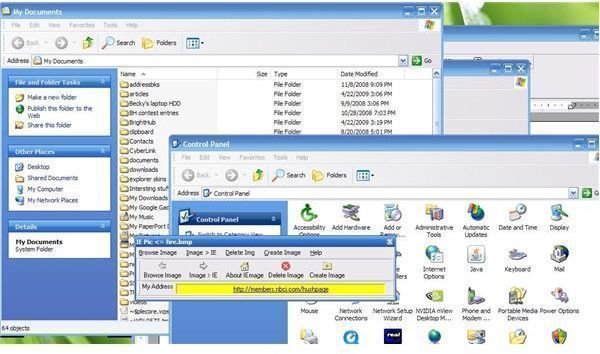 did not install IEmage skins. If you think you want to give Skinner 3.1 a trial, it would be a good idea to also install IEmage so you can get rid of skins you don't want.
Applications for developers and commercial applications
There are also some programs for attaching skins to applications for developers, ranging upward in price to $399. These are for people who want to brand an application with a distinctive logo or picture, but I felt those were beyond the scope of this article.
A new use for an old program
Interestingly, the program I came up with to put skins on Outlook Express was discovered in a search on Google. This brought me to a forum discussion on removing skins put onto Outlook Express when you didn't want them there. Microsoft published a number of Web applications for Internet Explorer 5, one of which is Internet Explorer 5 Toolbar Wallpaper. IE5 is long gone, and so is the functionality, which actually put skins onto your Internet Explorer toolbar. The program now adds a command to the IE7 toolbar under Tools on the menu bar, called toolbar wallpaper. This command allows you to put several preloaded skins onto Outlook Express, although nothing now happens to Internet Explorer. In addition, you can set options to use Windows wallpaper on your computer, or add 24-bit bitmap pictures to Windows to create your own skins from pictures you find or even take with your digital camera.
Tutorial for creating your own Skins for Outlook Express
You can downlo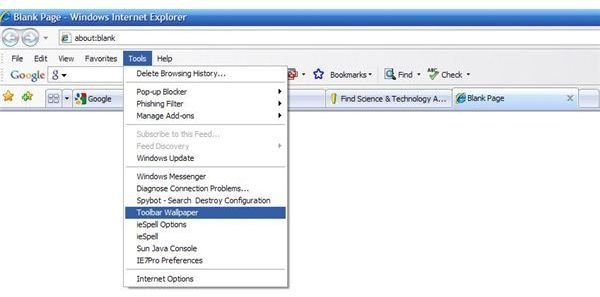 ad Internet Explorer 5 Toolbar Wallpaper, and begin creating your own skins for Outlook Express. It downloads quickly and adds the Toolbar Wallpaper option to Tools on the menu bar after you have closed and opened Internet Explorer.
In the image, you can see one of the skins that come with Internet Explorer 5 Toolbar Wallpapers. If you select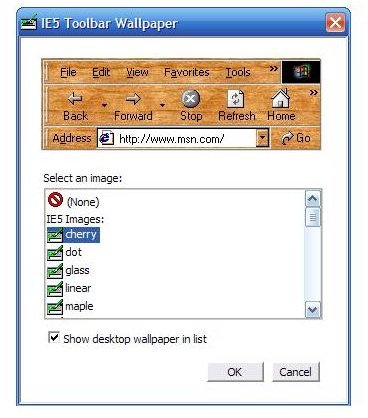 the option to include Windows wallpapers, your choices expand. However, a lot of these skins are very sedate and have no originality about them.
We are going to have fun, however. There is a web full of free art, and you likely own a digital camera as well. You can create your own image to use for your Outlook Express skin- one that is more attractive, or more meaningful, or just original. We will go through the steps for using a section from a picture you took first.
Creating a skin from a digital camera picture file
If you don't have a picture in mind, set your view to thumbnail in your Pictures folder, and start browsing. While working on this

article, I learned that even though a picture can have a great deal of detail which would look interesting as a skin, if the section you use is too dark, you will not be able to read the menu items in Outlook Express. I tried a close up of dried grass, a close up of deep green moss, and a tree trunk covered in lichen, and all of them turned out to be too dark to be a useful skin.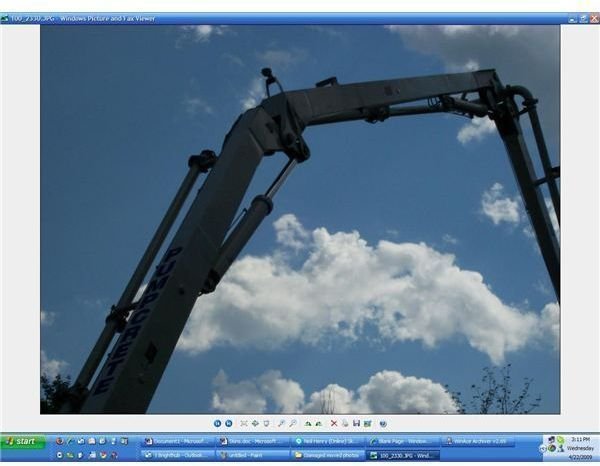 I have found a picture I took of a cement truck piping its load to become the foundation of my sister's house. What I want the picture for is the clouds in the blue sky.
I opened the picture in Paint, and cropped a short wide section of sky with clouds.

I copied that to a new screen in paint, and saved it as cloudy sky, as a 24-bit bitmap.
Use Save as, and navigate to your C drive on your computer, where the directory for Windows is stored.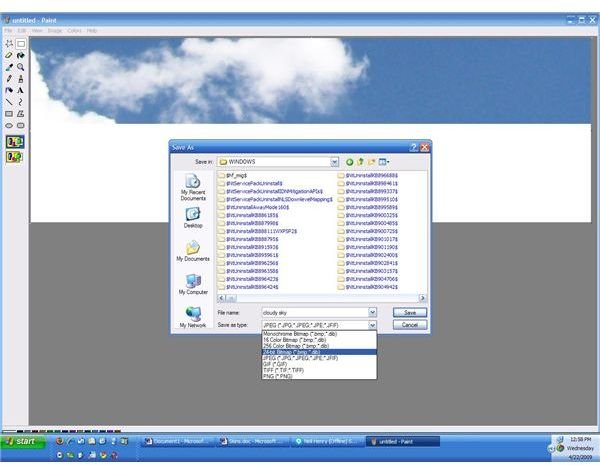 The other wallpapers available for use in Windows are not in a specific folder here, but are saved directly in the Windows directory. That is where we want our new skin, which Windows considers to be wallpaper.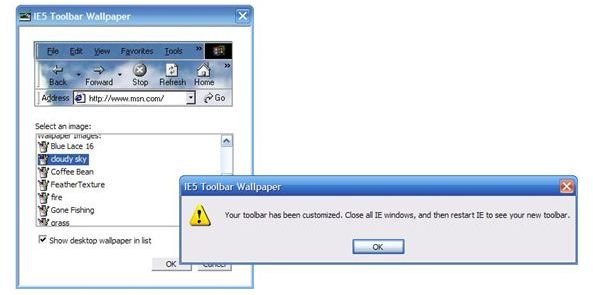 Open Internet Explorer. Go to Tools –> Toolbar Wallpaper, and click to open the option. Make sure you have the option Show desktop wallpaper in list checked. Below the preloaded skins are the wallpapers for Windows. You will find your file here. Highlight the file you want, and click on OK.
You will see the message; Your toolbar has become customized. Close all IE windows, and then start IE to see your new toolbar. Click on OK. Close Internet Explorer.
The skin you created

Make sure that Outlook Express is also closed. Open up Internet Explorer. You will notice you do not have a customized toolbar.

Open Outlook Express. Here, you will see the skin you created. If it is too dark to see menu names clearly, you can see them if you hover your cursor where they are normally. If this frustrates you, just close Outlook Express again, and open Internet Explorer. You can use the option Toolbar Wallpaper to apply a different skin, where you can see the menu items and icons in Outlook Express, or you can remove all skins. This will take effect as soon as you select your option, and close Internet Explorer. Do make sure you have Outlook Express closed while you do this. When you open up Outlook Express again, you will have the skin you selected, or no skin, if that was your choice.
Creating a skin from free artwork available on the Internet
The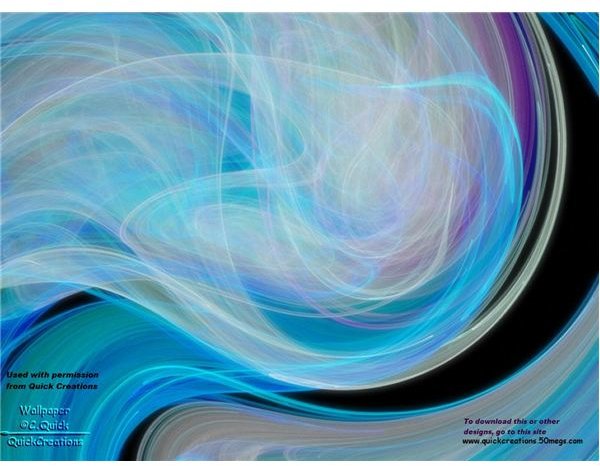 re is a lot of beautiful artwork out on the Internet, much of it for use by individuals on their private computers. This includes themes, wallpapers, and stationery. I contacted Carol at Quick Creations for permission to use one of her themes, and she was kind enough to allow it to be used for an example in this tutorial. Check out her website for some beautiful themes and wallpapers you may download after you agree to her terms of use.
Selecting a section for a skin
I selected the theme Lunar Eclipse. I downloaded it, opened it, and took a screenshot to paste into Paint. There I took a s

lice from the top of the theme, one which I thought would be both attractive and allow menu items and icons to be visible. Copy your selection, and paste it into a new Paint window.
Here, you must use Save As in Paint, selecting 24-bit bitmap. Save the file in the C:\Windows directory, rather than any file inside the directory. What we are doing is putting the file where Windows expects to find wallpaper, so it will be available to use in the Internet Explorer Tools Toolbar Wallpaper selections.
Lunar Eclipse skin for Outlook Express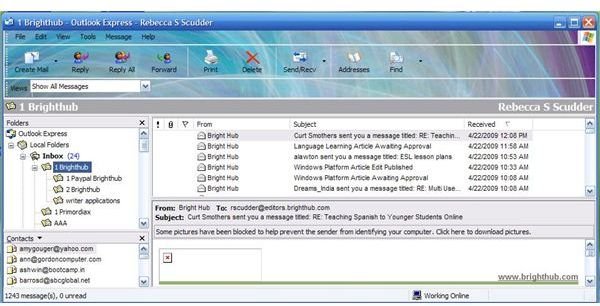 Again, open up Internet Explorer and navigate to Toolbar Wallpaper. As long as you have clicked Show Wallpaper in the list, you will see your new skin. Select it, and close Internet Explorer. Remember that Outlook Express needs to be closed while you do this as well. Now open Outlook Express. You will see the skin you have created from Lunar Eclipse. The skin will also show at the top of any email you open or compose. It will not be emailed along with your emails to other people. It remains on your individual computer, in agreement with the Quick Creations terms of use.
Now that you can make your own skins, you can create one for any mood, or use an image with personal significance. Be sure that if you use copyrighted images you comply with the terms of use of the creator. Have fun!
Want more Outlook Express info? Check out Outlook Express and Mozilla Thunderbird Slugfest: Choosing the right Email Client and How to Import and Export Contacts between Outlook and Outlook Express.