How to Set Up Mouse Gestures in Internet Explorer and Firefox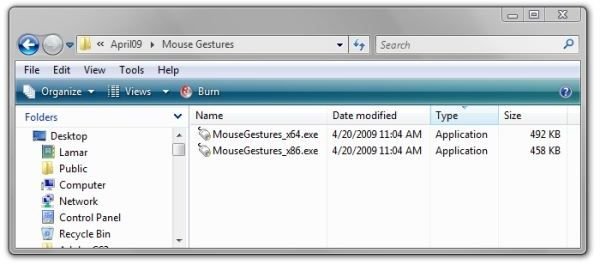 Introduction
Much of what we do with our web browsers is very repetitive. We click a link to go to a new page, click an icon to go back, and click File → New Tab to get a new page. With all of the interest now being shown in touch screens and controlling the operating system, as well as applications, with our fingertips and gestures like "flicking" and "pinching," some attention is also being directed to marrying the new methods with the old. Thus we get mouse-based gestures used as a non-keyboard method for controlling a web browser. Here we'll look at obtaining and installing such an add-in for Internet Explorer and then Firefox. (If using Firefox, please scroll down and jump to the second page.)
Mouse Gestures for Internet Explorer
That's the name of the utility as well as this section. It was created by Ralph Hare, and it can be downloaded here.
Don't know if your version of Windows is 32- or 64-bit? Right-click on "Computer" in Vista and Windows 7 or "My Computer" in Windows XP, select Properties, and look under "System Type."
Both versions are less than 500 kb, so they are a fast download. (Hover mouse over image to read label or click to enlarge.)
It's best to exit Internet Explorer before installing external plug-ins. Also, Windows may complain about an unverified publisher, but that's very common with applications from small developers and can be safely ignored. The images below show the install routine.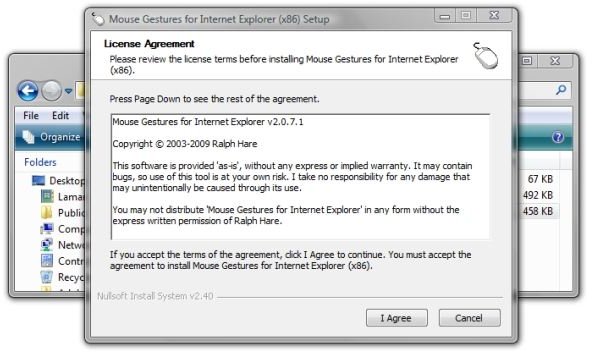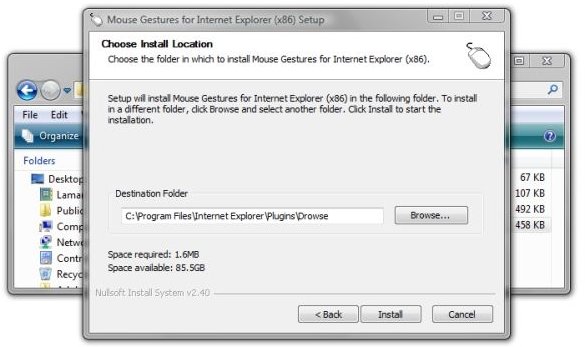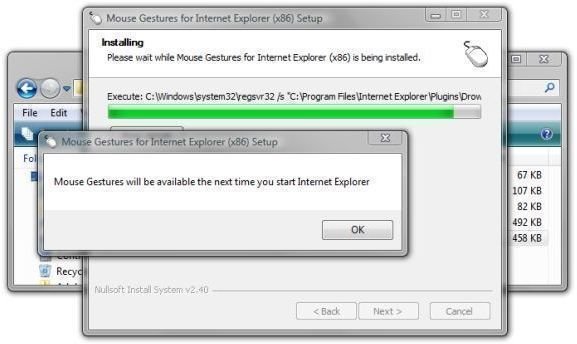 Starting and Using Mouse Gestures
Mouse Gesture settings are accessed under the "Tools" menu in Internet Explorer.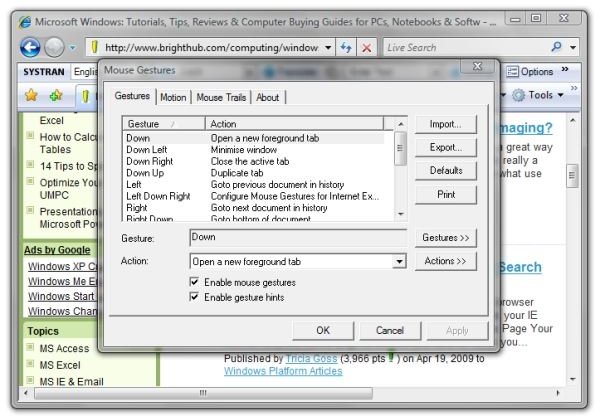 When first starting, you may want to go to the "Mouse Trails" tab, enable visible on-screen trails, and change the colors to your preference.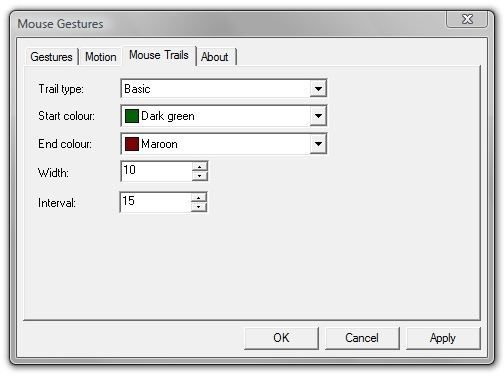 After you become accustomed to using mouse gestures, you can elect to turn the mouse trails off.
After setting up mouse trails, click the "Gestures" tab, and you'll see the list of the default gestures. Most gestures are made using the right-hand mouse button. For example, the first is "Down" and the action is "Open a new foreground tab." With mouse trails on, here's my first inexpert attempt.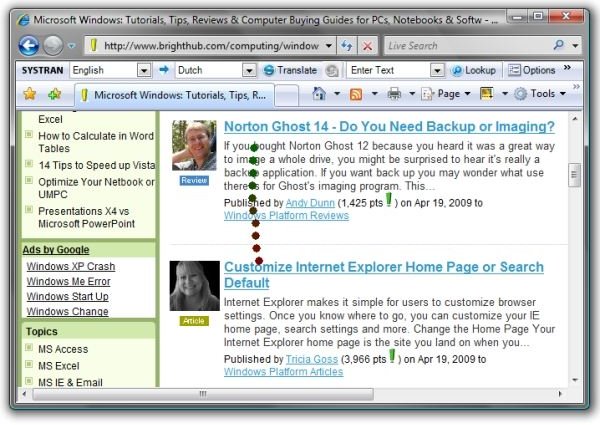 In accordance with the selection made under the Mouse Trails tab, the trail started out green and ended red. Some of the gesture settings are dependent on the type of hardware installed on your PC. For example, there are left and right rocker options which might be most convenient laptops. A "rocker" gesture is made by pressing one mouse button, holding it down, and then pressing the other. This would also apply nicely to laptops that don't have an integral center button.
Creating and Assigning New Gestures
To create your own gesture to assign to an action, start from the Gestures tab and click the "Gestures »" button. Then click "Add." Hold down your right-hand mouse button and draw the new gesture in the dialog, or click the directional buttons to describe it. The dialog will translate your movements into the simple code that describes them when you finish drawing.
Note that gestures are not hand-writing recognition. Don't expect it to figure out that an "R" means "reload." (An up and down gesture works fine for that.)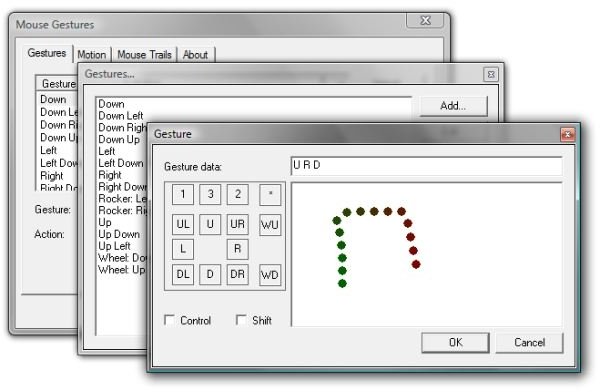 The new gesture is then added to the list under the Gestures tab.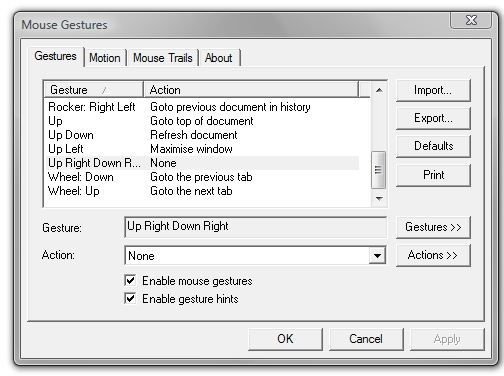 To associate an action with it, click "Actions »."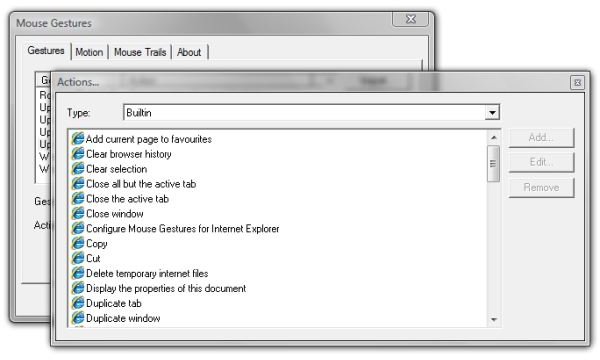 We'll look at setting up mouse gestures in Firefox on the next page. However, to learn more about Mouse Gestures for Internet Explorer, please visit the tutorial found at the bottom of the Mouse Gestures website page.
Mouse Gestures for Firefox
The mouse gestures package for Firefox is called "FireGestures," and it installs securely and directly through Firefox's plug-in architecture. To install, using Firefox of course, go to this page and click the "Add to Firefox" button. The images below show the installation steps. (Hover mouse over an image to read the label or click an image to enlarge.)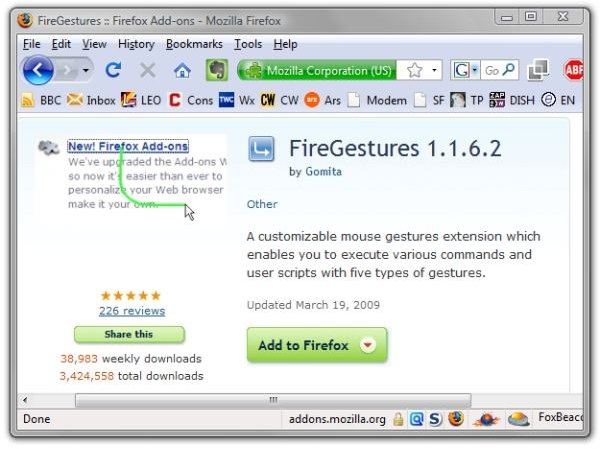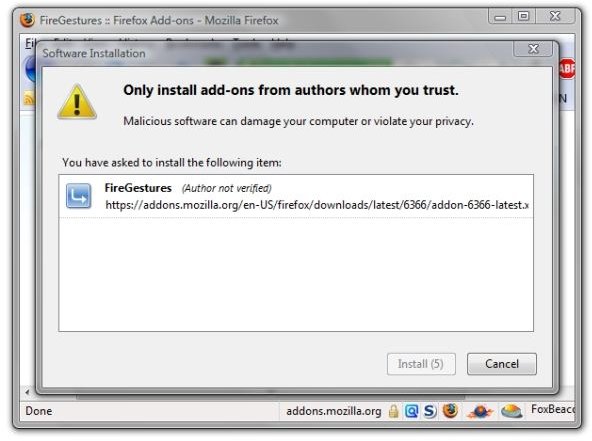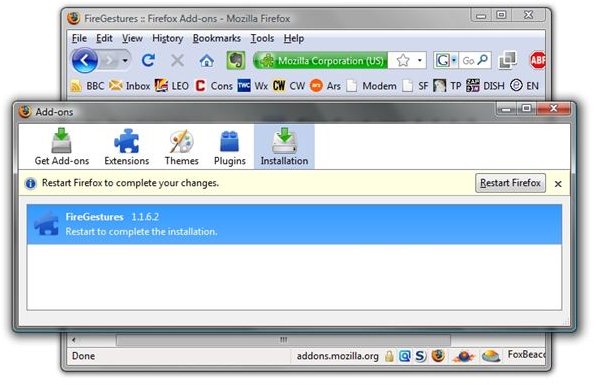 Using FireGestures
A restart of Firefox is needed to complete the installation. After the restart, the add-on will be enabled. To access FireGestures settings, go to Tools → Add-ons, scroll down, find FireGestures in the list, and click "Options."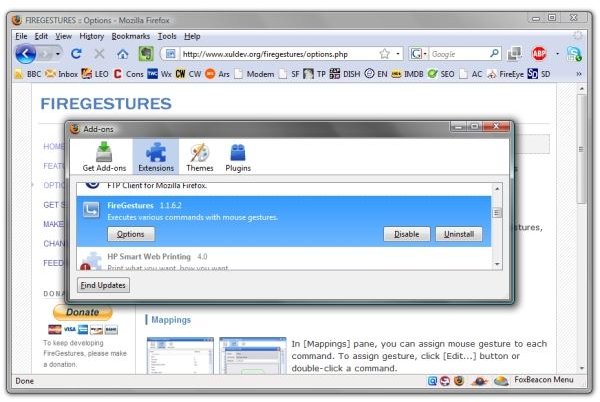 FireGestures offers five types of mouse gestures. These include mouse gestures created by moving the mouse with the right-hand button held down, wheel gestures with the right button held down, rocker gestures done while holding one button and clicking the other, combined key-press and mouse gestures, such as holding down the Ctrl or Shift key while making a gesture, and tab wheel gestures done by scrolling the wheel on the tab bar. Not all are enabled by default, and there are many user options than we'll examine here within the add-on.
Here's the General settings tab.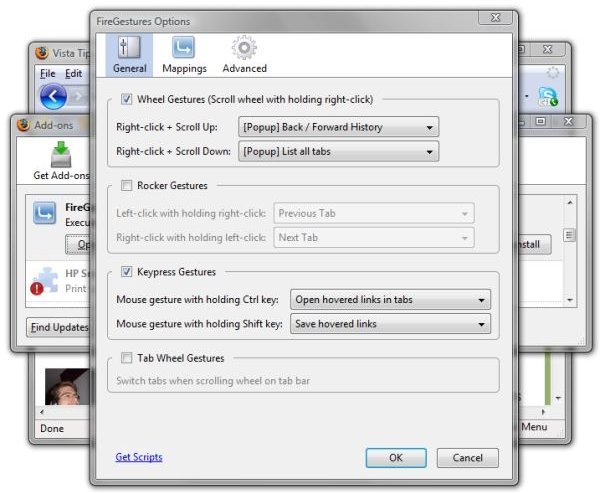 A setting that is listed as "Popup" means that the gesture opens a new dialog of its own. A setting listed as type "Hybrid" means that it opens a popup dialog that then offers some other standard Firefox function such as "Save as…" offering "Page" or "Bookmark…" offering "Link."
Right-click and scroll up, for example, pops up a list of pages from Firefox's recent history for the current tab. Right-click and scroll down pops up a list of all the open tabs in Firefox.
Under "Key-press Gestures," you'll see that a mouse gesture made while holding the Ctrl key opens hovered links in tabs. This is handy if you have a list of links on a page and want to open them all in tabs. Instead of center-clicking them one by one, you can hold down the Ctrl key and move the mouse (slowly) down the list to open them all in taps. I found that a deliberate, slow hovering movement worked best for this.
The next tab is "Mappings."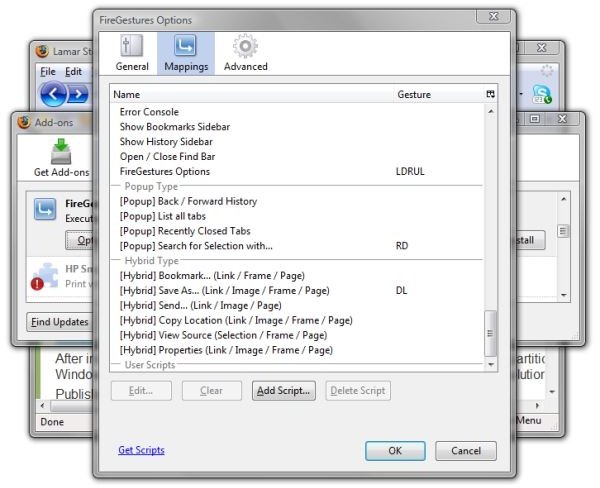 This lists the default gestures. The first, and one of the most common actions in a web browser, is "Back." It's done by holding down the right-hand mouse button and drawing a line to the left. "New tab" is a left-then-right movement, and jump (scroll) to top of the page is a left-then-up movement.
The most commonly used functions are done with the simplest movements, so it's easy to begin using FireGestures. A good method is to make a Post-it™ note with the five or six common gestures that you want to begin to use. Put these into action, and when you want to add more, change the note and add some new gestures.
You can also modify any of the default gestures. Do this by highlighting one and then clicking the "Edit" button. In the dialog that appears, right-click and draw the new gesture while holding down the right-hand mouse button.
Advanced Options and Scripts
The last tab in FireGestures is "Advanced." Here you can set the color and width of the mouse trail and the timeout for gestures. Notice the link at the bottom of the dialog that says, "Get scripts."
What are scripts? They are small programs that perform some slightly more elaborate function for a gesture than the default functions. For example, the "Rewind" script makes Firefox go to the first item in history for the current tab. Others are "Firefox options" and "Show Cookies."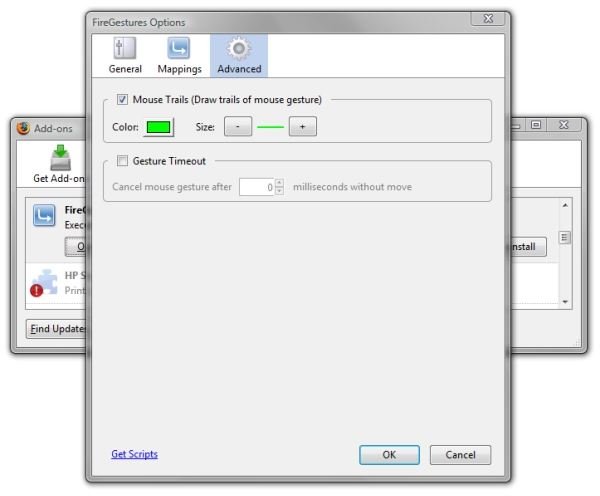 Here we've only touched on the beginning of what one can do with FireGestures. The FireGestures home page shows in some detail how to use the Add-on, lists the available scripts, and provides guidance for creating your own scripts in case you want to pitch in and share.
Conclusion
So there we have it - how to add mouse gestures to Firefox or Internet Explorer. In both cases the plug-ins are easy to install, and, at least in my experience, appear to be more complicated to use at first glance than they really are. Mouse gestures will speed up your use of your web browser, and they will help you the most first in the tasks that you do most commonly. For me, that's new tab, reload, close tab, back, forward, bookmark, and home. Your needs may be similar or not so similar. We also may all be adopting touch screens in the next few years, so being conversant with this technology today surely won't hurt then.
Thank you for reading this, and thank you for visiting Bright Hub.
Related Reading
Get a Faster Foxfire with Ubiquity and Interclue - Want to surf in Firefox with more information about where you may go next before you click the link? Want shortened commands to rapidly find weather, Google and Wikipedia results, and more, without going to the website first? Here we'll look at Ubiquity and Interclue, two great add-ons for Firefox.
Offline Google Gmail - How to Get It Up and Running in Windows - Gmail just got a little smarter. Unlike with Hotmail or Yahoo!, you can now use your Google Gmail in an offline mode. This is a minor boon for laptops, tablets, and the mobile warriors that wield them. Here we look at installing and using offline Gmail, complete with screen shots.
MSI Wind NetTop D130 Mini-Desktop Multimedia PC - Need a tiny, quiet PC that can play DVDs and provide 7.1 channel surround sound? Don't mind if it looks like an early DVD player? Then MSI may have exactly the little PC that you need. Here we take a first look at the NetTop D130 personal PC appliance.
How Did They Come up with "7" for the New Version of Windows? - Since Mike Nash announced in the Vista Team Blog that the next version of Windows is to be officially called "Windows 7," some people have been wondering how they came up with this number. To find out, let's take a brief look back at past versions of Windows and their numbered release sequence.