Sending a Photo in Windows Live Mail - Windows Live Email Help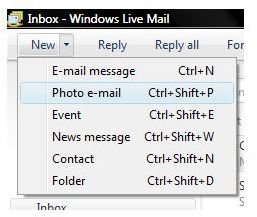 New Method of Sending Images
For best results, make sure you have the latest version of Windows Live Mail installed on your computer. You can download this from here (Windows XP users click on this link; Windows Vista and Windows 7 users click on this link - you will be taken to live.com).
Initially, the previous method of e-mailing images was to attach each individual image one by one. Windows Live Mail offers a great feature which allows you to send multiple pictures in a single e-mail in seconds, and even allows you to fully customize the appearance of that very same e-mail. In just a few minutes, you will have an e-mail filled with plenty of images that will look great.
Note that the version of Windows Live Mail differs depending if you are using Windows XP, or Windows Vista/7. For Windows Vista, or Windows 7, the latest version available is Windows Live Mail 2011. The interface is different, and for that, there will be separate instructions.
Step 1
Windows XP Users: After opening Windows Live Mail, move your mouse to the top left tab of the window. Click on the drop-down arrow next to "New." From there click on "Photo e-mail."
Windows Vista/7 Users: Be sure that the "Home" tab is selected on the upper left corner of the window. Beneath it, you should see "Photo email" as an option (to the right of "Email message"). Click on that.
Step 2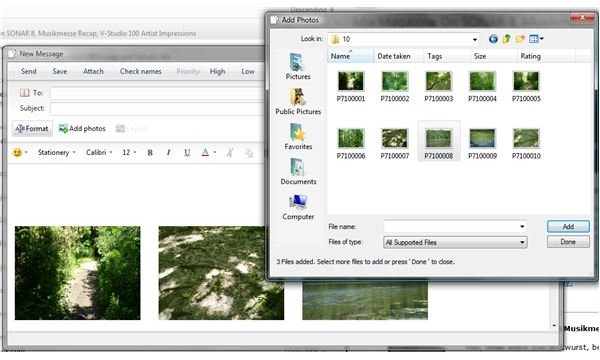 A new e-mail message will appear, along with a window which by default will open your Pictures directory.
Windows XP Users: Surf around and look at which pictures you would like to add by double-clicking on them, or by clicking on "Add" on the bottom right of the window. Notice as you add photos that they show up in the e-mail accordingly. When you're finished adding images, click on "Done" to begin editing your e-mail.
Windows Vista/7 Users: Choose the pictures that you would like to add. If you only wish to add one, double-click it. If you wish to add multiple photos, be sure to hold onto the Ctrl key as you click each individual photo. When you are finished, click "Open."
Step 3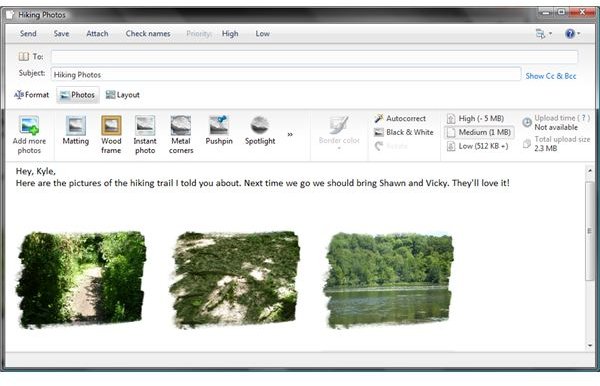 Windows XP Users: Notice how a new tab opens up right above the message box where your images are. You can choose to add more photos, or edit the appearance of the photos in the e-mail with some fun effects. Play around with these effects, and choose the image quality on the far right of the toolbar. By default, it will be set to "Medium." If you want to send higher quality photos, click on "High." For lower quality, choose "Low."
To further customize the appearance of your photos, right above the image-editing toolbar, click on "Layout." This way you can modify how they appear in the e-mail next to your text. There are quite a few different features in this section, so be sure to take some time to explore it before sending off your message. Either way, your e-mail will look vibrant, organized, not to mention fun. Give it a try!
Windows Vista/7 Users: You will notice that there is a text box saying [Enter album name here]; click on it to give your album a title. In the same text area, there are also some options for the person to whom you are sending the e-mail ("View Slide Show" and "Download All"). It also says how many photos are in that album, and for how long they will be available on SkyDrive (an online storage tool which carries 25 GB of space; every Windows Live user gets this space for free!). Underneath, you will see a blank box that says "Add more photos." If you wish to add more pictures, click on that box.
Also, you should notice that there is a new tab at the top of the window that says "Photo Album Tools," and under that it says "Format." For this, you can edit the appearance of how your photos are displayed in your e-mail, change the size of each photo, and even edit the privacy of your photo album ("Album privacy," in case you only want certain people to see it). If you wish to attach pictures to the e-mail you're sending, instead of setting up a photo album, click on the paper clip icon to attach a photo instead.
References
The screenshots in this article were provided by the author.