Star Trek Themes for Windows XP : Star Trek TOS Inspired Screensavers, Icons, Wallpaper and Cool Images for Fans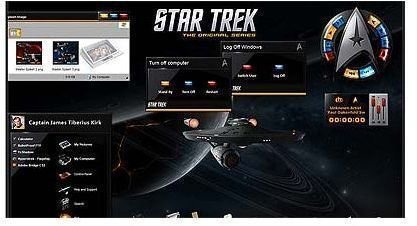 HyperDesk: Star Trek TOS Desktop
The Skins Factory at HyperDesk.com offers an outstanding Windows XP Star Trek desktop themed package. Inspired by the original series, it has three choices available: Command (Kirk), Sciences (Spock) and Engineering (Scotty). This "Hyperdesk" edition has a unique start menu and taskbar icon with over thirty desktop items and a selection of wallpaper images. The theme does not interfere with normal XP activities and works seamlessly. With the Starfleet auto remote feature, you can hear authentic Star Trek sounds including the transporter and other familiar effects. However, to use it you will need to download Yahoo! Widgets. Other system requirements include memory of 128 MB, disk space 209 MB, 233 MHz for processing and Windows Media Player 11. Price is $9.95 for the software and you can download it directly to your PC.
Unlike many free Star Trek themes for Windows XP, this version is visually stunning and well crafted. Skins Factory also released a Terran Empire Star Trek theme in late 2009. It was inspired by the Star Trek TOS episode called "Mirror, Mirror". Price on this one is $4.95. In the future, Skins Factory may also create a version based on the 2009 released Star Trek film.
Hyperdesk Star Trek Screenshots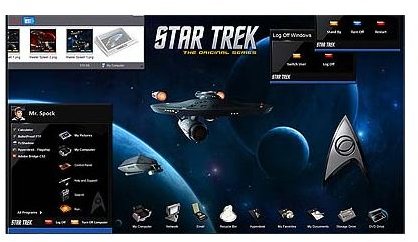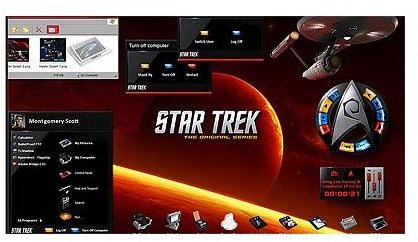 Star Trek Screensavers and Wallpaper
There are a lot of Star Trek themes for Windows XP available online, but not all of them may be worth the download due to annoying pop-ups, viruses and spyware. Although pop-up and anti-virus software can provide protection and eliminate most ads, it is not fool proof. For instance, Supershareware.com offers a free screensaver with sharp images of the starship Enterprise. However, in order to have it on your computer you must agree to advertisement (spyware) pop ups that will be generated as you surf the web. FreewareSite.com also offers a collection of images from the Star Trek series, but they also can track your Internet activities for marketing purposes.
The official Star Trek.com website offers screensavers, wallpaper and desktop images. Many are free to download, but special collections cost $4.50 each. On 4FreeDesktopWallpaper.com, you can find safe, ad free XP compatible wallpaper. All are configured for three different resolutions: 800 x 600, 1024 x 768, and 1280 x 1024. Other spyware free Windows XP Star Trek wallpaper can be found at FreeCove, and AvailableWallpapers.