Download Flash Player for Windows XP - How to Guides Using Windows XP

Introduction
Many websites use of Adobe's Flash content. The uses vary from making animated menus (or any animations) to building complete websites. Since Flash is a proprietary and trademarked technology of Adobe Systems Incorporated, the operating systems are not able to ship the software by default. However, as a Bright Hub reader you will get step-by-step instructions to download flash player for your Windows computer.
Install When Prompted by Your Web Browser
When you visit a website that contains Flash media, you will be prompted that the website requires an ActiveX Control "Flash Player" from Macromedia Inc. (first screenshot at the bottom). Clicking on the "Install ActiveX Control" will connect you to Adobe's Website, allowing you to download and install the Flash Player. When the installation begins, you will receive a security warning. If it is signed (as in the screenshot at the bottom), you will see "Adobe Systems Incorporated" as the publisher. Click on the "Install" button. You will be asked to restart your web browser; do so when prompted. Now you have Flash player installed on your Windows system.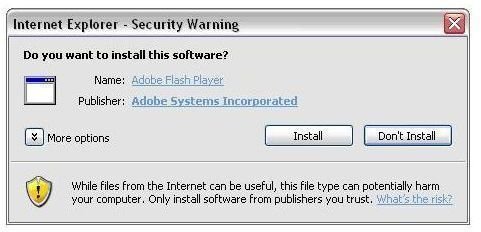 Install Manually
You can also install the plug-in yourself without waiting for the operating system to warn you. The latest Flash Player version is always at its home page and I advise you to download the file from there. Of course, there are many other websites that host Flash Player, but the latest release downloaded from the manufacturer's website is a must to ensure security.
Go to Flash Player's home page on Adobe's website and click the "Get Adobe Flash Player" button to download. Select where you want to save the file and click OK to proceed. The download is 1.5 Megabytes and will be finished shortly. When the download is complete, close your web browser and double click on the downloaded file to install flash player.
Conclusion
Although downloading and installing the Adobe Flash Player is easy for Windows (and for the other operating systems as well) I recommend you to install all the browsers that you will use (Firefox, Opera, Maxthon etc.) and then go with the Flash Player installation. This way you will be able to install the Flash Player plug-in for all your web browsers at once.