Learn What the Purpose of Microsoft Access Is - How MS Access Can Help You Organize Your Complex Information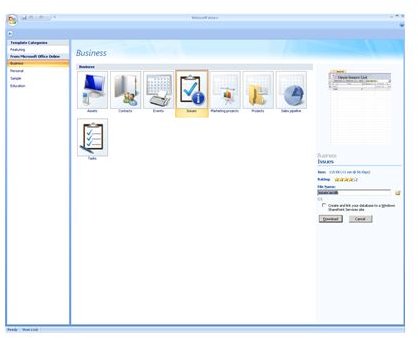 Collecting Your Information into a Database
Microsoft Access is used in many households and businesses across the country. But, what really is the purpose of Access? If you've just bought the Microsoft Office Suite, you may be asking this question. Well, to clear it up, here's a little overview of why Microsoft Access is important.
First of all, it's the easiest way to create a database of information. But, why do you need a database? If you're just collecting the names and addresses of your friends and family, then an Excel spreadsheet will work fine for this simple collection of data. But, what if you're gathering information on donors, such as names, addresses, what they gave and when they gave it? An Excel document would be hard-pressed to keep up with such complex information. An Access database, however, could easily compile this information. It's an affordable option for you to organize large sections of data.
Relational Database
Another important aspect of Access is that it's a relational database. This means that it links different tables together that are related to each other. Tables are how you will input data into Access. The table formats allow you to easily and quickly input data into your database. And, if new information comes in, you simply open up the table for that information and add another entry. This simple way to store and input information makes Access very important for many businesses.
Queries and Reports
While holding the information is nice, you also want to be able to easily access the information. Access has a feature called Queries that searches through the information that you have provided and puts together a table with just the information for which you have set of parameters to search. There's no need to manually scroll through each and every set of data to try and find the information for which you are seeking. The queries do it for you based on the conditions that you need.
Another reason why Access is needed is that you can easily create reports on the data stored in your files. While queries are wonderful, you only get the information in table form. But, with reports, you can format the report and get summaries of your data within one or more than one table. You can also compile the information that you queried into a nicely formatted, easy to read report that you can share with others.
SQL Server
The final purpose of Access is to help you integrate with Microsoft's SQL Server. If you use an SQL Server, you can download the information into Access. From there, you can edit, rewrite and work with the data from the server. Access makes it easier than ever to manipulate your SQL Server data.
If you're looking for a way to organize, edit, find and report on complex data, Microsoft Access just makes it easier than ever to do this. For more details on how to perform certain tasks, be sure to take a look at the collection of Access tutorials available here at Bright Hub.