Windows vs. Mac -- Install Bootcamp or Parallels and Use Both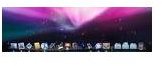 Buy a Mac and hold onto Windows
Becoming a Mac user is not as daunting as it might seem. The interface is intuitive (just point and click around) and the Mac operating system is robust and perky. For those who must maintain total compatibility with the Windows operating system, Mac has that covered (read more below).
Here are some pointers for the ex-Windows, new-Mac user:
Forget about the Start Button!
Mac OS X boots up with its counterpart to Windows task bar, the Dock. The first icon on the left of the dock is Mac's program manager (that little double smiley face thingy), the Finder. Click on the Finder icon and gain immediate access to Mac's vesion of Windows' "My Computer." Experienced Windows users will be able to jump right in to Mac's file management and quickly gain an intuitive feel for the OS X system. (Note: As you switch between applications, the menu bar at the top of the Mac screen changes, which takes a bit of getting used to.)
How to find stuff
Former Windows users will need to get used to the fact that the Mac operating system, while user friendly, it is not totally user accessible. If you are looking for something, just check the Finder's Help window or click on the magnifying glass icon on the upper right of your display. Ask, and it shall be granted. You can find any data file, web site, or program. Don't expect access to system files, though. Disk maintenance, analysis and other housekeeping functions are likewise easy, intuitive and somewhat less tedious than Windows.
More windows than Windows

What everyone likes about Windows is that it allows us to multitask with open or minimized work spaces to work in more than one program. Mac OS X goes two steps farther with its Spaces feature, where we can "multi-multitask." Just open multiple programs and applications in OS X and click on the Spaces icon (a four-paned, black bordered window thingy) to drag your window of groups of windows to as many as 16 separate "spaces" that can be opened, hidden, or accessed like TV channels. Read more about this feature on the Leopard web site.
Installing and removing applications
When you install a Windows application or program, the new program spreads out with ".dll" files going to Windows' folders, program files to its own group of folders. Not so with Mac's OS. Typically, newly installed programs appear in a "disk image" icon. Click on the icon, and the program installs itself, often directly to the Mac Applications Folder.
To remove a program, just drag its icon from the Applications Folder to the Trash Basket on the lower right on the docking bar. Mac does not use anything similar to Windows' uninstall feature.
System preferences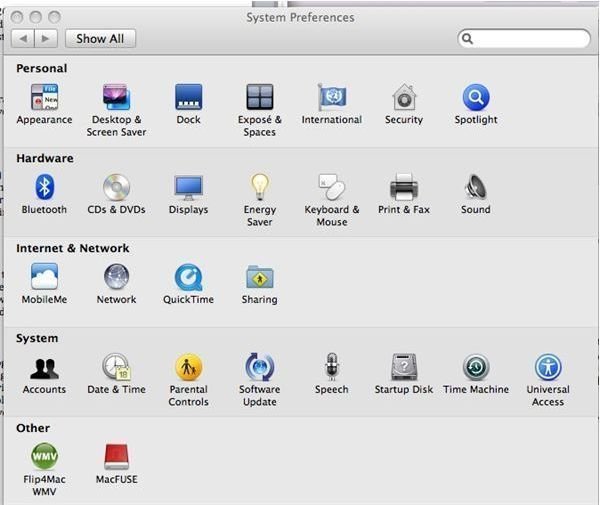 Windows users accustomed to drilling around the Control Panel settings to troubleshoot or change system preferences will be in familiar territory with OS X System Preferences interface. You access System Preferences from the Apple menu (upper left on the top menu bar). Mac has consolidated and integrated its System Preferences in a cleaner and more accessible way.
Backing up
Experienced Windows users will absolutely drool over the OS X back-up program known as the "Time Machine." You have to see the "Time Machine" software to believe it! OS X has solved your backup pr

oblems once and for all. It backs up everything, every day and automatically. You will need an extra large external hard drive to use this astonishingly elegant and simple-to-use feature. Your local Mac store has several large external drives available that plug right into the Mac USB port, whereupon it literally installs itself and the Time Machine Software. Plug this beauty in and forget it.
Preserving Windows' legacy
The good news is that all your old Word, Excel, PowerPoint, and Adobe files (among others) are compatible with Mac's version of MS Office (or the free Open Office download). The bad news is that Mac will not run MS Access database files. The not-so-bad news is that FileMaker Pro, a successful alternative to MS Access, runs on both Mac and Windows.
Still need to use Windows?
Mac OS X on an Intel-based processor will run Windows either through its native "Boot Camp" or virtual software programs like Parallels. Boot Camp runs Windows on a separate disk partition. Install Windows as a separate partition to run Windows in a non-integrated, but faster way. On the other hand, the Parallels application (about $89) allows you to stay with OS X and brings all my Windows files into the backup "Time Machine." Parallels (current version is 5) runs Windows at about 90% speed, but its complete integration with the Mac OS is worth the slight loss in speed.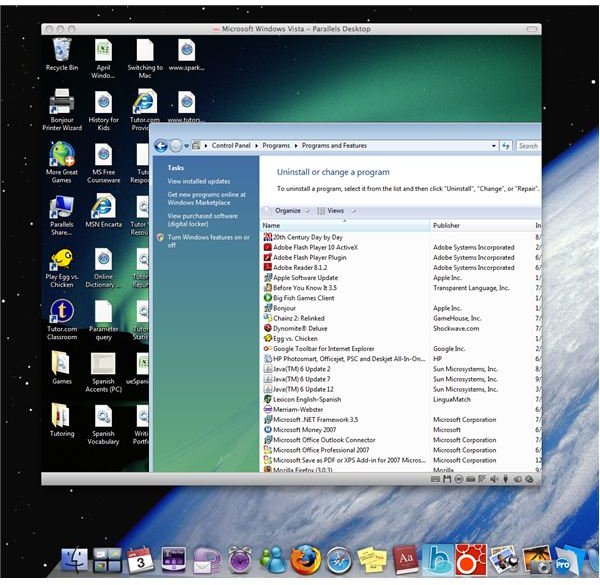 Which operating system is "better"?

Those who use both operating systems will love them for their differences: Windows for its versatility and businesslike approach to computer tasks, and Mac for its elegance and stability. To run both of these great operating systems on a Mac, though, you'll have to cough up the extra bucks for the MAC hardware, which typically costs more (and some say outclasses) the PC platform.
Look before you buy
Time for a new computer? Shop around, of course, but you should also mosey on down to your nearest Mac store and ask one of the sales people to show you what Mac has to offer. If you want a preview of what you'll be getting into log on to Mac's webpage "Mac 101, Getting Started with Mac."