How to Send a Fax with Vista or Windows 7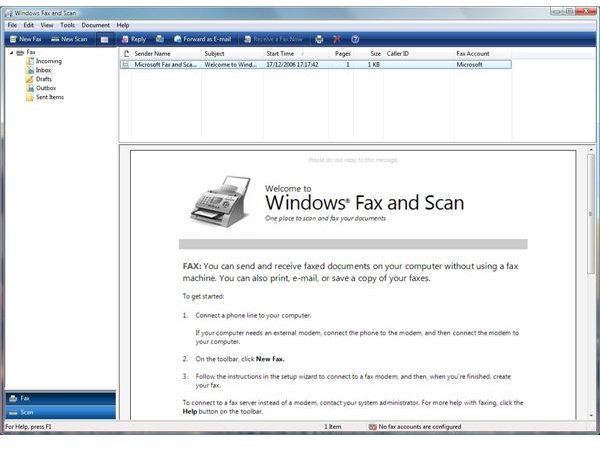 Windows Fax and Scan is on the main All Programs menu of Windows 7 (Home Premium and up) and all versions of Vista (Business and up). "Up" in this case means Ultimate in Vista and the Professional and Ultimate versions of Windows 7. In both Vista and Windows 7, Fax and Scan can be installed in the Enterprise edition as an optional component.
The Fax and Scan feature supports more than one user account on the same PC. Different users can log on to the same computer to send faxes and the program will appropriately recognize each one and identify them as the sender of his own faxes. This, in particular, is very useful for small businesses that have many individuals sharing a single computer.
Sending A Fax
Windows Fax and Scan in Windows Vista and Windows 7 lets you send and receive faxes just as Windows XP allowed you to do it. This nice and easy feature works without having to buy a separate fax machine or fax software. It is as easy as 1-2-3 to send or receive faxes, too. Just follow the steps below to get started.
The first thing you need to do is check to make sure you have a dial-up phone modem. Most modern computers still do, and you will need it to perform the job. If you find it already installed, make sure your telephone line is connected to the modem.

Click on the Start button, select All Programs, and then select Windows Fax and Scan.

If it is the first time you have opened Fax and Scan, you will see a "Fax Setup Wizard" on the screen. It will instruct you to configure your computer to send and receive faxes.
When you are at the fax program's main screen, open the Tools menu, select "Fax Accounts" and then click "Add" to start the process of establishing the fax connection. (Please click the image to enlarge.)

To initiate the sending of a fax process, select "New Fax" on the toolbar. When the new window opens, type in a recipient and a fax number. If you use Microsoft Outlook, it is easy to retrieve the addresses stored in Outlook from the "To" field since these two programs are linked together.

Enter your fax message. You can also attach the document you want to fax, the same way you would add an attachment to an email message. The attachment pages will merge with your fax and will be sent all together.

Finally, click the "Send" button to send your fax with Vista or Windows 7. Your fax message is sent!