What is Z-Wave? - Applications - Setting up a Z-Wave network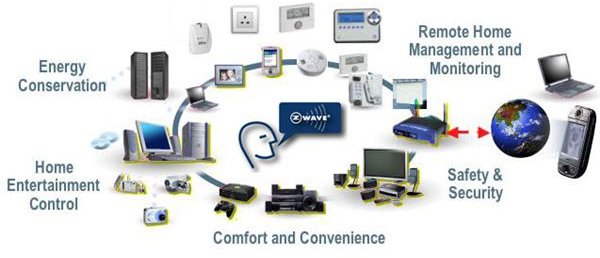 Z-Wave Introduction
You might be familiar with X10, a popular automation solution that sends a 5V signal over the power line this enables you to switch light and appliances on or off either by remote control or by a wired switch box. Z-Wave is the next-generation wireless standard for home automation. It lets you remotely control all your home electronics. The technology uses simple and low-powered signals that can easily travel through walls and floors. Z-Wave unites all your home electrical and electronic devices into one wireless network. The technology comes embedded in some devices, and it can also be added to almost any electronic device in your home, such as lighting, thermostats, HiFi, TV, and other household appliances.
Z-Wave technology enables devices to send or receive control commands. Z-Wave devices can work individually or in groups and are also capable of being programmed into events that trigger multiple devices either automatically or with remote control. Z-Wave comes with capability of confirming when the signal has reached the device and when it responds to the command.
Unlike Wi-Fi and other wireless technologies that are used primarily for high-bandwidth data transmission, the Z-Wave system operates at a sub-GHz frequency for low-level functional commands such as lights on or off, volume control, thermostat control, etc. Z-wave is interference tolerant, which means external wireless devices like cell phones, Wi-Fi routers, and cordless phones will not disturb the use a of Z-Wave enabled device.
It is also possible to control your Z-Wave devices remotely from an Internet connected PC and even through your cell phone, from anywhere in the world. controlthink is a vendor of Z-Wave PC software, a software developer kit, and a high-quality USB Z-Wave controller that allows you to monitor, control, and configure networks of Z-Wave devices from a PC. Schlage LiNK is a product that allows you to do all that from your mobile phone.
Z-Wave Applications
Z-wave is currently supported by over 200 technology vendors worldwide and it is becoming increasingly popular. Some common applications of Z-wave technology include:
Lighting - Using Z-Wave technology with the home electronics such as lighting, security lights, etc, these appliances can be controlled and monitored via remote control.
Air Conditioners/Heaters - With Z-Wave enabled thermostats, air conditioners can be operated remotely to lower or raise temperatures, switch off and on the appliance, and various other controls.
**Home Security Systems -**Z-Wave is very useful also when it comes to managing home security. For example, with a Z-Wave enabled door, you can open or close the doors or the main gate to your house. A Z-Wave enabled garage door can trigger lights and a webcam, which would allow the users to monitor their home from another place. You can also activate and deactivate a home security system via remote control.
**Home Entertainment -**Z-wave technology is great for home audio and video applications, too. You can do lot of things with Z-Wave enabled entertainment electronics such as playing a DVD, stopping it, etc. You can also turn on radio, change the frequency, and more.
Setting Up a Z-Wave Network
A Z-Wave network is created with a controllable device, and additional devices can be added at later time. A new device is added effortlessly by once pressing a set of buttons on the controller, which will include the device into the existing network. Similarly, the devices can also be removed from the network by pressing a few buttons on the controller. You can use different types of controllers such as hand-held controller, wall-switch controllers, etc., which are specifically designed to control Z-Wave network. A Z-Wave network allows up to 232 devices to connect. More devices can be added by bridging networks.
Conclusion
Z-Wave is a modern technology best suited for home users who can't remotely manage their household electrical appliances as they would usually do it with X10.
It is a low-frequency, reliable, and easy-to-use technique to manage and operate your household equipment without needing you to be physically present.