How to Fix "Page Cannot Be Displayed" Errors in Internet Explorer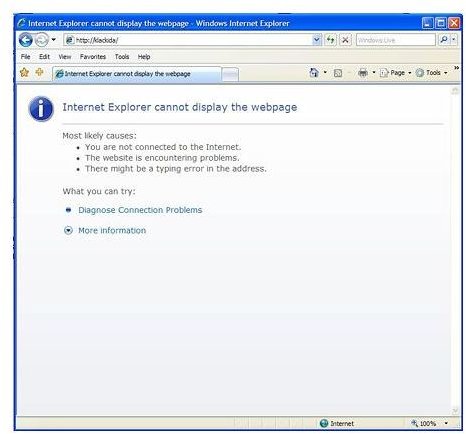 Diagnose Connection Problems
If you have used Internet Explorer for any length of time, it is safe to say you have viewed this message. There are a few problems that might cause the Page Cannot Be Displayed message.
The first step to take is to make certain your Internet connection is active. To do so, open a new Internet Explorer browser window by double clicking the IE icon on your desktop, or from the Programs list. In the IE address bar, type the address of a website you don't typically visit. Can't think of any? Try www.randomwebsite.com. If the Page Cannot Be Displayed message is no longer displayed, the issue is with the particular website you were previously attempting to view.
If you still see Page Cannot Be Displayed when trying to view a new site, look for a Diagnose Connection Problems link in the Internet Explorer window. If you do not see it in the browser window, go to the Tools menu and click Diagnose Connection Problems. This will start the Network Diagnostics tool.

If the Network Diagnostics tool finds a problem, follow the steps provided by the tool. If the tool does not find an issue, or if Internet service provider seems to be inaccessible, try power cycling the modem. This might sound like a highly technical step, but it is really quite simple. To power cycle the modem, shut down the computer (do not restart). Unplug both the power supply cord and the connectivity cord (such as a phone line or Ethernet cable) from the back of the modem. Wait a minute or two, and then reconnect the modem's connections. Turn the computer back on, and see if the Page Cannot Be Displayed message is gone. If not, call your service provider, as there may be a service outage.
Delete Browsing History
Once any issue with your ISP has been ruled out, the next troubleshooting step is to delete Internet Explorer's browsing history. Too many cached IE files may cause problems with pages loading, which can cause the Page Cannot Be Displayed error. To delete cached files, open a new IE browser window. Click Tools on the toolbar and select Delete Browsing History. If you do not use Internet Explorer to save passwords on websites, click the Delete All button. Otherwise, click the buttons to delete Browsing History, Cookies, History and Forms.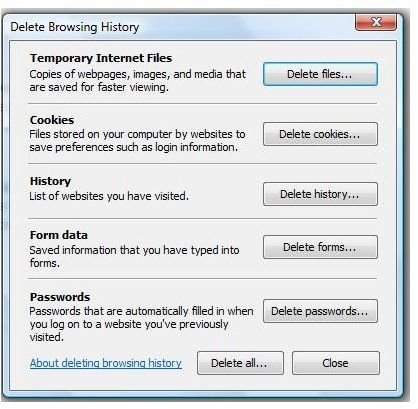 Start Without Add-ons
If you have tried all the previous steps and are still viewing the Page Cannot Be Displayed message, it might be caused by a problematic Internet Explorer add-on. An add-on is a program you install that connects itself to Internet Explorer. Some common add-ons are toolbars, such as Google or Yahoo. Sites that require ActiveX controls when viewing may also install add-ons. For the most part, IE add-ons are safe. A damaged or otherwise problematic add-on, however, can cause the Page Cannot Be Displayed error.
To find out if an add-on is causing the issue, close all instances of Internet Explorer. Go to the Start menu and point to All Programs. Point to Accessories and then System Tools. Select Internet Explorer (No Add-ons). If you are using Windows Vista, you can simply go to the Start menu, type "Internet" into the Start Search field and select Internet Explorer (No Add-ons) from the Programs list. An Internet Explorer window will open without add-ons.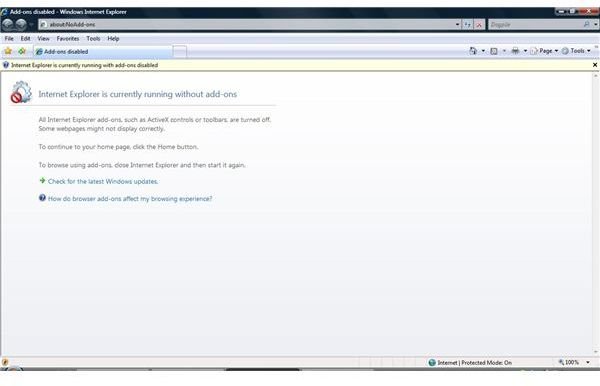 Enter a website address and press Enter. If the website appears without the Page Cannot Be Displayed error message, close the IE window. Open Internet Explorer normally and turn off all add-ons by going to the Tools menu, pointing to Manage Add-ons and clicking Enable or Disable Add-ons.
Click on each add-on and then click the Disable button. When all add-ons are disabled, continue working in Internet Explorer. Enable the first add-on in the list and continue working in IE. Gradually enable each add-on one at a time until you find the problematic one. Disable or uninstall that add-on.
Learn more about ActiveX controls in Internet Explorer by reading Internet Explorer Security Settings - ActiveX Controls. Trying to install the newest version of IE but having problems? Check out Internet Explorer 8 Won't Open or Can't be Installed.