Inserting Footnotes and Using Footnote Options in Microsoft Word 2007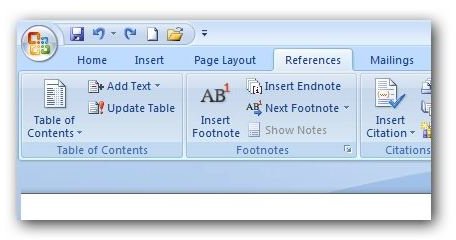 Footnotes in Word 2007
If you're used to working in prior versions of Microsoft Word, it can get frustrating when you're trying to figure out where certain commands are on the new Word 2007 ribbon that replaces the old drop down toolbar menus. Such was the case for a friend of mine who was recently trying to figure out how to renumber footnotes.
To begin, the commands for dealing with footnotes in Microsoft Word 2007 can be found on the References tab of the Word ribbon.
To add a new footnote, first position your cursor at the point in the document to which you want the footnote to apply. Then, click the Insert Footnote button. Your cursor will automatically move to the end of the page, assigning the next number in the editing sequence to the footnote. Here, you can begin typing the information for your note.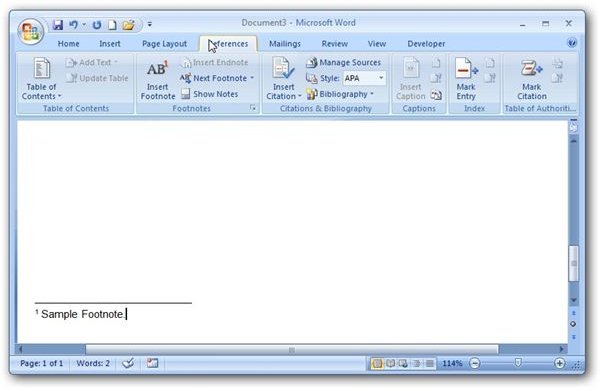 When finished, click anywhere else in the document to return to the main body of text.
Changing Footnote Options
To make changes to the default options for footnotes in Word 2007, first click on the small arrow in the lower right-hand corner of the Footnotes section of the References tab.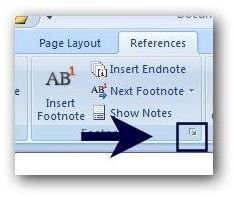 This action will bring up the Footnote and Endnote dialog box, as shown in the screenshot below.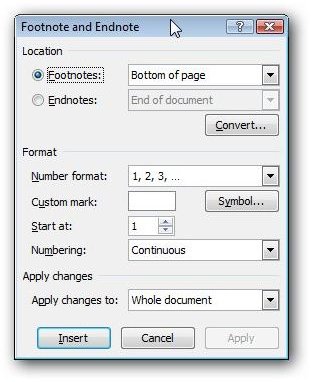 In this window, you can make changes to the Location if you want the footnotes to appear immediately at the end of the text for that page rather than all the way at the end of the page. You can also change the type of numbering format that you wish to use or even enter a custom symbol to use for each footnote.
While the general practice is to keep the same continuous numbering sequence for footnotes throughout the entire document (denoted by the Continuous option in the Numbering field), you can change this option so that the footnote count will start all over again at the beginning of the next page or section in the document.
Deleting a Footnote
If you want to delete a footnote, go to the point in your document where the footnote is referenced.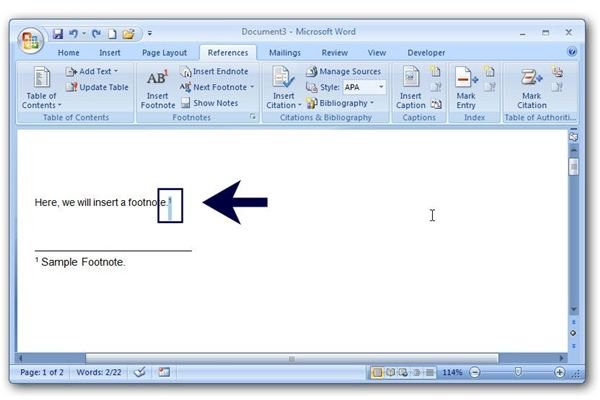 Deleting this reference point for the footnote will also delete the footnote itself. The rest of the footnotes in the document will automatically be renumbered to reflect this change.
If you're interested in reading more Microsoft Word tutorials, be sure to take a look at the other articles that can be found here on Bright Hub's Windows Channel. New items are added on a regular basis, so check back often.