Internet Explorer Opens but then Immediately Closes Again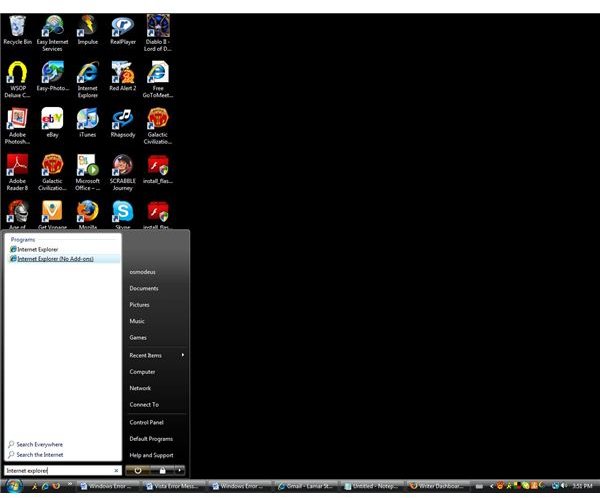 Introduction: The Problem
You open Internet Explorer to do a little work but it immediately closes and you receive the error message "Runtime Error. Abnormal program termination." Staring at the computer has no effect, shaking your fist at it doesn't help, and every time you attempt to open the browser, it just closes and gives you the same answer. What exactly is the problem and how can you fix it?
Solution for Vista Error Messages "Runtime Error. Abnormal Program Termination"
Errors such as this one usually appear because of bad ActiveX controls or browser toolbars that have been added and aren't working properly. It is also possible that the browser plug-in has an issue with Internet Explorer and is causing the browser to shut down repeatedly.
You can quickly and efficiently find out if a toolbar add-on is the issue by letting Internet Explorer operate in No Add-ons mode. To do this, click Start, type Internet Explorer and select Internet Explorer (No Add-ons), in the window that appears. Internet Explorer No Add-ons is an edition of Internet Explorer that has no add-ons, toolbars, and plug-ins and it should work fine for most purposes. This solution works well if you don't need any of the changes you originally made to Internet Explorer. However, you might want to be able to operate Internet Explorer using many of the applications you originally added to the browser. To do this you need to find out which specific addition you made to Internet Explorer is the main issue.
Finding out which plug-in is making Internet Explorer close each time you attempt to open it can be ascertained by opening Internet Explorer once again in the No Add-ons mode. Select the Tools > Manage Add-ons > Enable Or Disable Add-ons. From the drop-down list that appears, choose Add-ons That Have Been Used by Internet Explorer. A list of the installed plug-ins for Internet Explorer will appear from which you can choose. This is a critical move; select every item available on the list of additions you made to Internet Explorer and then click the Disable radio switch. All you need to do now is activate Internet Explorer and turn each add-on back on, until you find the one that is making Internet Explorer not work properly.
In the unlikely event that Internet Explorer still won't work the way you want it too, you can always decide to switch to another of the available browsers, such as Firefox, Opera or Safari. Check out the Bright Hub series, The Worlds Most Popular Web Browsers, to help you decide if another browser is for you.