Vista is Running So Slow How do I Speed Up Vista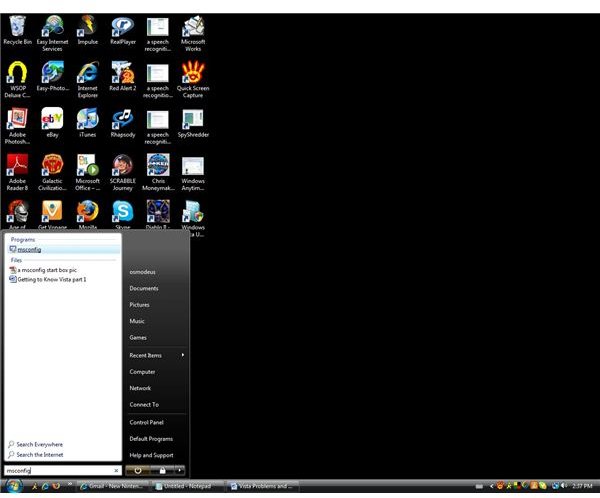 Vista is Slow to Load
Your Vista system's start cycle moves along at a snail's pace or stops for a while during startup, and then continues when it wants too. To speed up Vista there is a handy and useful set of diagnostic tools, fixing problems such as this isn't a major problem. Vista is designed and has the ability to work under less than perfect conditions and because of this you may find that the origins of your current problems with Vista's startup began quite awhile ago. You might be asked for a password while carrying out the steps in the solution, so we assume you have the required permission to access system utilities. Also, for the purposes of this article I have assumed you have updated all your antivirus software. It's also possible that your Vista system is one that has been setup to stop you from accessing the startup menu and tools. Should this be the circumstance, implement the available recovery disc or get a hold of the manufacturer and ask for help, if Vista refuses to start.
How to Speed Up Vista
Vista is a powerful and robust operating system that has a slew of capabilities and complicated graphical presentations that require a lot of system resources to implement. This fact makes it entirely possible that your Vista computer's is working the way it's supposed to when it starts slowly. Using the same system configuration and with the same applications loaded on my computer, Vista frequently required more than twelve seconds longer than Windows XP before it was ready for work in the tests I conducted.
In addition, the prescribed system requirements for Vista are a little under-powered for systems running applications and programs that use a lot of system memory. Systems skirting this prescription and computers with programs that run application processes during startup will find Vista requires more time to warm-up and be ready to work.
Keep these points in mind if your computer seems to stop working during a certain part while loading Vista or Vista requires over three minutes before it's ready for use. Vista is probably being slowed by applications or services included in the startup process and turning off a few or all of these will usually speed up Vista's startup process.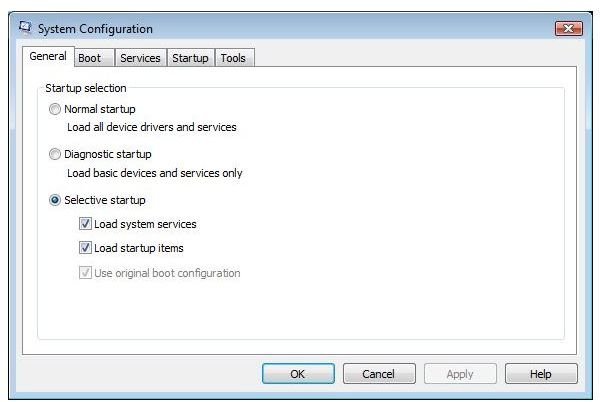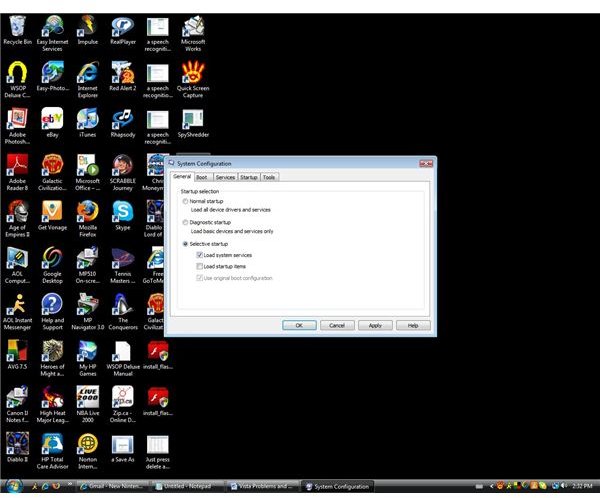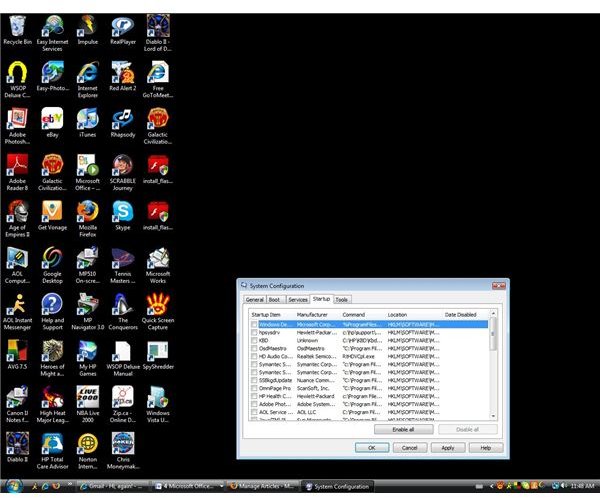 To find out which programs might be causing a problem and slowing down Vista during startup, choose Start button and then type msconfig, and it will appear in the Instant Search Box. If msconfig doesn't open automatically, click on the msconfig link that appears to open the search window. Select the General tab and then click on the Load Startup Items checkbox to remove the check mark, and then select Startup tab to the right of the General tab. A window will appear with all the applications that are installed at startup, just click on the boxes in front of the applications you can do without, these applications can always be turned on after startup. Now, choose the Services tab, select the Hide All Microsoft Services checkbox, and then pick Disable All. To complete the process, select OK, and then reboot the PC. Here's a critical move, should the PC boot quicker, you should repeat the process only turning each program back on that you turned off, one by one, until you find the application that was slowing startup or just leave your faster starting Vista system the way it is. This is the best way to speed up Vista's operating system.