Free Photoshop Alternatives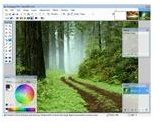 Adobe Photoshop is undoubtedly the king when it comes to image editing software. Yet, it has a hefty price tag, and not everybody need the extra features that it offers. Here is a look at free alternatives for Windows.
GIMP is the 'Photoshop for Linux'; now available for Windows, too. GIMP (GNU Image Manipulation Program) is open source and free. In regards to features and power, it comes closest to the Adobe suite compared to any other open source image manipulation program. The problem with GIMP is its not so user friendly interface. However, considering the price tag it comes with - free- it's an ultimate tool for anyone who doesn't want to spend hundreds of dollars on Photoshop. There's also a GIMP hack (GIMPshop) available which tries to bring the Photoshop feel to GIMP.
Paint.NET started as a college project mentored by Microsoft and was intended to replace Microsoft's free Paint program which comes with Windows. It has slowly grown up to become a simple yet powerful image editor with an active user community. It's built on Microsoft's dot net platform - hence the name. Sporting an innovative tabbed document interface and features like Layers, Special Effects (read filters) which are usually found in expensive graphic software, Paint.Net is a must try for people looking for a free Adobe alternative.
VCW VicMan's Photo Editor is a free image editor offering many features normally present only in professional software. It supports over 30 image file formats and features many tools and filters.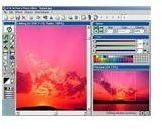 PhotoFiltre is a small application with quite a few features which makes it comparable with any other image editing software on this list. It has almost all the mostly used filters in Adobe PS and you can access filters from the toolbar. The downside is that there's no support for 'Layers'. So it's difficult to perform any extensive editing.
Artweaver is a free graphics software for creative painting. It has support for many digital brushes, support for common graphics formats, Layer support (doesn't support Layer on PSD files), filters, history etc..
Photobie is another free program with nice features. It lets you edit photos, and design photo templates. Its features also include GIF animation, screen capturing, Photoshop filter plugins, host etc..
Rendera has a little weird interface, though it can do some basic stuff for you. Its limited but useful features lets you use it as a photo-retouching tool.
FxFoto is not essentially an image editor. It's a tool to organize, edit, enhance and manage your images. However, its edit feature lets you do things like remove red eye, improve over-exposed photos, and even features a clone stamp.
Reference
GIMP: https://www.gimp.org/
Paint.NET: https://www.getpaint.net/index.html
VCW VicMan's Photo Editor: https://www.vicman.net/vcwphoto/index.htm
PhotoFiltr: https://photofiltre.free.fr/
Artweaver: https://www.artweaver.de/index.php?en_version
Photobie: https://photobie.com/
Render: https://www.rendera.net/
FxFoto: https://www.fxfoto.com/sdfxfoto.htm
Author's opinion
Screenshots by original author