Configure Folder Options and File Associations on a Windows XP Computer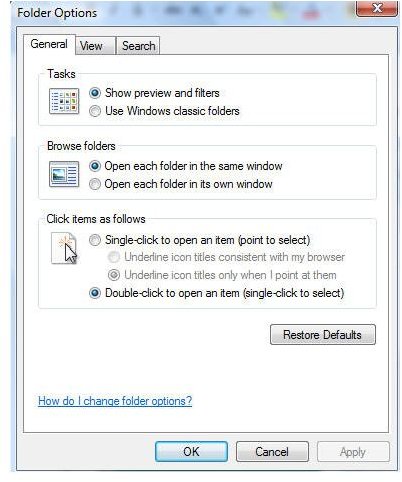 Personalize your Computing Experience
To open Folder Options in Windows XP, open Control Panel, click Appearance and Themes, and click Folder Options.
Note all of the options you can change. One you might want to try is Single-click to oen an item (point to select). You may also want to open each window in a new window. This is a nice option when you want to drag and drop files among open windows. Check out the other tabs, including View, File Types, and Offline Files. There's a lot to explore and you can use the options to personalize your computing experience.
Images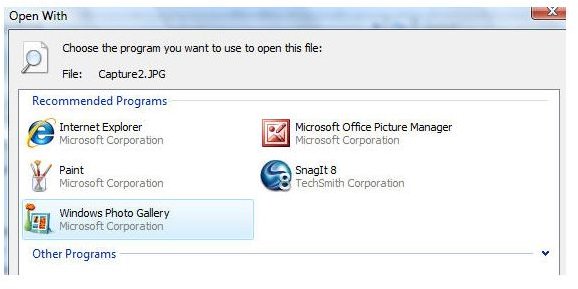 Setting File Associations
In Windows XP, if you have a specific file type that you'd always like to open in a specific program, you can configure file associations using the File Types tab in Folder Options. For example, if you want all of your JPEG files to open in Photoshop instead of Paint or the Windows Picture And Fax Viewer, you can make that change easily. Just click the File Types tab, locate the file type, click Change, and pick a program from the list.
If you're using Windows Vista, right-click the file that you want to change, and then, depending on the type of file, either click Open With or point to Open With and then click Choose Default Program. Select the program that you want to use to open this file. [See Image 2]
Network Search
If you are running Windows XP on a laptop, if you spend most of your time computing in a non-networked environment, or if you only access one or two specific folders on a network, you can disable the Automatic Search For Network Printers And Folders. While this feature doesn't take up too many system resources, it does continuously scan for changes to shared resources on a network. If you don't need this, disable it from the View menu. It's the first option.
To disable network searching in Vista, open the Network and Sharing Center and disable Network Discovery. [See Image 3]
There are more Folder Options in XP (with similar options available in Vista):
Windows creates and caches folder thumbnails in a cache file so that it can reuse them instead of creating new thumbnails each time you open the folder. You'll want Windows to create new folder thumbnails, so verify in the View tab that Do Not Cache Thumbnails is not checked.
If you are tired of Windows showing you pop-up descriptions for folder and Desktop items, from the View tab, deselect Show Pop-Up Descriptions For Folder And Desktop Items.
To change the default double-clicking with the mouse to single-clicking for opening files, from the General tab, make the desired changes.
Offline files are files that you copy from a shared folder on a network so that you can work on them while not connected. Upon reconnection, the files are synchronized. Offline files take up a lot of hard disk space, and if you aren't going to need them, don't enable them from the Offline Files tab. Check that tab to verify that this is unchecked.
From the View tab, verify that Launch Folder Windows In A Separate Process is not checked. Checking this will cause each program to open in a separate memory space and will slow down your computer's performance.
You should look through the items available to see if there's anything else you'd like to change. We choose to turn off Simple File Sharing, Show Control Panel In My Computer, and Show Hidden Files And Folders. You might decide after researching these options that you feel the same.
References
Author's Own Experience: When using Windows XP, often when you install a new program for say, photo editing or printing, software is installs that "hijacks" your files without your knowledge. What I mean here is that after installing a program, specific file types, once clicked, will open in the new program and not the older program you prefer. When this happens, you need to change the setting in the File Associations options outlined here. This is an easy way to take control back from a program that bullies its way into your files, and changes your preferences.