Tweak Vista by Adding Locations to the Send To Menu - Customize Vista Desktop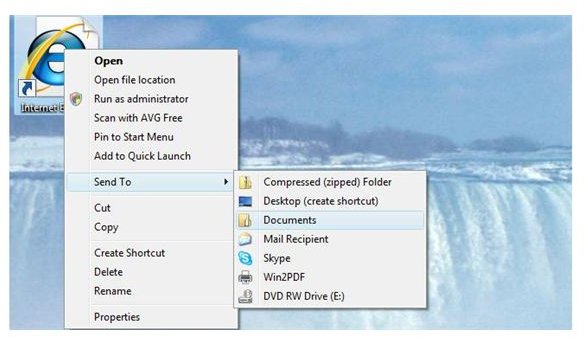 What Is Send To?
If you are not familiar with the Send To menu, right click an object on your desktop or in another Windows folder. There, you will see Send To along with Open, Copy, and lots of other options. You might not realize it, but the Send To menu is actually just a folder. The default locations in the foleder in Vista include: Compressed (Zipped) Folder; Desktop Shortcut; Documents; Mail Recipient; and your computer's CD drive. Other applications or hardware that have been downloaded onto the computer may automatically be added to that list, such as a printer or instant messaging program.
To access the Send To menu in Vista, click the Start button, type %APPDATA%\Microsoft\Windows\SendTo into the Start Search field just above the Start button and press Enter. (Here's a hint: make it even simpler by selecting the file path from this article, copying it, and then pasting it into the Start Search field.) The Send To folder will open.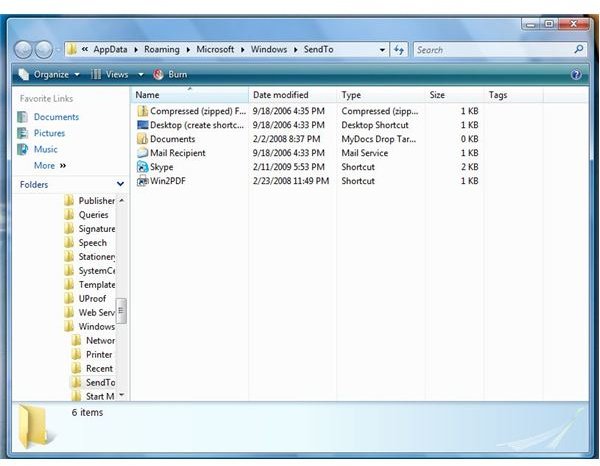 All of the current locations in your menu will be in this list.
Customization
You can easily add locations to this list. Create a shortcut of the location. For example, if you want to add a network location or a folder other than Vista's "Documents" folder in the menu, navigate to that location. Right click it and select Create Shortcut. Open the Send To folder. Drag and drop the shortcut into the folder, adding it to the menu automatically. You can rename the shortcut (or simply remove the word "shortcut") by right clicking the item and clicking Rename.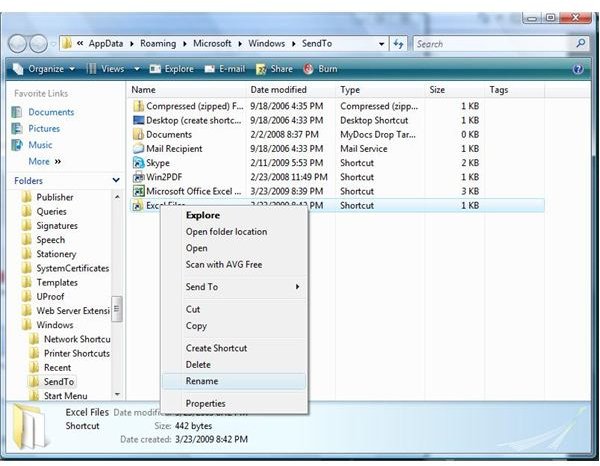 Deleting an item from the menu is even easier. Simply right click the location from within the Send To folder and select Delete. You will receive a confirmation message asking whether you really want to send it to the Recycle Bin. Click Yes.
Another way to customize Vista's Send To menu is by rearranging the order of the items in the list. You can click on a menu item from within the menu folder and drag it to another location on the list, or right click a blank area inside the folders and choose a Sort By option.
For more Windows Vista tips and tricks, check out The Vista Sidebar: Windows Vista Tips and Tricks and Security Tweaks for Windows Vista.