How to Get Rid of Internet Explorer 8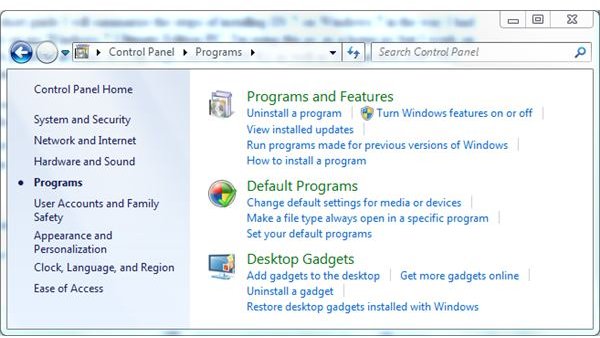 Windows 7 is the newest operating system from Microsoft as of 2011. Unlike its predecessors, it gives certain customizing options that allow you to add and remove certain third-party and built-in features. If you prefer other Web browsers such as Firefox, Safari or Chrome, you may not necessarily want to keep the built-in browser of this operating system, in which case, you can easily uninstall it and keep the browser that you like.
How to do it?
1. Click the "Start" button on your computer, and type "Control Panel" in the search field.
2. Click "Programs and Features." You will now see a "Windows Features" dialog box on the screen.
3. Click "Turn Windows Features On or Off" from the left sidebar.
4. Uncheck the box next to "Internet Explorer 8."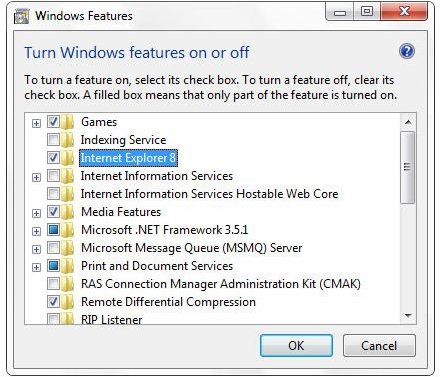 5. Click "OK." Now you will be prompted to reboot your computer. After you restart, Windows will need to reconfigure some options and you'll be prompted to restart again. After both successful reboots, Internet Explorer will successfully be removed.
There's Always a Catch
In the Beta release of Windows 7, it appeared that Internet Explorer is not entirely removed when you go through the steps of uninstalling the browser. The actual executable file (iexplore.exe) is erased, but other IE components that are vertically integrated with the Windows operating system remain in tact even after removing.
However, unlike other methods in the past, which people have used to remove Internet Explorer, with this method the user will not keep getting error messages about their missing IE.
Potential Criticism
Some see this feature as unnecessary, pointing out that since other web browsers work fine with Windows, if the user doesn't want to use IE, they should simply ignore it since its presence doesn't overtly affect the Windows environment and doesn't create a performance drag on the system. There are also some websites that are only visible through Internet Explorer, which could theoretically cause problems for a user if they've already uninstalled the browser.
On the other side, this could be perceived as an effort from Microsoft to appear more user-friendly. There are those who have criticized what appears to be Microsoft's efforts to control their users' experience; having the ability to control which Windows features are on or off may appeal to a wide range of potential Microsoft customers.
A Note About Internet Explorer 8
Internet Explorer 8, the successor to Internet Explorer 7, was released in 2009 and functions on Windows XP, Windows Server, Vista and Windows 7. Unlike other versions of Windows, it comes integrated on computers with Windows 7, both 32-bit and 64-bit.
References
Microsoft Support. (2011). How do I uninstall or remove IE as a troubleshooting step? Retrieved from: https://support.microsoft.com/kb/957700
Microsoft Download Center. Windows Internet Explorer 8 for Windows XP. Retrieved from: https://www.microsoft.com/downloads/en/details.aspx?FamilyID=341c2ad5-8c3d-4347-8c03-08cdecd8852b
Screenshots provided by author