How to Network Virtual Operating Systems in Sun's VirtualBox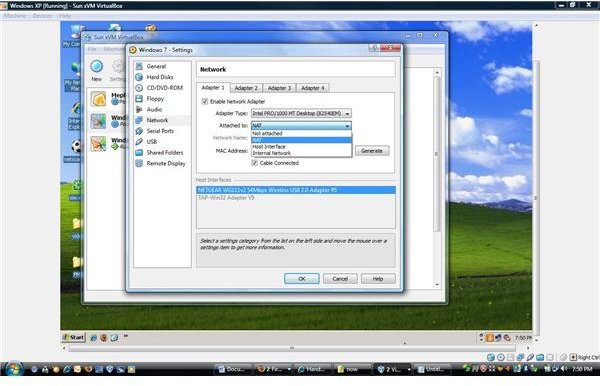 Sun's VirtualBox
Sun Micro's VirtualBox is the de facto for virtualizing operating systems. With the capabilities to run on multiple host operating systems, Sun's VirtualBox runs many former and future operating systems. VirtualBox offers dozens of features that make it the industry leader. Setting up VirtualBox requires an understanding of basic applications and the installing of operating systems. The network option can be one of the most confusing. This tutorial shows the networking options under VirtualBox Settings.
Networking with VirtualBox
Networking with VirtualBox is easy. Most home users and business owners who use VirtualBox use the virtualized operating system to run older applications or to test beta software and operating systems. While many questions arise from the terminology used under the network options in the settings area, here is a list and explanation of those terms.
Network Settings
NAT (Network Address Translation)
This allows the virtualized computer to send and receive traffic to which the host computer is connected. The computers in the LAN (Local Area Network) can see packets originating from the host computer's IP address. The virtualized computer can see all of the computers in the local area network and connect to the internet. Because the virtualized computer uses NAT (network address translation), the computer is protected behind the host. The virtualized computer will receive an IP address of 10.0.2.x and the host computer will assume a second IP address in this same private network.
Host Interface
When this option is selected, this becomes a bridged network. Your host computer provides a layer-2 bridge (the network card) to your virtualized computer (guest). This allows computers to talk to the virtualized computer and allows the virtualized computer to provide services for other computers on the local area network.
Internal Network
This option allows virtual computers to talk to one another without access to the local area network (LAN). This can be used to isolate virtual computers in a lab experiment or you can set one computer in the virtualized machines to act as a router. This would allow the virtual computers to pass to the 'router' computer (acts as a proxy) to the outside LAN and internet.
Conclusion
In conclusion, VirtualBox has three methods that can be used in networking. The role of the virtualized computer is the determining factor on how the network settings should be set up. These settings are a key factor on how the computer should or can be used. Virtualbox is the leading virtualization software used in the virtualization of other operating systems. Remember VirtualBox can be managed by Remote Connection.
Security is of the utmost importance with Virtual computers. See the Three Part Series on Securing Your Virtual Server