How to Use the Windows Speech Recognition Tool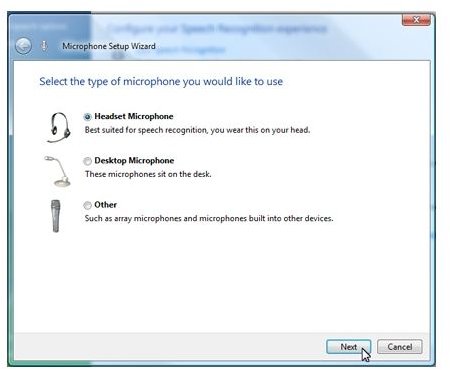 Windows Speech Recognition may not be the latest marvel, but it does allow people to use voice commands to dictate texts and emails, start and switch applications, control the operating system, fill out forms on the Web, and a lot more. As of now, Windows Speech Recognition supports several languages, including English (U.S. and British), Chinese, French, Japanese, Spanish and German. Plans are afoot to add more and more languages in forthcoming releases.
This amazing tool is based on a technology that understands what the user is saying and converts spoken words into machine-readable inputs such as key presses or Windows commands. In Windows Speech Recognition, the degree of recognition is highly accurate and provides a set of commands that support the dictation.This almost make the use of the mouse and keyboard redundant.
Setting up Windows Speech Recognition
To use Windows Speech Recognition, one obviously needs a microphone. After providing for a microphone, the user has to take the following steps to prepare the Windows Speech Recognition to understand the voice.
Open the Control Panel window and look for 'Ease for Access option'.
Then go to 'Ease of Access' and click on it. Once you click it, you will see Speech Recognition option
Your next step is to Click on this 'Speech Recognition option'
Get started by clicking Start Speech Recognition.
A setup wizard is opened in which your next step is to click on 'Next' Button. This will start your configuration process.
Select the microphone device in use and then click 'Next'.
After reading and following the instructions provided, proceed by clicking the Next button.
Click on the Finish button.
How to Use Windows Speech Recognition
After completing the setup, the user can click on the 'Start Tutorial' button to access an exhaustive and easy-to-follow tutorial and learn to use Windows Speech Recognition. It is worth spending time to patiently understand the lessons. Such of those users who continue to experience difficulties can take the same tutorial again in a different manner by going to 'Speech Recognition Options' and clicking on 'Take Speech Tutorial'.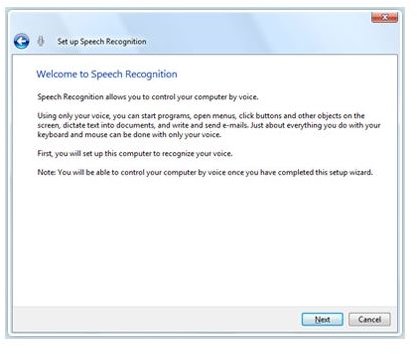 If the user still feels the need to improve the way Windows Speech Recognition works, then another tutorial based on reading texts is available. To access this text-based tutorial, click on 'Train you computer to better understand you' located in the 'Speech Recognition Options' window. It is advisable not to get unduly worried when there are a lot of errors on the first or second try.
It is strongly recommended to go through the tutorial more than once for total familiarization. The user will, in the long run, find this learning exercise immensely beneficial. It is best to find a lonely secluded area to run through the set-up particularly if the user wishes to register no other voice or sound when training on the software. More so, if the microphone is very sensitive, it will pick up all the stray noises in the vicinity and attempt to transcribe them.
Windows Vista and Windows XP
Users with Windows Vista might be advantageously placed as voice recognition comes as a built in provision. Windows Speech Recognition in Windows Vista is built using the latest Microsoft speech technologies. The user interface provides an easy facility for dictating and editing text and correcting mistakes. The one striking feature of Windows Speech Recognition in Windows Vista is the continuous and ongoing improvement for the adaptation to the user's speaking style and accent.
If the user has installed speech recognition with Microsoft Office XP, then it is possible to use speech recognition in all Office programs including all other programs for which it is enabled, like Microsoft Internet Explorer. An internal driver, called an speech recognition engine, is available to recognize spoken words and convert into text. Installing the speech recognition engine is really easy via Windows OS or any other software.
Visit Microsoft Support Website1 and Website2 for more information.