How to Install Windows 7 on Virtual PC vs. VirtualBox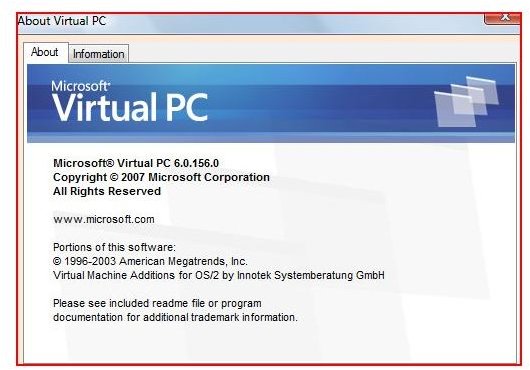 Virtual PC an Alternate Solution
While many use Sun's VirtualBox, an alternate solution is Virtual PC by Microsoft. With Virtual PC, there are many options available and the software is loaded with features. Like Sun's VirtualBox, Virtual PC offers an 'other' operating system option to install operating systems not listed.
After successful tests of Windows 7 Beta on VirtualBox, I decided to set it up on Virtual PC. As one can see in the pictures below, Virtual PC offers several dozen options but still falls short of VirtualBox. The setup of Windows 7 (see the screenshots in the last section of this article) is virtually the same as VirtualBox's setup. The lack of a tabbed interface, USB support, and Remote Connection makes Virtual PC 2007 less desirable.
Microsoft's Virtual PC
100% Usage
Initial tests with Virtual PC without any service packs indicated a 100% CPU utilization. Several oddities occurred during the installation of Windows 7. The first indication something was not right was the fact that the operating system became extremely slow after logging in. The second symptom that something was wrong was the fact that Windows 7 detected a 7 mhz CPU. Because this software was not designed with Windows 7 in mind, the identification of the CPU (an AMD Turion 64 dual core) could very well be the problem. With no third party software installed on the operating system, this was removed from the possible causes.
Virtual PC SP1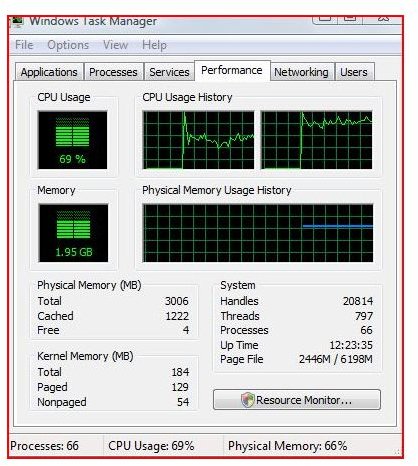 After experiencing high CPU utilization with Virtual PC, I elected to install SP 1. The installation was smoothed and all settings were retained. With Virtual PC up and running (no apps, antivirus or extra software), the CPU utilization (on host computer) was still extremely busy and running high under Virtual PC.
Windows 7 - Sun's VirtualBox vs. Microsoft's Virtual PC 2007
Windows 7 and Sun's VirtualBox (Windows 7 Beta - Installing on VirtualBox) ran with great performance and without errors. Although some hardware was not detected, the 'needed' hardware was found. Microsoft's Virtual PC seemed to have found all of the initial hardware but the performance was lacking in features. One of the errors I had was a "not responding" error. I had to initially reboot (before the SP 1 installation) during the installation of the operating system after it stopped responding.
VirtualBox has more options and is easier to operate than Virtual PC. While both software programs run previous operating systems with no errors and efficiently, VirtualBox's performance wins hands down in all of the tests I performed. One has to remember that beta operating systems are not truly intended to be benchmarked. However, these operating systems should be loaded in a virtual computer or spare computer for tests prior to deployment. Virtualization is not just for businesses. Home users can beta test new state of the art operating systems with VirtualBox or Virtual PC.
Virtual PC's performance in this testing of Windows 7 was lacking. Windows Server 2008 Hyper-V is fast and the performance is excellent. Microsoft will focus more on Servers although they maintain the Virtual PC website, it appears they are also focused on the Microsoft Enterprise Desktop Virtualization (MED-V) software for businesses.
Windows 7 Setup and Virtual PC Settings