How to use Vista's Speech Recognition Abilities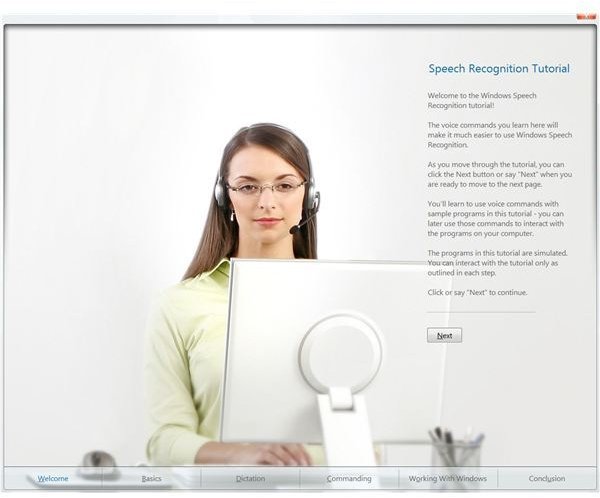 The Speech Recogniton feature
In order to use Vista's built-in Windows Speech Recognition feature you will need to obtain a good, quality headset microphone (check the first picture below) because they do a much better job of concentrating on your voice and not the background noises. There are a few microphones that are very good at filtering out background noise.
To open Windows Speech Recognition, open the Start Menu and select All Programs > Accessories > Ease of Access > Windows Speech Recognition. Alternately, you can just click the Start Menu and type speech, wait for the computer to bring up the search results, and then click Speech Recognition Options from the list that appears. The Wizard that appears will take you through configuring your computer to get used to your voice. We will start with the basic setup of your computer, like checking volume and printing common voice commands, which will lead to the speech recognition tutorial. Take the tutorial; it shows you how this feature works, the things you should expect to see when the program is working and all the basic commands. This can be a time consuming process but it will help the speech regognition software to get used to the nuances in your voice.
Once you have everything up and running, you are set to start using the voice recognition software. Expect there to be growing pains during this time; this is new software and there will be times when you will be frustrated, but the time Microsoft's customers spend with this feature and their feedback given to Microsoft will allow Microsoft to improve future releases.
This tool can be useful, and you can continue to customize the tool so it works best for you. To do this, open the Ease of Access Center via the Control Panel and choose Speech Recognition Options. Here you will find you can once again take the tutorial or take it for the first time, and you can print out and view the common voice commands in the Speech Reference Card. The link "Train Your Computer To Better Understand You" shows you text one line at a time. As you read it back to the PC (as normally as possible), the Speech Recognition engine will learn to recognize your voice.
You can also configure the Speech Recognition tool to work with multiple users. If you share your computer with other users, every one can set up their own profile. You may even want to set up multiple profiles for yourself to use your computer in varying environments. You will find profiles in the Advanced Speech Options dialog box (see picture below). Open the Ease of Access Center via the Control panel, choose Speech Recognition Options, and then look for the Advanced Options link in the far left panel of the Window.
Speech Recognition Tutorial Images