Reviewing the best portable printers: Portable printing for those who work out of office and travel extensively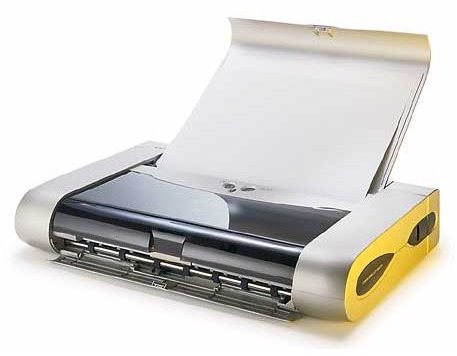 Best Mobile Printers
Not sure which printer is right for you? Read »> Buying the right printer
Below is a list of the best mobile printers on the market today. All offer impressive print quality, super lightweight design and operate equally well in solid or temporary locations. Perfect for those who require quality printing 'on the go', such as sales reps, advertisers, and for all mobile presentation and paraphernalia requirements. These printers can be transported with ease, manually configured in a couple of clicks and all the while maintain a high level of quality, even with such a lightweight composition and no fixed abode.
Canon i80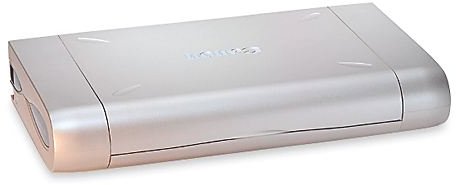 Price at time of review - $205 (5 out of 5)
The Good
Elegant, slender print unit. Compact design and highly portable.
One of the smallest and lightest printers ever manufactured.
Simple setup-and-go process, well documented and responsive plug and play connectivity.
PictBridge photo technology is cutting edge, helping the printer achieve amazing output quality.
Best in class print quality and speed. A rare combination making this a highly impressive printer.
Comes with car charger power adapter and Bluetooth connectivity options.
Photo quality in particular is exceptional, certainly for such a 'pocket' printer.
Ink cartridges are long lasting and highly reliable, printing the same quality over a consistent period of time.
Perfect for those requiring quality presentational output, sales literature, marketing and advertising paraphernalia.
The best in class portable printer. Dynamic to use, fantastic quality and superior speed to both connect and print. Takes over from the almost flawless i70 as the best portable printer on the market today.
The Bad
Not 100% accurate with paper feeds and needs manual adjustments after transportation.
Is expensive to run, consumables priced as they are and you do need Canon manufactured consumables to see the best results.
Not designed to hold extensive paper capacity.
HP DeskJet 460wbt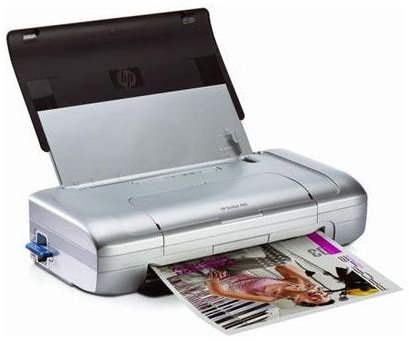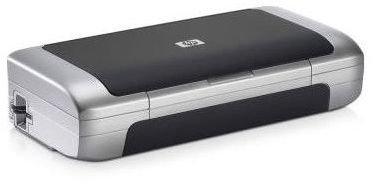 Price at time of review - $320 (4 out of 5)
The Good
Simple design structure, robust and clean looking. Has a small footprint.
Wireless is easy to configure for static or mobile use. Quick to pick up wireless hot spots - i.e. in hotels, airports, etc.
Introduction of wi-fi connection profiling allows you to setup the printer for quick and easy access to print settings in common locations you use.
Print speeds are adequate, but not on a par with the Canon range.
Superb text printing, can perform as a workhorse printer.
Paper handling is second to name, minimal feed errors or paper jams experienced with multiple units.
Reasonable consumable costs and shelf life.
Great all round portable print solution, not matching the Canon for color print quality or speed, but still a high level performer, lightweight and very easy to use, in any wireless setting.
Two memory card slots for printing direct from digital media (CF and SD/MMC).
The Bad
Heavy duty color printing can sap ink quickly. This could be a big issue for mobile sales and advertisers.
A little bit 'blocky' for transportation.
Color print quality is clear and vivid but lacks depth and sharpness.
Photo quality does not match the Canon range of portable printers, but is adequate for snapshots.
Canon Pixma ip90v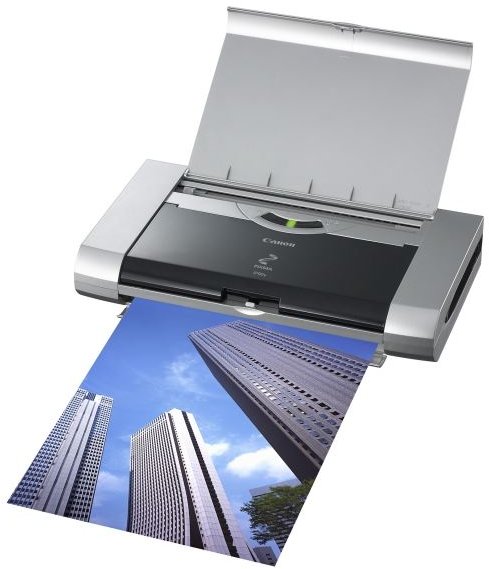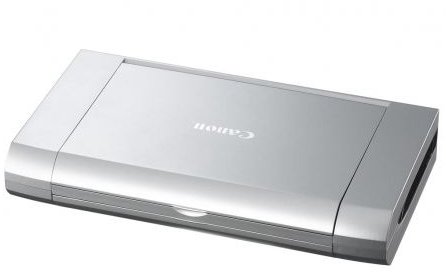 Price at time of review - $150 (3 out of 5)
The Good
Excellent small, lightweight traveling print companion.
The 'v' in ip90v is for Vista enabled - and it works a treat, delivering flawless performance.
Print quality and speed on a par with its sibling i80.
Optional car charger at ($90) is a sound investment, providing complete mobile power coverage.
Built in USB, Infrared and Bluetooth options make this a suitable printer for most mobile settings.
Offers a great range and depth of printing, in b/w and color. Prints b/w and color documents with equally impressive results. No graininess and only slight color fade, even on plain paper. Crisp, sharp and with impressive fine detail.
The Bad
Photo quality does not match some color inkjets as discussed here but it is a great 'on the go' mobile printer providing outstanding snapshot quality.
Not as simple a plug and play printer as the i80. Requires manual installation and configuration.
Consumables can be pricey if the printer is heavily used for color photo's and marketing, sales, advertising copy.
No memory card slots for easy printing from digital media.
Pentax PocketJet 3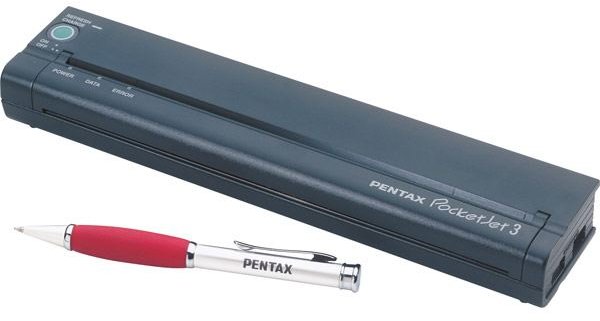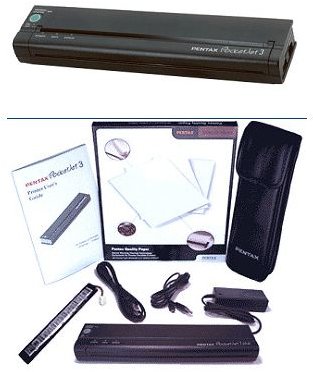 Price at time of review - $275 (3 out of 5)
The Good
Slick black design, barely recognizable as a printer. Easily fits in a backpack or laptop case.
The smallest and most effective lightweight printer solution on the market.
Best in class for setup and connectivity. Very effective plug and play operability.
The 300DPI build offers quality monochrome printing with remarkable speed and resilience.
Print quality is surprisingly sharp for a printer that doesn't need conventional print cartridges.
Excellent carry case and easy to manage, either from the hand or in location.
Mac compatibility proves the diversity of the unit.
The Bad
One page feed at a time, hence requires considerable manual intervention, but then again what do you expect from a 'run through' printer with such a small design chassis.
Print quality is not on a par with others in this range but if footprint, weight and practicability are the key considerations this is a great printer for your mobile output needs. A supremely convenient device.