Create Custom Outlook Stationery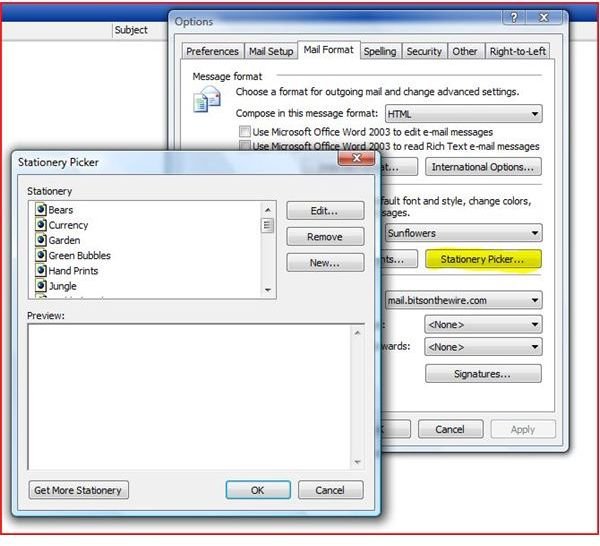 Overview
Using stationery can be a fun way to perk up your outgoing email messages. While Outlook does offer several stationery templates from which you can choose, why not go one step further and make your own Outlook stationery?
Outlook Stationery
Open Microsoft Outlook and make sure you are not using Word to edit your email messages. To do this, go to Options from the Tools menu and click on the Mail Format tab. Clear the Use Microsoft Word to Edit Email Messages checkbox, if it is selected, and then click Apply.
Stay on the Mail Format tab of the Options dialog. Click the dropdown arrow next to Compose in this Message Format and select HTML. Under Stationery and Fonts, click the Stationery Picker button. The Stationery Picker window will open.
Click the New button to open the Create New Stationery dialog. Type a name for your custom stationery in the Enter a Name for Your New Stationery box. Under Choose How to Create Your Stationery, select Start with a Blank Stationery and click Next.
In the Message Font section, click the Change Font button. Select the font you want to make the default for this stationery. Choose a font, a style, a size and a color and click OK.
In the Background section, select the Picture radio button. Click the dropdown arrow next to Picture if you want to make the graphics from a current Outlook stationery theme the background for your new stationery. Otherwise, click the Browse button. Navigate to the picture on your computer that you want to make your stationery background. Click on it and then click Select. You will be able to preview your stationery background in the Edit Stationery window.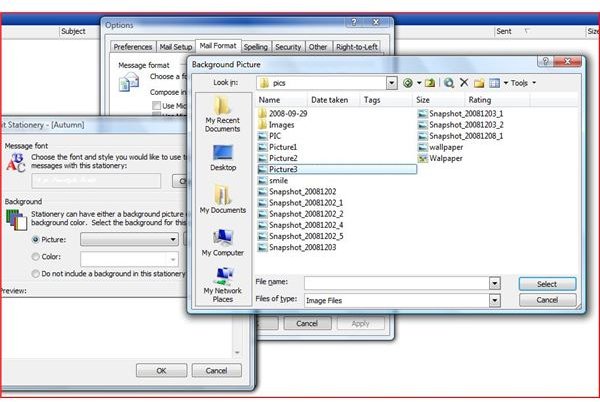 If you want to make Outlook stationery with a solid colored background, select the Color radio button instead of the Picture button. Choose a color from the dropdown. You can also opt to make stationery without a background by choosing Do Not Include Background in This Stationery. Your font settings will still apply.
Once you make all the necessary selections for your stationery, click OK. Click Apply on the Options dialog and then click OK to close it. When you create a new email message, Outlook will use your custom stationery.
It is important to note that these steps will only work in older Outlook versions, such as 2003 and 2000. Outlook 2007 does not provide the internal feature required to make custom stationery. If you are familiar with HTML and have an HTML editing program, such as FrontPage or Expression Web, you can use it to create a new theme that can be used in Outlook 2007.
Check out the Bright Hub article, Getting Started With Microsoft Outlook, for more helpful information.