How to Save a PowerPoint Presentation to a CD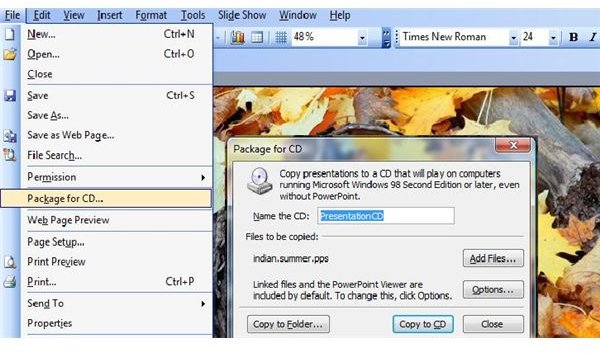 Overview
You know how to make a great PowerPoint presentation. What you are not quite certain about, however, is how you can share that slide show with coworkers or friends. Read on to learn how to save that PowerPoint to a CD as quick as a wink!
Package for CD Feature
PowerPoint versions 2003 and 2007 include a feature that makes saving your slideshow to a CD a cinch. Start by opening the PowerPoint presentation you want saved to a CD. If you are using PowerPoint 2007, click the Office button. Point to Publish and click Package for CD. If you are using PowerPoint 2003, click Package for CD from the File menu. The Package for CD Dialog will open.
Type a name for the slideshow in the Name the CD box. Click the Add Files button if you want to add more files to the CD. This is helpful if you have links to another PowerPoint presentation in your slideshow, or if you want to share multiple PowerPoint slideshows. If you do add multiple slideshow files and want to change the order in which they play, select the slideshow you want to move and click the up or down buttons on the Package for CD dialog to move it.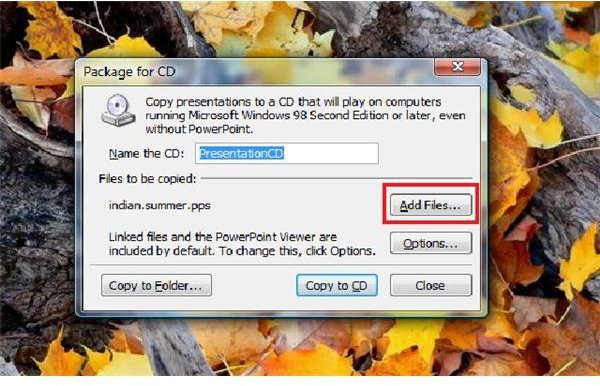 Click the Options button to include or remove linked files, choose how your PowerPoint slideshow will play, and add a password to the CD if you choose. Click OK to apply any changes and close the Options dialog box.
Decide How to Copy the Slideshow
You now have two options. You can click the Copy to Folder button. This option will save the PowerPoint slideshow or slideshows you have selected to a folder on your computer. Using this option, you can save the files, close your PowerPoint application, and use your third-party software to burn the slideshow to a CD. If you select this option, enter a name for the folder (or just stick with the default name provided). Click Browse to navigate to the location where you want the folder saved. Click Select and then click OK. Copy this folder to a writable CD. If you are unsure how to do this, check out How to Burn CD's and DVD's in Windows.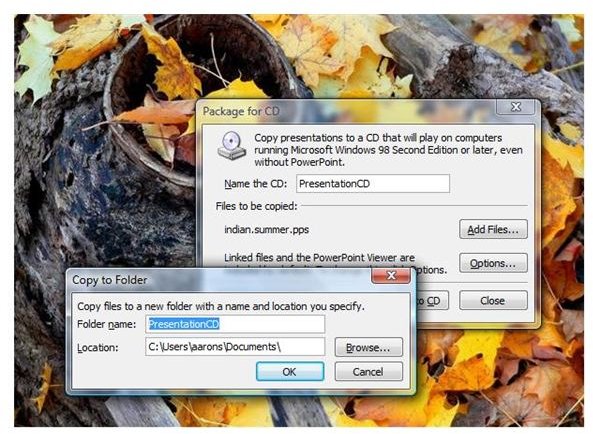 The second option is to click the Copy to CD button. If you select this option, PowerPoint will connect with your computer's default CD-burning software program. Follow the steps required and save your slideshow to a CD.
Interested in more PowerPoint tips and tricks? Check out some ot the other articles found in Bright Hub's library of PowerPoint tutorials and user guides.