Using the PowerPoint Slide Finder to Reuse Slides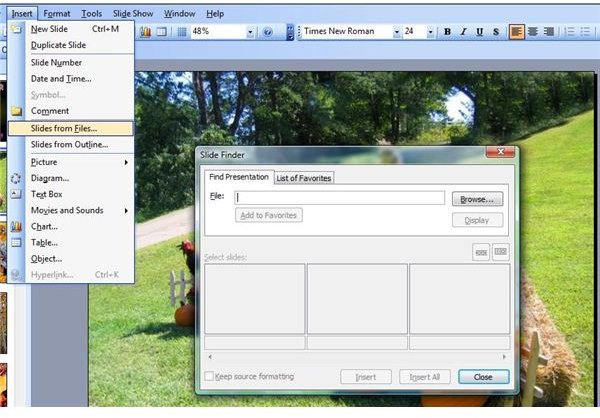 Some PowerPoint slides might be standard enough to use repeatedly just as they are, such as a slide with your corporate logo or contact information. Other times, you might have made a slide in a previous PowerPoint presentation that is almost what you need in a new slideshow; it just needs a little tweaking. Rather than reinventing the wheel, use the Slide Finder, in PowerPoint 2003 or earlier, to find and copy existing slides.
Finding the Slide Finder
The task pane in the left of your current PowerPoint presentation should be in Slide view. From here, select the slide you want a copied slide to come after and click on it. Go to the Insert menu and click on Slides from Files. The Slide Finder will open. Click Browse to find the PowerPoint presentation containing the slide you want to copy. Select it and then click Open.
Using the Slide Finder
All of the slides from the PowerPoint presentation you selected will open as thumbnails in the Slide Finder window. If you want copied slides to retain formatting from the original PowerPoint presentation, select the Keep Source Formatting checkbox in the Slide Finder window. Otherwise, the slides will take on the formatting of your new PowerPoint presentation.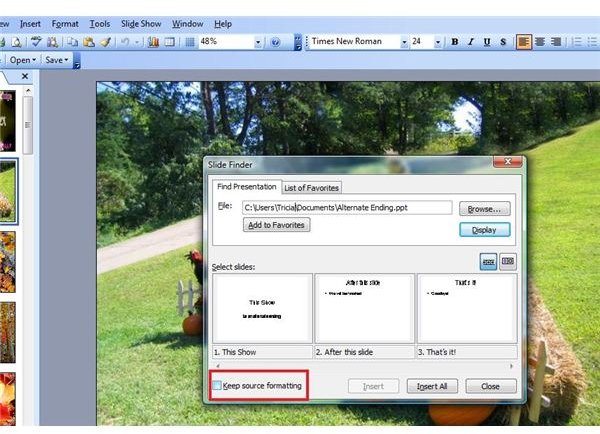 If you want to copy a single slide from the Slide Finder, click on it and then click Insert. You can also select several slides; any slide you click will stay active unless you click it again. If you want to copy the entire slideshow, click Insert All. After you have inserted a slide or slides, you can leave the Slide Finder open to browse other PowerPoint presentations or close it.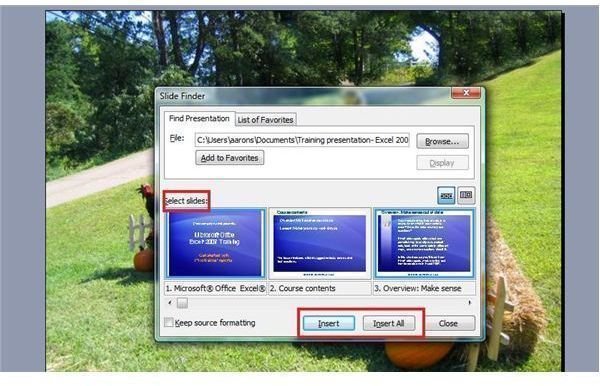 Slide Finder in PowerPoint 2007?
PowerPoint 2007 does not have the Slide Finder feature. However, what it does have is something called Reuse Slides. To access this feature, click New Slide on the Home tab of the ribbon. Click Reuse Slides at the bottom of the New Slide window. Select Open a PowerPoint File and find the previous PowerPoint presentation with the slide or slides you want to copy. Right click a slide you want to copy in the Reuse Slides task pane and select Insert Slide.
Your life just got a little easier. And, if you are craving even more PowerPoint help, check out Bright Hub's Collection of PowerPoint Tips, User Guides, and Tutorials!