Understanding Windows Vista Fonts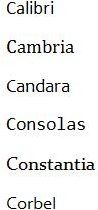 Vista comes with many more fonts than past Windows operating systems. People report having over 300 fonts. One reports having 8500+ fonts installed! Of course, some could come from programs. One of Microsoft's developers isn't aware of an official list of fonts anywhere on the web. He provides a list of Vista fonts.
Windows Vista includes both TrueType Fonts and OpenType fonts. TrueType are scalable and readable for all sizes. OpenType fonts add more features to the basic character set including small capitals and detailed shapes. Like TrueType Fonts, you can read OpenType Fonts in all sizes. Vista adds six new fonts optimized for ClearType – all starting with C. They are Calibri (default), Cambria, Candara, Consolas, Constantia and Corbel, as you can see them in the image below .
Vista's New Fonts
Microsoft Typography offers many resources and information about fonts.
Unlike past Windows operating systems, having many fonts in Vista doesn't affect your system's performance as much. The one thing Vista gets right! However, it will slow performance, especially when you have thousands of fonts and are loading applications like Photoshop. One reader has 700+ fonts installed and sees no performance problems.
Nonetheless, you might not need so many fonts or you want to add more. In either case, you can install and uninstall fonts.
Vista's New Fonts
Add a new font with the following steps:
Click Start.
Click Control Panel.
Click Appearance and Personalization.
Click Fonts.
Click File. If you can't see menu above "Organize" and "Views," press Alt.
Click Install New Font.
Click the drive under Drives to find the font that you want to install.
Double-click the folder with the fonts you're installing.
Click the font you want to add.
Click Install.
The following image shows the Font window and the window Appearance and Personalization window.
Font Window in Vista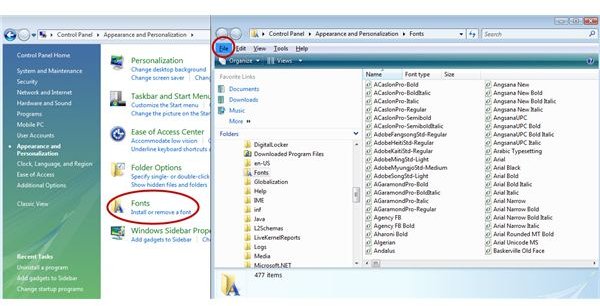 Uninstall Fonts
Remove fonts following these steps:
Click Start.
Click Control Panel.
Click Appearance and Personalization.
Click Fonts.
Click the font to remove, or select more than one by holding Ctrl while clicking each font to remove.
Click Delete from the File menu (press Alt if you don't see the File menu).
Vista Fonts on Windows XP
Many people like the Vista fonts because they look crisp and smooth, but certainly don't want to upgrade to Vista just for the fonts. You can legally add Vista fonts in Windows XP, without paying a dime. Just install PowerPoint Viewer 2007. That's it. You can even uninstall it and the fonts stay behind.
The Microsoft Office Compatibility Pack for Word, Excel and Powerpoint 2007 File Formats might work, too.