Best Backup Services Online - Review of Mozy Online Backup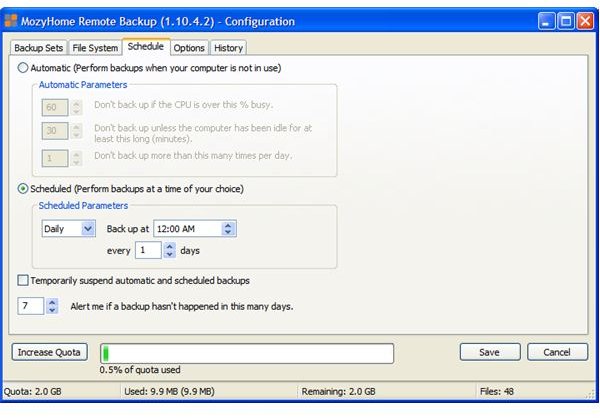 Downloading and Installing Mozy
Mozy and I were both a lot younger when I first discovered it. Both of us have changed with age, although Mozy is the only one that has improved. It's nice to see this veteran Web 2.0 service is still going strong, offering online backup services that work quietly in the background, the way that a backup is supposed to.
Mozy requires users to set up an account and to download their own proprietary backup software, Mozy Home Remote Backup (MHRB for short). I had an account which I hadn't used for two-and-a-half years but I was still able to log in and use it, which says a lot for their record-keeping. The software is available for both Windows and Macintosh systems, and the Windows version weighs in as a 9.1Mb download: the Mac version, for some reason, is just over half the size.
Setting up Mozy
Once downloaded and installed, MHRB runs a Configuration Wizard which allows you to create a backup schedule for the computer you are working on. Several computers can be connected to one account. You specify an encryption type for your data, and MHRB then scans your system. This can take some time. When this is over MHRB suggests a set of folders to back up; by default these will include pretty much all of your file system with the exception of the program folder and Windows system files. You can eliminate some of these at this stage or add and remove files and folders selectively later on in the Advanced Settings option. The free backup service is limited to 2Gb in total. Paying subscribers can back up an unlimited amount of data for $US4.95 per month – plus any broadband usage fees, of course.
Expert Mode
MHRB then checks your upload speed and indicates how long your material will take to back up. You can set a priority which determines how much Mozy will affect the speed of other programs; a low priority may mean that backups take longer. You can begin a backup immediately, wait till the computer is idle, or move to Expert Mode for advanced settings. As well as specifying folders and files, Expert Mode allows you to schedule a backup in terms of time or computer activity levels, set notification options and a bandwidth throttle, configure a proxy connection and view a bandwidth log. The user can also override the schedule and start a backup at any time. The backup process displays a tray icon on the screen and an optional progress window.
Restoring a Backup and MozyPro
Subscribers can log in to the Mozy site at any time to check the status of their account, and download and restore their backup files – even on to a different PC. File restoration can also be done via the MHRB, assuming this is still running after the hard disk crash or whatever caused the damage. Documentation and support for the program is available online and users can choose to receive a Mozy Newsletter, as well as getting email notification of their backups and restorations.
MozyPro is a version of Mozy aimed at large corporate clients. The major differences (apart from cost) are that MozyPro supports multiple administrators with different security levels, and it will backup SQL databases and network shares.
Mozy is neat and simple and highly recommended for users who have broadband capacity to spare.