Send A Fax From Microsoft Word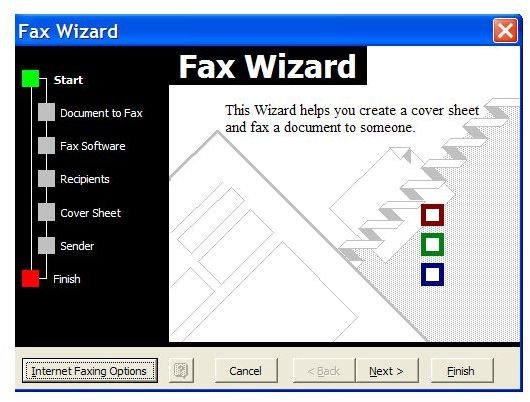 Fax modems
If you still have a dial-up modem, chances are it is capable of sending faxes. If it is already set up to use as a fax modem, you can simply choose the appropriate option from the list of devices when you go to the Print option. In this case, you will be able to send faxes this way from Word and other Office programs.
If the Fax option does not appear in the list of devices, you will need to use the Fax Wizard. To do this, click on File, select Send To and then choose Fax Recipient. This will run you through a series of simple options including whether or not to use a cover sheet. When typing in the recipient's number, you will need to put a plus sign (+) before any international country code.
Remember that when sending faxes this way you will have to pay the appropriate call charges, which could be expensive for long-distance or international calls. You will also have to disconnect from the Internet while sending faxes.
Fax services
Rather than pay to make a phone call, you can send faxes online and pay a lower charge using several paid fax services. Some of these services are only available through the relevant company's website, but others allow you to send faxes directly through Word if you also use Microsoft Outlook.
To use this option, open your document. Click on File, Send To and then Internet Fax Recipient. The first time you do this you will have to choose a company and sign up to their service. Once you have done this, clicking Internet Fax Recipient will open up an e-mail message in Outlook with your document attached. Type in the recipient's details, choose options such as a cover sheet under Fax Service, and then click Send.
Depending on which edition of Word you are running, the Internet Fax Recipient may not be available. In this case you may need to choose Fax Recipient and, when the Fax Wizard appears, click on Internet Fax Options in the bottom left of the box.
Skype
Independent companies have produced add-on features for Skype which allow you to send faxes through the service. One such feature is called PamFax. Once you install the add-on, an extra button will appear in the Word toolbar, which will allow you to fax the document you have open. There will also be a fax option when you right-click on a file in Windows Explorer.
There is a charge for this service, though it will likely be much cheaper than the standard telephone charges for sending the same document through a traditional fax machine, particularly for long-distance or international faxes. You can pay the charge directly from any credit you have in your Skype account.
Images