Best All In One Color Laser Printers on a budget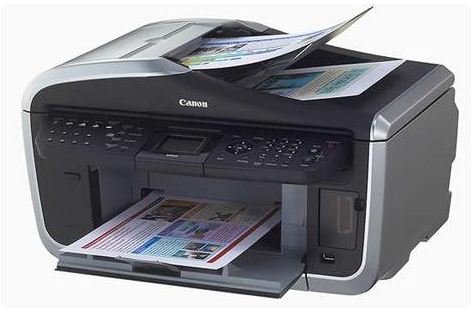 Best Multi-Function Printers Under $250
Not sure which printer is right for you? Read »> Buying the right printer Below is a list of the best multi-function printers you can buy for under $250. All offer impressive diversity of printing, scanning, fax facilities and speed. With outstanding flexibility and control of output media, they also include extensive features for all-in-one office printer functionality.
Canon Pixma MP830
Price at time of review - $225 (4 out of 5)
The Good
A high spec all-in-one printer, solidly built for the professional user.
The excellent LCD control panel is highly configurable, easy to navigate and impressively manages image editing.
Very good print quality, especially on standard non-glossy paper.
Highly impressive print, fax and scanning speeds. One of the fastest on the market for less than $250.
Internal mechanisms are robust for workhorse printing needs and the MP830 can print on all types of media.
The automatic document feeder is slick, churning out documents smoothly.
Media card slots are responsive offering great plug and print functionality.
Bundled software is helpful for scanning, photo printing and document management.
Duplex printing makes it a viable alternative to its impressive sibling the Pixma MX700.
A great all round performer with a price tag that offers excellent value for money. Almost the perfect home or small office multifunction printer. If only it were sharper and came with wireless connectivity.
The Bad
The paper tray design can take some getting used to.
There is some graininess on black ink projection, and color palette dilutes some tones on glossy paper.
Is a bulky printer with a large footprint.
HP Photosmart C8180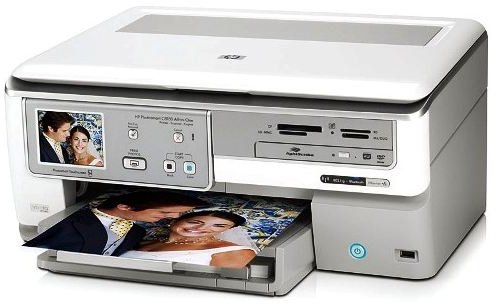 Price at time of review - $215 (4 out of 5)
The Good
Lovely neat design build, perfect for a desktop location, leaving a small footprint.
Responsive and intuitive swivel touch screen display with an abundance of configurability.
Installation is straight forward, including network connectivity. Advanced options for both wired and wireless job handling.
Print quality is on a par with any multifunction I've seen, certainly at less than $1000.
Memory card slots are responsive and produces like for like 'screen to print' quality.
Scan quality is excellent, with zero interference or faded edges.
Duel paper feeds and solid mechanisms offer great paper handling and reliability for considerable through-put.
The photo editing feature is operable from software or touch screen, is very impressive and easy to tweak.
6 individual ink cartridges are easy to replace and provide consistent results over a long life.
For home or small office based printing the wireless feature alone makes this a brilliant buy and that's not considering the great print quality and proportionate consumable costs the C8180 also delivers.
The Bad
There is no fax facility or auto-document feeder on this model.
Prints on the majority of media without fuss, but can take a while with graphics intensive output.
The wireless connection is not the fastest and large print jobs can take a while. In fact it is consistently slower than other models in this range but its print quality more than makes up for this disadvantage.
Dell 968w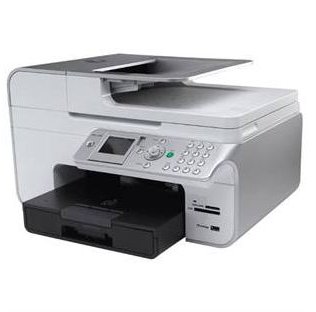 Price at time of review - $250 (4 out of 5)
The Good
Resembles the Lexmark X9575 in design and functionality, being robust and functional but somewhat 'clunky' looking and creating a large footprint.
Simple yet effective control panel, easy to navigate but lacking some vibrancy and depth of features.
Integrated wireless is easy to configure for use and works expediently.
Superior print and scanning speeds.
Excellent print quality that makes the printer well worth the price.
The Bad
Ink cartridges are not the cheapest, and not the easiest to replace.
Auto-duplexing does not come as standard, instead it is an optional add-on (which costs around $70).
Feed mechanism for some media types such as card and envelopes struggles, being far from smooth in transition through the printer.
Lexmark X9575 Professional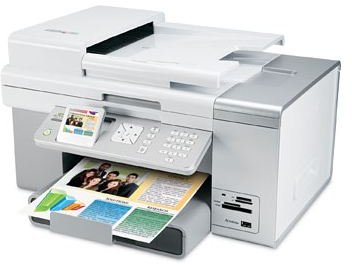 Price at time of review - $250 (4 out of 5)
The Good
Solid, ergonomic printer, robust and resilient for workhorse print requirements.
Integrated wireless is simple to setup, configuration 'wizards' are great for the novice user and connectivity speeds are above average although not that of the Dell or HP.
The LED control panel is vibrant and very nice to use.
Offers reasonable print and scanning speeds.
Memory card reader is responsive and flexible for various standards.
Considerably quieter than others in this range.
This is no Canon Pixma for print quality but it does deliver clear textual prints and scans.
A business oriented multifunction printer with all the features and trimmings a home or small office user would need.
XL ink cartridges last a considerable length of time and it is certainly advisable to go with these because…
The Bad
Standard inks are pricey and do not have the shelf life of those from HP or Canon.
As with the HP Officejet J6480 print quality is slightly grainy, which is disappointing for an inkjet. But depth and vibrancy are improved with Lexmark photo paper.
A little pricey for what it delivers.
HP OfficeJet J6480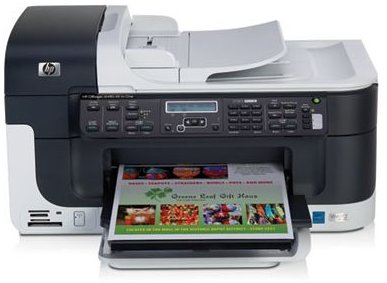 Price at time of review - $165 (3 out of 5)
The Good
A solid workhorse all-in-one printer, considerable build quality, low maintenance.
Integrated wireless is easy to configure and delivers impressive processing speeds.
Supreme handling of all forms of media, feeding smoothly and without hindrance or jams.
Solid automatic document feeder is reliable and input trays have extensive capacity.
Automatic duplexing works a treat and is a very impressive add-on for such a low cost all-in-one.
A brilliant unit for the price. May not have the dazzling print quality of a photo lab or the speed of a multi-dimensional laser but it is a superb home/small office printer - scanner - fax solution.
Great set of software bundles helps get the most out of the printer, scanner and photo editing.
The Bad
Bulky unit with a large footprint.
Average speed of throughput, both printing and scanning.
Print quality is slightly grainy, considering this is an inkjet. Does improve considerably with HP photo paper.
LCD is marginally clear, can be difficult to read in some settings (i.e. direct sunlight).
Inks slightly more expensive than others in this range, but not the price of the Lexmark or Dell.
…and a special mention to…
Kodak EasyShare 5300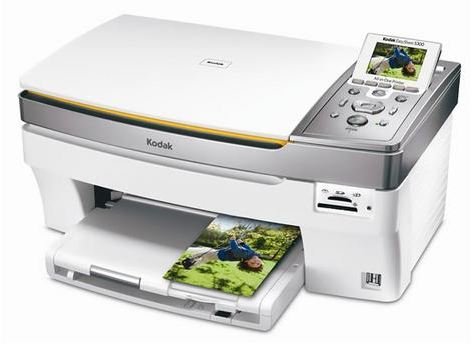 Price at time of review - $140 (5 out of 5)
The Good
Simple yet very practical looking design. Nice white glossy look.
LCD display is informative and vibrant. Clear visual indicators when requiring maintenance or new consumables.
For such a low spec, low priced model the 5300 delivers surprising speed. Very impressive.
Great print quality, excellent for snapshot/home photo printing, outstanding document printing.
Supplied software is definitely worth a look, adds serious quality to your printing.
Best in class for cost effective printing and long life consumables.
Cost per print is very low and consumables are not overly expensive.
Superb online support and technical documentation.
For such a low price this is a superb all-in-one printer solution for the family or home office.
The Bad
Built in media card slots are a nice touch but slow to respond
Have seen a singular incident of a non-functional print head mechanism, but this is one out of nearly five hundred of this model I have seen in use.
Power source protrudes from the unit adding to the overall footprint.
Due to the 'six-ink' system it requires an entire 'pack' of ink when replacements are needed. This isn't the most practical use of resources or money. However, this printer's best feature is its efficient use of ink and low cost consumables.
Looking for the Best Multi-Function Printers (under $500)