Learn How to Use Outlook Voting Buttons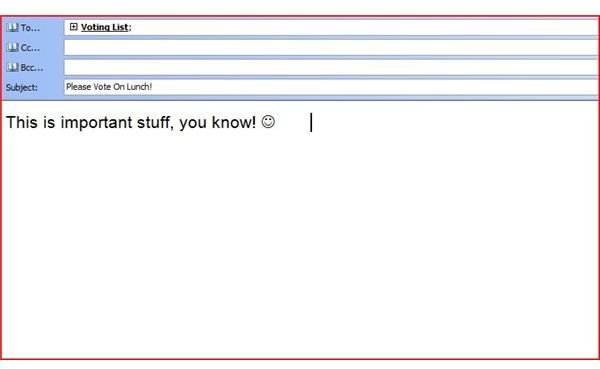 Decisions in Outlook
If there is one good way to make a decision that involves several people, it has to be voting. Voting can help a group settle on everything from which take out restaurant to go to for lunch to who should become the group's new leader. While presidential-esque voting probably should not be determined via email, everything from lunch choices to meeting times and other smaller scale, yet still important, voting can be done using Outlook.
Requirements
Since you may not be familiar with Outlook voting, let's cover what it is and how it works before describing how to use it. Voting is a feature in Outlook that allows you to poll several email recipients, such as your coworkers or a distribution list. You use a simple Outlook email message and set it up with voting buttons. When your email recipients vote on the topic, Outlook will keep track of these responses for you.
It is important to note that in order to be able to use Outlook voting, you do need to be set up on a Microsoft Exchange Server account. If you are not sure whether your Outlook account is on an Exchange Server, check with your IT administrator. Equally important is the fact that recipients must use Outlook as their email client in order to access voting buttons in email messages. They do not need to be on an Exchange Server account, however.
To use Outlook voting, start by creating a new email message. Enter your contacts individually in the To field, or use an existing distribution list. Type a subject into the Subject field.
In Outlook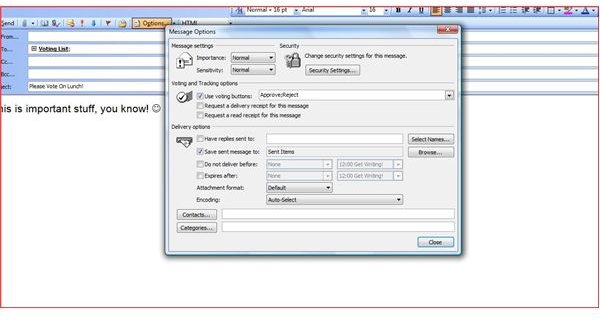 2007 or 2010, go to the Options tab of the message. Click on Use Voting Buttons in the Tracking Group.
In Outlook 2003 or an earlier version, click the Options button on the message toolbar. In the Message Options dialog, select the Use Voting Buttons checkbox in the Voting and Tracking Options section.
In Outlook's Use Voting Buttons dropdown, there are three preformatted voting choices. These are Approve;Reject, Yes;No, and Yes;No;Maybe. If one of these selections is appropriate for your voting purpose, click to select it. If not, you can create custom Outlook voting answers to use.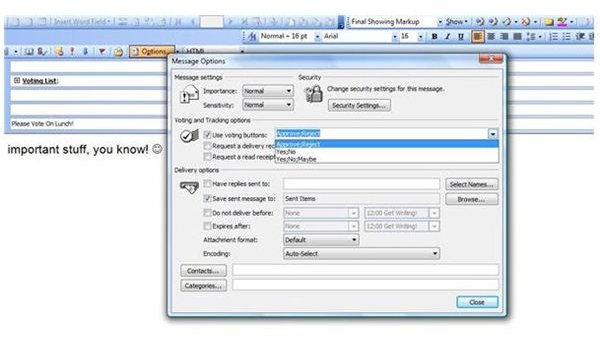 To create custom voting responses in Outlook 2007 or 2010 click Custom in the dropdown list. The Message Options dialog will appear. If you are using Outlook 2003 or earlier, you will already be in the Message Options dialog. Simply delete the existing voting responses and type in your own. Enter a semicolon (;) between each voting response. Make sure Save Sent Message to Sent Folder is selected. Click Close, type the body of your message, and send it.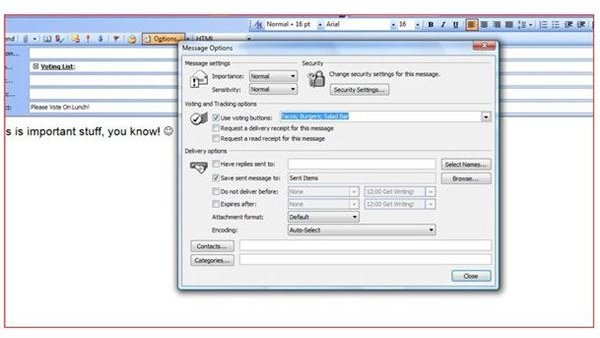 Once you have sent your message and your recipients have started voting, you can use Outlook to check their responses. Go to your Sent folder and open the voting message. In Outlook 2007 or 2010, make sure you are on the Message tab and click Tracking. In Outlook 2003 or earlier, when you open the sent message you will find it now has a Tracking tab. Go to that tab and view your recipients' voting responses.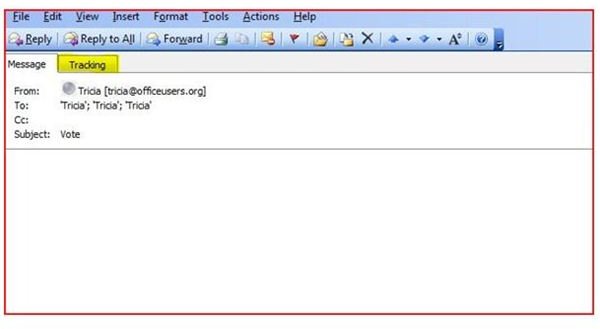 References