How to Use Microsoft Small Business Server 2008? SBS 2008 Data Backup & Configuration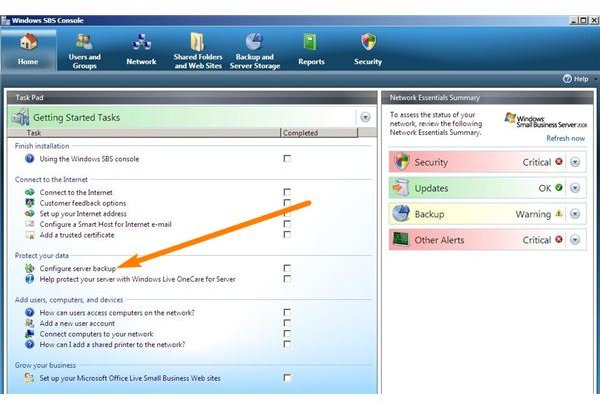 SBS 2008 Backup & Restore
Small Business Server's backup and restore functions are managed, as are most all others, from the SBS Console. However, when the SBS server is first installed, one of the Getting Started Tasks is Configure server backup. This wizard allows the user to define the initial backup strategy based on the envisioned use of the server and the location of important data.
Keep in mind that as part of the paradigm of keeping SBS 2008 simple enough for non-techies to use, the backup and restore processes have been streamlined. That means that the wide varieties of options that can lead to confusion in Windows Server 2008 Standard have been limited.
SBS 2008 does not backup to tape, nor does it backup across a network to another server or device. The backup system in SBS 2008 backs up data to external hard drives connected by either USB or FireWire. To provide for off-site storage, more than one external drive will be required.
When the Configure Server Backup Getting Started Task is run, it detects the connected external drives and allows the user to choose which ones to use for backups. Be aware that it will also format the connected drives upon completion of the wizard.
The administrator selects what drives to backup and when to back them up and SBS handles the rest.
It is important to note that the SBS backup process uses incremental backups which means that the first time it backs up, it backs up everything. Every subsequent time, it backs up only the data which has changed. This means that after every backup, the external hard drive has a current backup of your data.
There is one catch. If you plan to use multiple external drives in order to have off-site storage for example, you must configure your backups to use all of the drives. You cannot simply swap out a drive and hope SBS won't notice. SBS will notice because if it didn't that would be a major problem because of the nature of incremental backups, and the fact that only the changed data is backed up. So, if you swapped out the original external drive, and SBS didn't notice, it would only backup the "new" data which means your external drive would only have SOME of your data, not all of it.
This creates two problems. One is that the off-site drive must be brought back each and every time, and two is that it leaves no way to create a "permanent" off-site backup. Since many organizations like to keep a backup every year or even every month, it would appear that the backup solution is inadequate.
However, since the external drives will not have any files locked or in-use like on a running production system, they are easily copied. So, it is generally best to have a two external drive backup paradigm and any off-site storage is achieved via copying the external drive that is not in use.