Server Guide for Small Business Owner's - How to Install & Integrate Microsoft Small Business Server 2008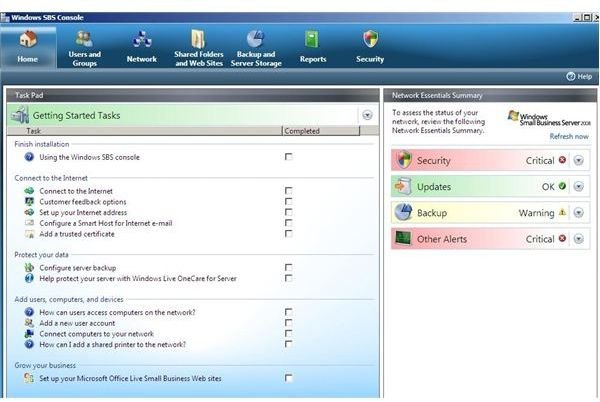 Use SBS 2008 For a Small Business
The scenario is all too common. A small business starts out with a few computers, a shared printer, and a wireless access point or router with a retail level Internet connection. Then, over years (or sometimes just months), the business grows adding new employees, new computers, and new peripherals. Eventually, the basic Internet connection is replaced with one more suitable for the demands of business, but the rest of the network limps along attached to that wireless access point.
One day, the business owner walks by to see how the new hire is doing only to overhear the person training her say, "We're just going to have you use Julie's old account because no one really knows how to get everything connected to a new account."
It turns out that the hodge-podge of share-level security setup on the workstations when there were just a handful of employees, has been rendered useless by exceptions made for specific events, employee initiated shares (some at the root level of the hard drive), and enabling of guest accounts. As the owner starts thinking about what to do about the whole situation, he also realizes that since they setup that backup program a year ago, that they have added six new computers, including the critical accounting system with all the billing and credit records. Adding those computers to the backup was one of those things that was supposed to be gotten to later, but business moves fast, and it never got done.
The writing on the wall is clear, something has to be done. But, what? The guy that helps with the computers (one of the employee's sons) is still in college full-time, and adding another $50,000 salary plus benefits to the payroll would put a big dent in hard earned profitability. That doesn't even include the cost of new servers, software, and client licenses.
Microsoft SBS 2008 Understands Small Business
Small Business Server 2008 is designed with just this kind of small business scenario in mind. SBS 2008 works easiest when installed in tandem with a new server. Microsoft's hardware vendors have a line of small business servers with SBS 2008 installed and pre-configured for the hardware. All that is required of the small business owner then is some basic information for server configuration.
Once installed, SBS 2008, the small business owner, and his delegated staff, manage the complex world of Windows Server 2008 and Microsoft Exchange 2007 (and if using the Premier Edition SQL Server 2007 Small Business Edition) all with easy to use wizards from the Windows SBS Console.
With a typical Windows Server, and Exchange Server environment, adding a new user can require the services of a consultant. It isn't that adding a user is hard in User Manager, but it can be difficult to remember to also get that user in the right Domain Groups, and the right local machine groups, and link the user to an email account, and, and, and….
But, with SBS 2008, adding a new user for example takes place on one easy to understand wizard. Completing the wizard takes care of not just the domain user account, but the local machine account, the email (Exchange) account, and even the SQL database account.
Other common network administration tasks are handled similarly. In fact, SBS 2008 groups common tasks according to how they might be required for a business instead of how they might be most logically accessed by a full-time professional systems administrator. These main functions are all represented as tabs on the SBS console. So, small businesses can feel confident that they "know where to go" in SBS 2008.
In our example above, the poor business owner worried about backups, would simply select the Backup and Server Storage icon in the Windows SBS Console and be instantly able to review what data on the server. From there he can easily add new server folders to the existing backups.
With its SBS Console and wizard based management, SBS 2008 gives small business owners a definitive path away from the cobbled together wireless network and into the realm of fully integrated and robust server based architecture.