Tips for Using Microsoft Outlook 2007 Calendar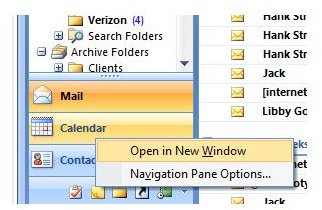 Outlook 2007 Calendar can do more than just let display your appointments, meetings, and other events. Make it work harder for you so you don't have to.
Give Calendar Its Own Window
You may prefer email to dominate Outlook's view or prefer to see your calendar in its own window. Maybe you're tired of switching between email and calendar. So open Outlook Calendar in a separate window in two easy steps.
Right-click Calendar in the navigation pane on the left. See below image of how it looks. (Click any image for a larger view.)
Select Open in New Window.
Enter Calendar Info into Emails
This tip only works for accounts on Microsoft Exchange Server. Instead of re-entering date information into an email, Calendar can do it for you.
Open a new email message with the Message ribbon selected (default).
Select Include.
Select Calendar.
Select the time period and details you want to include.
Finish your email and send it.
Add Holidays in Calendar
You may not have holidays appearing in your list, or you may work for an international company and you want to know when major holidays come up for your colleagues in other offices. Add US and other country holidays to Outlook Calendar:
Select Tools.
Select Options.
Select Calendar Options from the opened Preferences tab.
Select Add Holidays under the Calendar options section as the following image shows.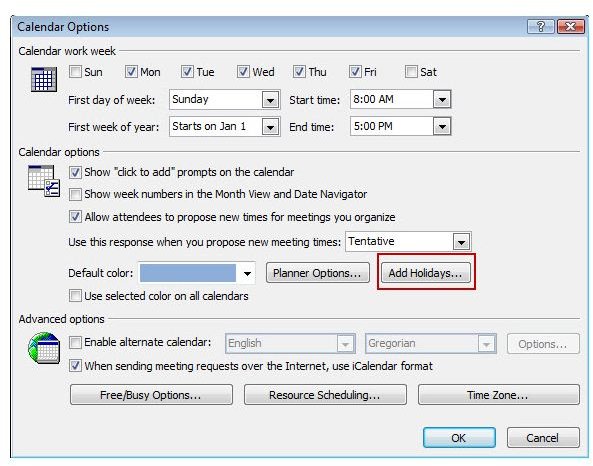 Display Dates Next to Each Other
Let's say you want to compare two Tuesdays or look at January 14, 20 and 24 side-by-side as shown in following image. You can do that by following these steps:
Have Calendar open (if not open, click Calendar in the left navigation pane).
Press and hold CTRL while you select dates from the little calendar on the right-side of the screen in the To Do Bar.
As you select dates, they'll immediately appear in the main calendar screen. Select a date again to remove it from the calendar screen.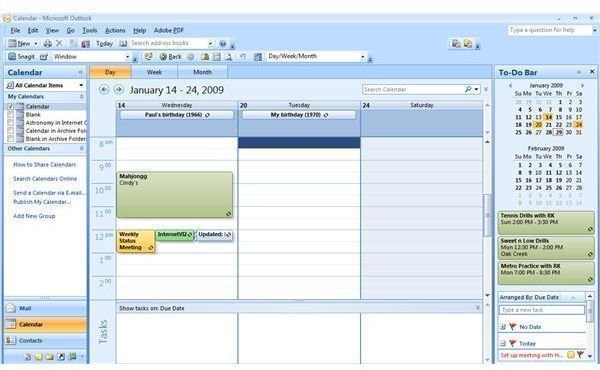 Print Calendar Options
Want more control over how your calendar prints? Download the free Calendar Printing Assistant for Outlook 2007. The download lets you print calendars from a selected timeframe, print more than one calendar in one view, select from various template choices, personalize calendars with images, change colors and fonts, customize templates, and modify views so you can fit all the information in limited space.
Print a Blank Calendar
You might want to print a blank calendar to take to a meeting or appointment so you can fill it in. Follow these steps to create your blank calendar:
Select File.
Select New.
Select Calendar.
Enter a name like Blank.
Click OK.
Select Blank under My Calendars. Below image shows Blank selected along with calendar.