How to Hide or Lock a File or Folder in Windows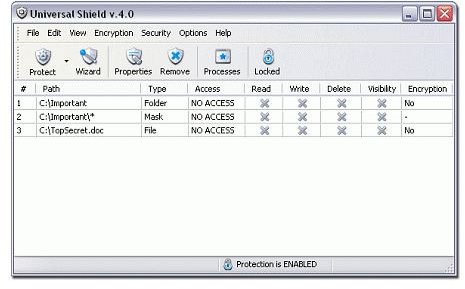 What are locking and hiding applications?
Basically, a file and folder hiding or locking application lets you hide or password protect the files and folders of your choice that you don't want to be accessed by anybody else, or to be accessed by only a few chosen by you. Usually, nearly all the versions of Windows have supported file and folder hiding and protection upto some extent, but more often than not, they haven't hidden or locked a file or folder in a peculiar way, which means that anybody can easily modify the folder view properties and look at your hidden files.
Hence, in order to offer a greater degree of privacy and protection to the PC users, some third party applications had been developed that enable you to hide, protect ,or even archive your data in an encrypted form. Let us analyze some of these applications that are currently available, along with the features they provide.
A review at some file and folder locking applications
Universal Shield
This is a multi-tasking file and folder protection application developed by Everstrike Software. You can hide your files, folders, drives, and even set the levels of access for your vital data. Also, the application lets you password protect the install and uninstall of the programs already on your PC. One of the highlights of Universal Shield is that apart from hiding the data, it also encrypts it, offering you the protection of highest possible degree. To know more, visit the Everstrike Software website.
Lock Folder XP
Lock Folder XP is a yet another offering by Everstrike Software that provides considerable folder and file locking capabilities, although not as comprehensive as Universal Shield. You can assign a password for the protected files and folders, and unless you try to retrieve the locked file or folder from within this application, you won't be able to see it. One feature that scores in favor of Lock Folder XP is that apart from protecting the files and folders from human beings, it also protects them from potential virus, trojan or other malicious attacks. Want to know more? Visit the Everstike Software website.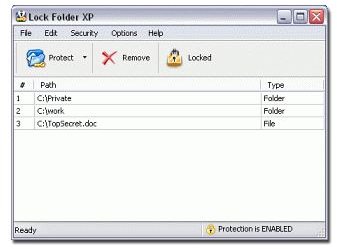 Folder Lock
Folder Lock is a file and folder locking application by New Softwares, and claims to have bagged a number of awards for being a file and folder protection application of choice. The application works in an interesting way. It asks you to assign a password and a "Locker" path, much like a bank locker. Further, you add your desired files and folders to the Locker path, and all the stuff is encrypted and archived in the assigned Locker, which you can backup upon a CD or DVD for further use. The best part is that, you can make the folder protection portable, which means you can retrieve you original data on a different system, with Folder Lock being installed upon it, even though the file protection works upon the second system as well! One thing that makes the application really different is that it guarantees you a military standard data security deploying 256-bit AES encryption. Interested? Just visit the New Softwares website.

SecuKEEPER
SecuKEEPER is a multi-featured file and folder protection application by AEPsoft that claims to offer the most comprehensive suite of file and folder protection services. SecuKEEPER offers four methods for protecting files and folders - Lock, Hide, Encrypt and Private Coffer - integrating all the protection functionalities into a single application. SecuKEEPER offers a Password Generator & Password Manager too, which lets you create a unique password for each protected file or folder via the Password Generator, and also retrieve the passwords through the Password Manager. The feature that makes SecuKEEPER different from other applications is a new functionality, known as file cloaking, through which you can hide a file within an another file. To learn more about this application, please visit the SecuKEEPER website.