How to Change the Default Line Spacing in Microsoft Word 2007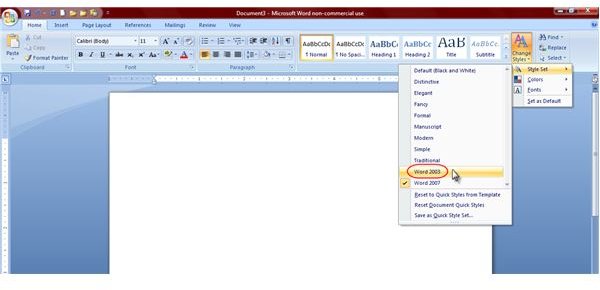 Word 2007 Line Spacing
In Microsoft Word 2007, the default line spacing is set to 1.15 spacing with an additional 10 pt. space between paragraphs. This is why you get that extra space when you press the Enter key. It was designed this way so that users would no longer have to hit the Enter key twice to get that extra space between paragraphs. However, if you don't care much for that setting, it's actually very easy to change.
Changing the Default Line Spacing in Word 2007
The fastest way to change the default line spacing in Word 2007 back to regular single spacing is by changing the Word 2007 style to Word 2003 style.
Open Word 2007, and make sure the Home tab on the Ribbon is selected.
At the far end of the Ribbon is a group called Styles. Click on the Change Styles button within that group.
A drop-down list will appear. Choose Style Set.
Another list will open up. You will see that Word 2007 is checked. To change this, just click on Word 2003.
You should now have a check mark next to Word 2003 confirming that you will now be using the Word 2003 style, which is regular single spaced line spacing.
Make It Your Default
To make the Word 2003 style your default style, there is one more step:
Click on the Change Styles button again.
Click on Set as Default.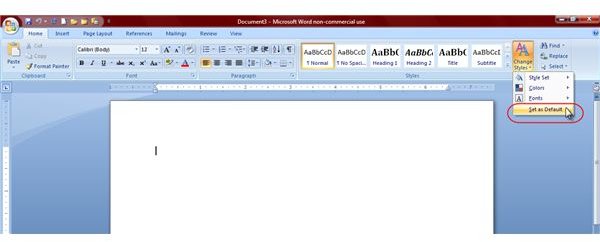 What If You Don't Want Single Spacing as Your Default?
If you want your default line spacing to be something other than single spacing, then click the small arrow located in the bottom right corner of the Paragraph group on the Home tab. This will open up the Paragraph dialog box.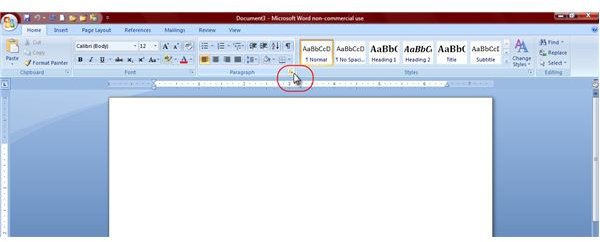 When the Paragraph dialog box opens, use the Spacing area to select the line spacing that works best for you. Once you have made your selections, click the Default button to make it your default setting.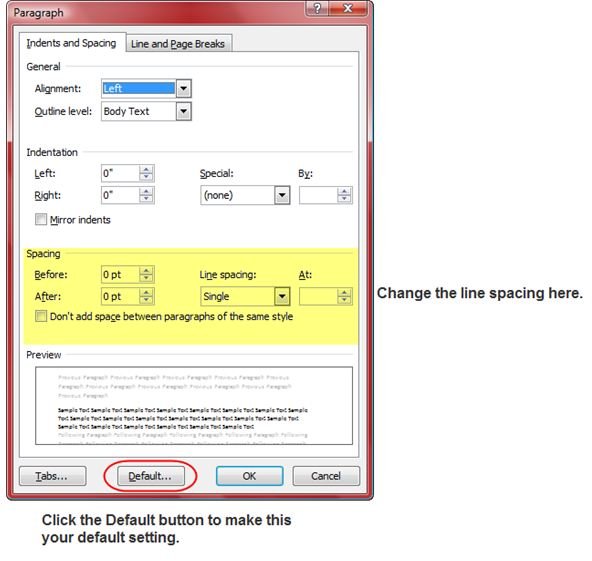 NOTE: The line spacing settings can be changed at any time without affecting the default setting. Just make your selections and click OK when you're done instead of clicking the Default button. Only click the Default button if you want the current selections to be your default setting.
Conclusion
You have now successfully changed Microsoft Word 2007's default line spacing to fit your individual needs. This means that when you open up a blank document (Normal.dot template), these settings will automatically be applied.
If you're looking for more tips and tutorials, browse through the Microsoft Word collection found here at Bright Hub. Learn how to design a new template, where to find existing free templates to download, how to construct and modify tables in Word 2003, and more.
This post is part of the series: Customizing Word 2007 Default Settings
In this Word 2007 series, learn how to easily change Word 2007's default settings for font, line spacing, margin settings, and Save To location.