Access 2007 Allows You to Organize All Your Work Into a Database Format.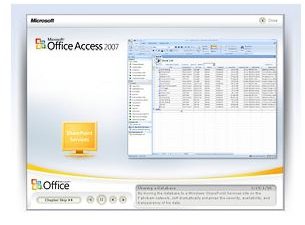 Overview
When it comes to the Windows platform, there's a clear choice for what's the best database. Microsoft Access 2007 is the database component of MS Office that works with all Windows platforms and runs pretty efficiently on them, too. While Google Docs is great for many projects, it's still best to have a sort of "land-line" version of a database. And, Access is still a fairly good choice despite recent changes.
Access 2007 allows you to create new databases, import old ones and import information from outside sources like Excel and Outlook. For Excel, you basically just have to cut and past your table into a new database, and it should format your information automatically.
Database from a Template
But, for most of us, you're going to want to start a new database. Everyone has something that they need to track, i.e. donor lists, contact information or organizational memberships. Access now recognizes the type of information that you are inputting into a cell as you type it in and will format it as you type, which could be an advantage or disadvantage. You may be typing in information that the software recognizes as one type, but you want to input as a different type.
Access also now comes with Office Fluent, which substitutes the menus that we are all used to with tabs and ribbons. While this makes the software look sleeker, it also takes some getting used to for those of us who grew up on the Microsoft/Windows platform.
To create a new database, you can make it two ways: from a template or from scratch.
If you're just beginning, you're probably going to want to use a template. To do this, follow the below instructions.
1. Open Access 2007, and go to the Getting Started screen.
2. Go to Local Templates, which is located on the Template Categories on the left-hand side of your screen. When you open this, you will see previews of all the available databases.
3. Open your selected database, and rename.
Database from Scratch
As mentioned in the opening paragraph, Microsoft has made some changes to the Access database that has made some of the features a bit clumsy, including this one. While you get more information about all the different templates available, it just seems like too much information.
If you prefer to do things on your own, you can also create and customize your own Access database from scratch. To do this, follow the below steps.
1. Go to the Getting Started screen.
2. Under the New Blank Database tab, click Blank Database.
3. In the File Box, name your database.
4. Select Create.
5. Now input your data, or cut and paste it from another source.
Query Function
Once you have created several databases, one of the things that make Access so nice to use is the Query function. Basically, you can search for particular information, and Access will create a new table that has this information in a row-and-column format. To create a query, follow these instructions.
1. Open one of your databases.
2. Open the Create tab; then go to Other.
3. Select Query Wizard. This will open the New Query box.
4. Select Simple Query Wizard, and push OK.
5. Check the Tables/Queries open.
6. Pick the correct table for where you want to search for information.
7. Check the Available Fields tab.
8. Choose which fields that you want in your Selected Fields index, i.e. contact information, amount given or name.
9. Name your query, and check finish. You will then see all the information for which you searched in a table format.
10. Close your query.
This is one of the areas that Microsoft should have left alone. To query for information now is awkward. Everything is put into a left-hand side pane, which means that you have to remember the name of your query to find it. You can no longer sort your queries by date.
Final Thoughts
While Access 2007 is not perfect, it's still the best way to organize your information in a database format on the Windows platform. Plus, it's free since it comes with all computers that have Microsoft Office Professional and Ultimate. If you don't have one of these versions of Office, Access is available as a standalone purchase.