Clean Your New PC by Removing Unwanted Software & Free Trials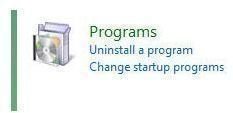 New PCs have all kinds of software you may not need or want
New PCs come installed with all types of, well, gunk. Gunk is software you don't need, don't want, and didn't ask for, it's there anyway, hogging up your Start menu, Desktop, and bogging down both you and your PC. Get rid of it!
Here are some examples of what you can expect to find on a new PC from a major retailer or PC manufacturer; while reading through this list, try to decide if you'd use or appreciate this software or if you wouldn't:
* A free trial of Microsoft Office.
* A free trial for America Online and similar companies.
* Unexpected Desktop pop-ups from the manufacturer, prompting you to upgrade your warranty, register, or visit its Web site.
* Proprietary software from the manufacturer that you won't use, such as media music services, media installers, and "experience" software.
* Third-party software you may not be interested in, including mapping software, games, DVD burning software, and image-editing software.
* Bundled office software including Microsoft Works, which you won't need if you already use Microsoft Office.
* On PCs that are media centers, multiple DVD burning software applications.
* Third-party software such as Quicken, Microsoft Money, Quick Time, MusicMatch, and Microsoft Picture It! (This type of third-party software will often time-out 30 to 60 days after you first use it.)
You need to get rid of what you won't need or won't be using right away. But, how do you know what to keep, what you need, and what you can safely delete? It isn't that complicated, really. Let's start with the free trials.
Free Trials
On almost any new PC, you can expect to find a free trial of something. It may be a free trial for AOL or another Internet service provider, which you can access from the Desktop, or it may be free trial software for an application, which you can access from the All Programs menu.
You may know that right-clicking any Desktop icon and choosing Delete will remove the icon from your Desktop, and you can do that, but what you may not know is that it will not remove the program from your PC. Right-clicking the AOL & Internet Free Trial icon and choosing Delete will delete the icon only. It won't delete the actual files from your PC. It's the files that take up hard drive space, not the icon. To delete the actual files, you need to look a little deeper.
The best way to delete files from a PC is from Control Panel. [See Image 1]
As with the Desktop, right-clicking any item in the All Programs menu and choosing Delete will only remove it from the list; it won't remove the program from your PC. The actual files will still be on there somewhere. And, if you delete the application from the list now, you'll likely never notice it again and it will never get uninstalled.
Again, you'll want to remove these programs using Control Panel.
Software from the Manufacturer, Third-Party Software, Duplicate Software
The process for getting rid of software from the PC's manufacturer or from a third party is the same as getting rid of free trial applications. It's best done through the Add or Remove Program applet in Control Panel. This is especially true of software installed by the PC manufacturer.
To see what's installed on your PC, browse through the All Programs menu and look for your PC manufacturer's name. [See Image 2] When it comes to uninstalling this kind of software, it's hard to know what you can and can't uninstall. It seems quite logical you'd need to leave anything the manufacturer installed intact. That's simply not true. The operating system contains the files needed to run the PC, and additional files added by the manufacturer are almost always unnecessary.
Finally, some third-party software (and even free trial software) offers an Uninstall option right in the All Programs menuIf this is offered, use it. [See Image 3]
Just because something came preinstalled on your new PC is no reason to keep or use it. Likewise, there's no reason not to uninstall applications you don't want to use or programs you have equivalents for. Don't keep it just because you think you "paid" for it; that's not a good enough reason.
Here's an example of duplication. I prefer Microsoft Office for writing, Microsoft Excel for creating spreadsheets, and Microsoft Access for my databases. Just because my new PC came with Microsoft Works doesn't mean I have to use it, and it doesn't mean I shouldn't uninstall the program.
Other Articles You May Enjoy
Improve PC Performance by Eliminating Screen Savers
Clean Up Your PC: Shorten Boot Time Part I
Clean Up Your PC: Shorten Boot Time Part II
Clean up Your PC: Delete Unused Files in Hidden Locations
Images