A Closer Look at Microsoft's Online Web Sharing and Note Taking Application - Thumbtack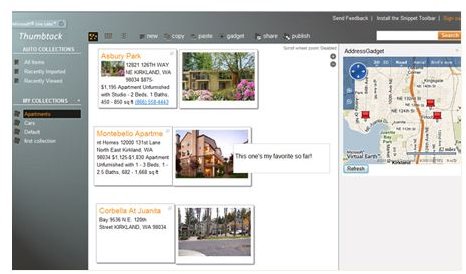 Introduction
Recently, Microsoft released a new product from its Microsoft Live Labs suite of online and desktop applications, called Thumbtack. Microsoft Live describes this new online tool/service as a single place to save or share the stuff you want from all around the web.
Being an AJAX application, Microsoft Thumbtack works with your PC's browser whether you're using Internet Explorer or Firefox. Basically, it lets you create a collection of websites that you stumble on upon the web, organize them, and share them with anyone online. If you're familiar with Google Notebook and used it before Google finally decided to shut it down, Microsoft Thumbtack is similar to that. Hopefully though, Microsoft will not follow Google's decision to shut down its notebook service since Thumbtack is still a new product from Live Labs.
What you can do with Microsoft Thumbtack?
Basically Microsoft Thumbtack enables you to gather a list of anything that you find on the web and share that collection with your friends. It could be a list of your favorite restaurants, reviews of good places to visit in a particular country, information about things you'd like to buy, or even a simple group of notes you've taken. The most important thing is that Microsoft Thumbtack lets you share your online material with your friends or anyone else.
When collecting website links and gathering other online resources, Microsoft Thumbtack lets you create a collection. This Thumbtack collection may contain snippets of a web site you want to include in your collection. It works simply by visiting the site, copying that part of the website, and then pasting in into your appropriate Thumbtack collection. The information describing where you got the website gets its own Thumbtack box which you can place anywhere on your Thumbtack collection page.
Microsoft Thumbtack Features
Aside from the items we just mentioned, Thumbtack also features the following:
web gadgets such as bookmarlet for collecting texts, links and images from any web page
canvass view for creating collages of web clippings you've collected
gadgets which let you perform a variety of other functions
sharing functionality through collaboration and private groups
publishing of collections in html/rss/atom formats
embedding collection of web blogs, websites and even social networking sites
tagging and commenting on Thumbtack collections
Simplicity, Relevance, and Future of Microsoft Thumbtack
Like we said, Microsoft Thumbtack, no matter how much Microsoft denies the that it is a Google Notebook rival, is still a Google Notebook with add-on features that make it in tune with the Web 2.0 environment. It's a pretty good service overall, and the fact that it is browser based makes it even more interesting and useful.
The problem is will anybody use it? Or does Microsoft Thumbtack think it would be used by online users? And ultimately does this service have any degree of importance at all?
Google has ceased the operation of Google Notebook because it is not gaining more users. It could mean that users have no time to use if anymore. So, it is quite interesting why Microsoft Live Labs decided to push Microsoft Thumbtack to production. The service is confronted by a major problem - trying to find a way to make notebook sharing/bookmarking more relevant to users. Certainly, Microsoft Thumbtack's got tons of concerns that users should take into consideration when planning to use the application.