MS Word Tips for How to Make Cool Word Art Background Colors and Pictures

Word Art is a Microsoft Word feature that just does not receive the attention it deserves. You can use Word Art to make brochures, flyers and other printed Word documents really pop. You can make unique, snazzy letterhead by inserting Word Art into your header or footer. You can even use Word Art in an otherwise typical Word document, drawing attention to a crucial or central word or phrase. You can even change the background color for Word Art and tailor it to your MS Word document.
Inserting Word Art
If you have never used Word Art, you are in for a treat. To insert fun, fetching text, start by opening Microsoft Word. You can use an existing Word document, or open a new blank one.
If you are using MS Word 2007, go to the Insert tab of the ribbon. In the Text section, click on Word Art.

If you are using an earlier version of MS Word, there are a couple ways to insert Word Art. Click the Word Art button on the Drawing toolbar. (It looks like a slightly slanted "A.") If you do not see the Drawing toolbar, point to Toolbars in the View menu and click on Drawing.
Another way to get to the Word Art dialog is by going to the Insert menu, pointing to Picture and clicking on Word Art.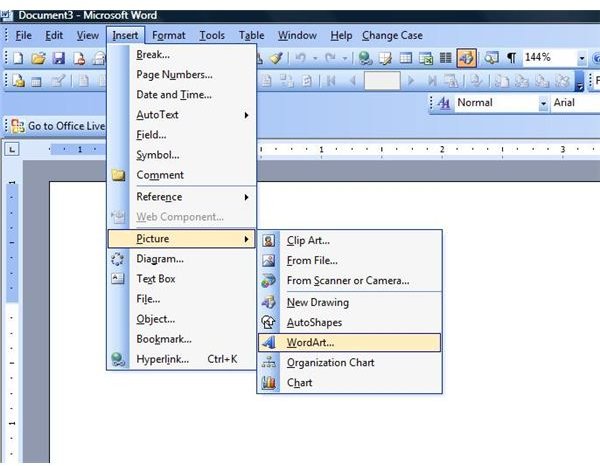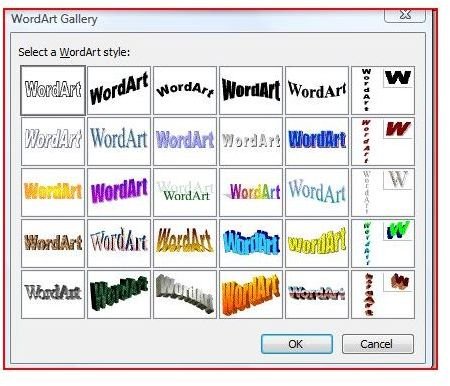 Once you have the Word Art dialog box open, select the Word Art style that is closest to the design you want. Don't worry if it is not exactly what you are seeking, as you will be able to alter it later. Click on the Word Art style from the gallery and click OK. The Edit Word Art Text box will open. Enter the text you want to use. You can also choose a different font and change the font size, if you choose.
Again, you can go back and change these later, so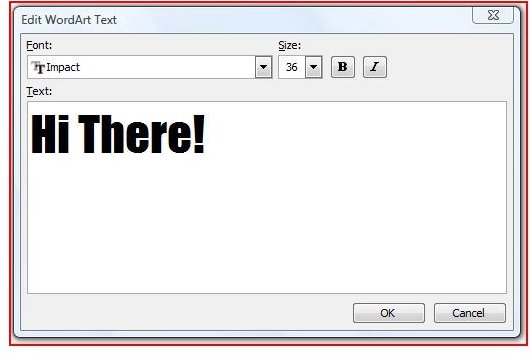 don't worry too much about those now. Once your Word Art text is ready, click OK.
Changing Word Art Background
Here is where you can have some fun. Each Word Art style has a default color or set of colors, but you are not obligated to keep these. You can choose different background colors, add textures and patterns to the Word Art background, and even change your Word Art background from a plain old color to a distinctive picture.
In MS Word 2007, click on your Word Art to select it. On the Format tab of the ribbon, look under Drawing Tools for the Word Art Styles group. Click the dropdown arrow next to Text Fill. If you want to change the background to a different color, click on More Fill Colors. Point to Gradient if you want to change the color variation, and then choose the background variation you want or click on More Gradients. Add or change textures by pointing to Texture and choosing one from the gallery or clicking on More Textures to make custom changes. Fill your Word Art background with a picture such as your company logo by clicking Picture, navigating to the graphic you want to use, and clicking Insert.

If you are using MS Word 2003 or a previous version, the steps are a bit different. Select your Word Art by clicking on it, and notice that the Word Art toolbar appears. Click Format Word Art on the toolbar, and the Format Word Art dialog box will open. On the Colors and Lines tab, click the dropdown arrow next to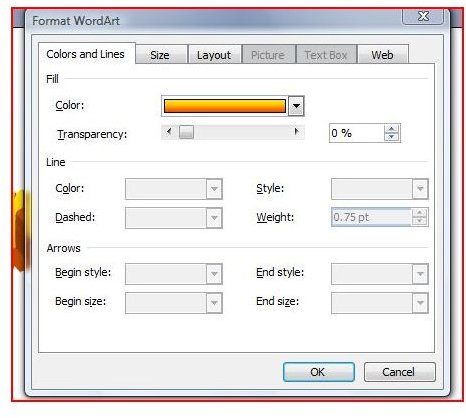 Colors. To change the basic color scheme of your Word Art background, choose a color from the palette presented or click on More Colors to customize your choice. To change the background color to a different gradient, texture, or pattern, or to use a picture as your Word Art background, click on Fill Effects.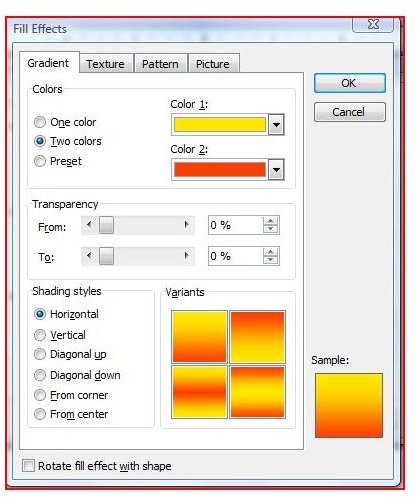 On the Gradient tab of the Fill Effects dialog, you can choose from one or two colors for your Word Art background, or choose a preset option such as "Peacock" or "Daybreak." You can alter the amount of transparency and change the shading style variation. Check out the Texture or Pattern tabs to incorporate these into your Word Art background.
Go to the Picture tab of the Fill Effects dialog and click the Select Picture button. Navigate to the picture you want to use as your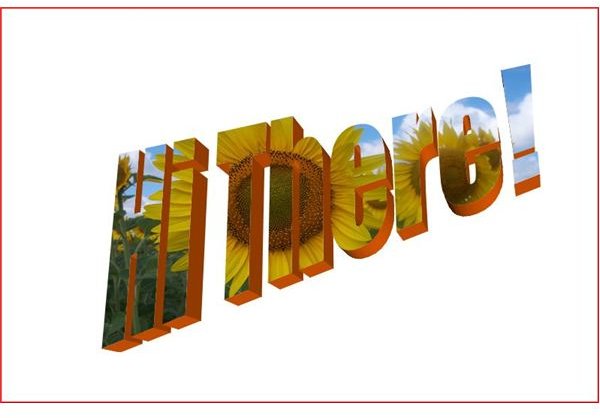 Word Art background and click Insert. Click OK a couple times and you will have a truly unique Word Art object. Your MS Word documents never need to be humdrum again.
For more tips and tricks, be sure to take a look at Bright Hub's library of Microsoft Word user guides, and check back often for new additions to the list.